Business profile: 4WD Solutions
---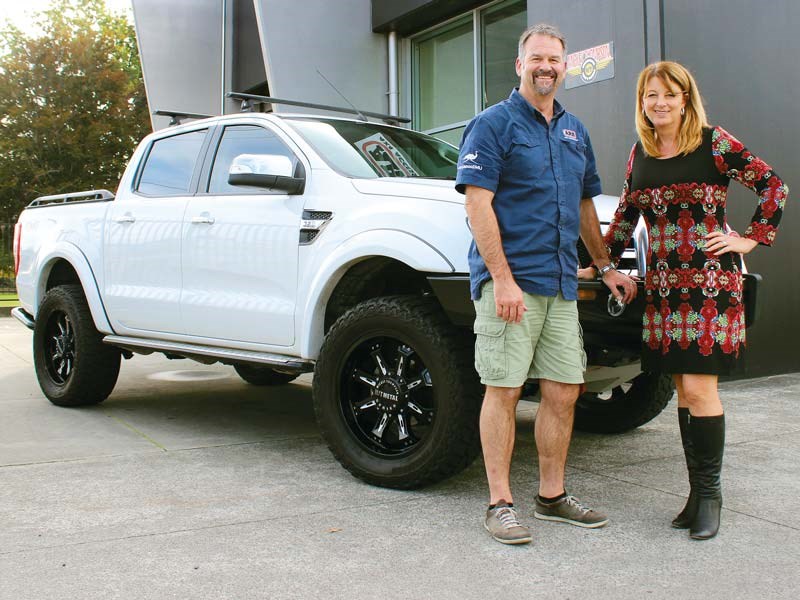 Morgan & Jayne Verhoeven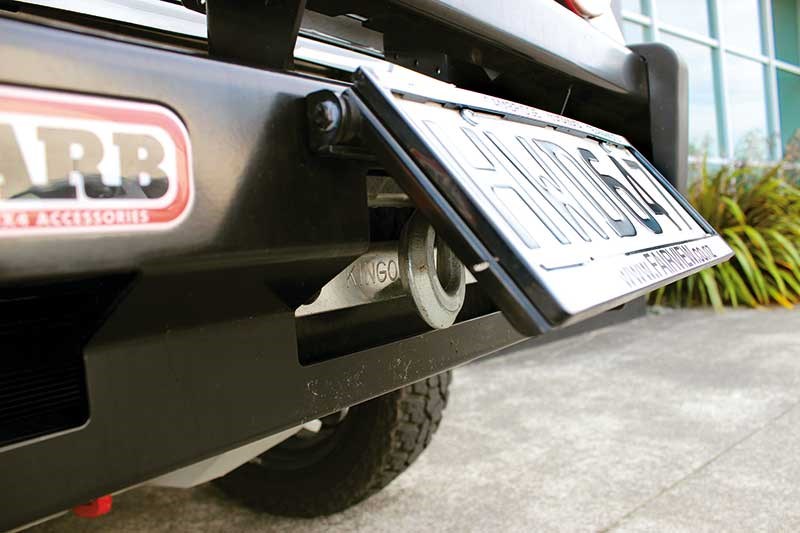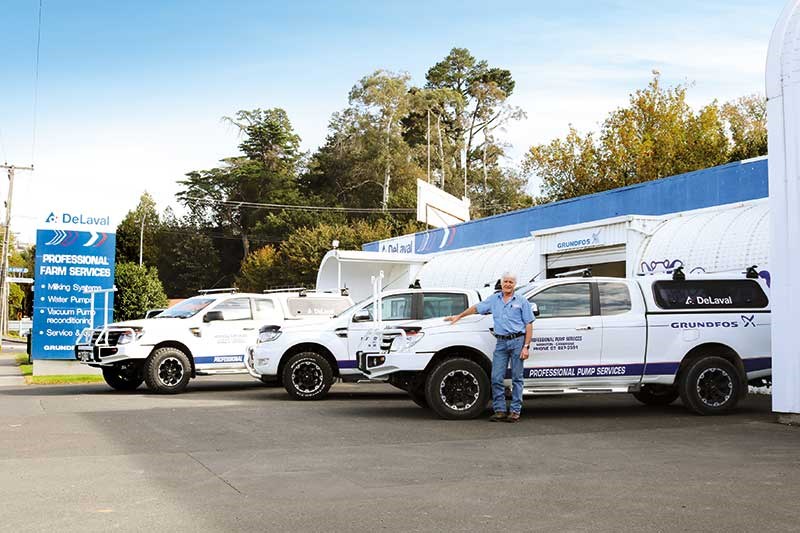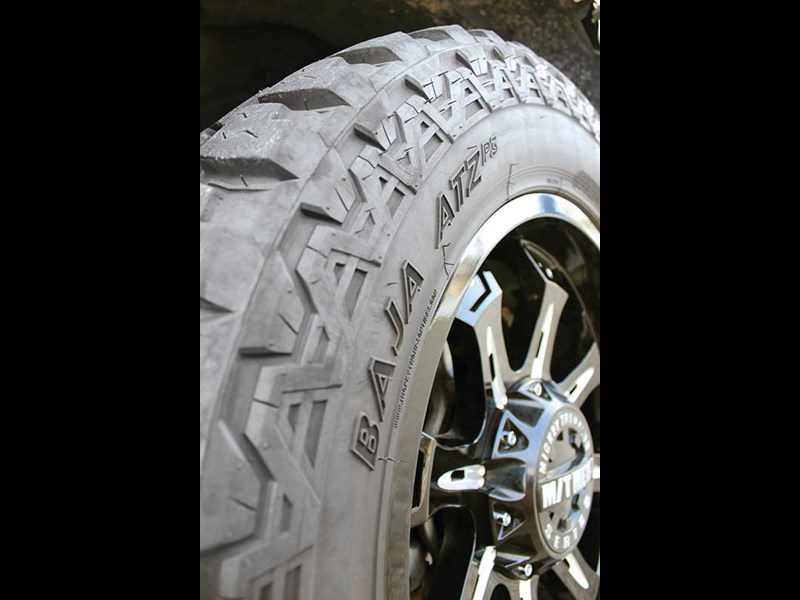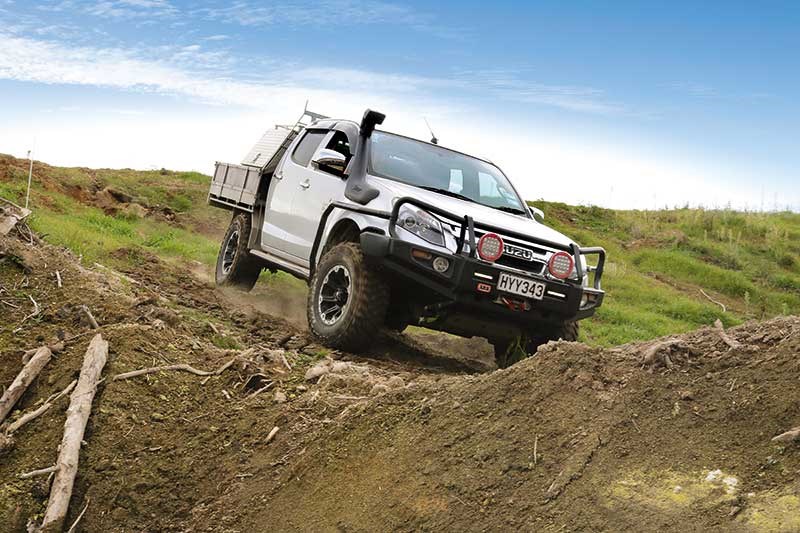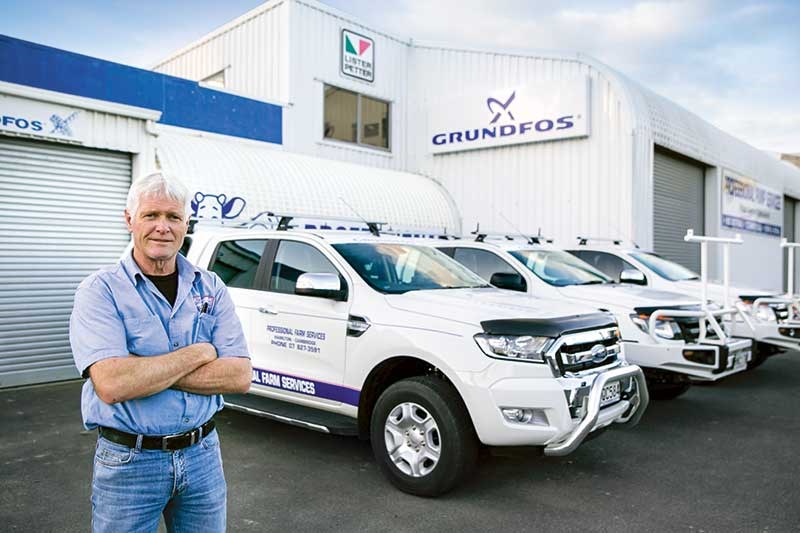 Dave McMillan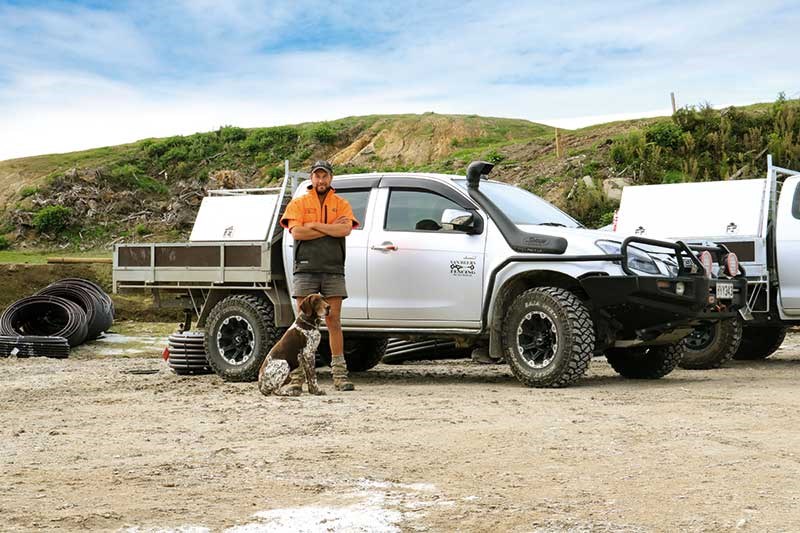 Jason Van Beers

4WD Solutions has been supplying a large array of 4x4 accessories and technical equipment to a variety of industries for many years.
If your work takes you into the tough stuff, then it seems Morgan and Jayne Verhoeven and their team will have the equipment to allow you to get the most out of your vehicle.
There's no denying a nice set of spotlights and a robust-looking bull bar set-up at the front of any 4x4 sets it off nicely. Add some heavy-duty off-road tyres and alloys, along with highly capable upgraded suspension systems and a bash plate underneath and you have a well-sorted reliable workhorse ready for anything.
Of course, with so many specification choices available for each of these accessory items, it pays to talk to professionals who have been fitting this sort of gear for decades and take a collaborative approach to any build.
In the Waikato, Morgan and Jayne Verhoeven have been meeting the 4x4 accessory needs of rural and construction contractors for many years, offering an impressive array of 'go to' brands such as ARB, Old Man Emu, Drivetech 4x4, Mickey Thompson, Rhino Rack and more. The options are truly extensive and, as Morgan tells me, the days of simply fitting a bull bar and setting the customer off on their way are long gone.
"The systems and accessories we're dealing with, especially the highly technical suspension systems, offer impressively robust results, but they also require expert skills and industry knowledge to know what's right for the vehicle and the customer. That's why we've been making a name for ourselves with dealers as well as individual customers; we do all the technical stuff and hand-over the finished package," says Morgan.
"Take bull bars for example; because all vehicles now have integrated front skirts, we have to disassemble the entire front end of the vehicle, fit the air bag compatible mounting system and then wire and reassemble with the bull bar in place. It's not unusual to spend an entire day fitting a bull bar."
FIT-FOR-PURPOSE
Morgan, who has been involved in the automotive industry for over 30 years and working specifically with off-road vehicles since 2000, puts together accessory combinations for many different customers.
"Here in the Waikato we have had a long tradition of working on vehicles for rural contractors and construction entities. But people from other industries have become regular clients too; beekeepers for example, as well as engineering firms.
"If you look at some engineering firms, their team might be carrying 1400 to 1700kg of weight in the ute tray over the back axle every day. That's where specialised suspension, air bag systems or 'sumo springs' come in handy."
"It's about safety at the end of the day, We want our clients to be able to go about their day out in what can often be some pretty testing environments and have their vehicles perform as workhorses, but also have the ability to cope with difficult terrain, large loads and low visibility in a safe and predictable manner," says Jayne.
4WD Solutions has five mechanics and four sales and parts staff and plans to expand its premises; it's no wonder they're looking for more space when you review the huge range of options they can deliver for 4x4 vehicles of varying shapes and sizes.
Bull bars, rear step tow bars, suspension kits, tyres, mags and steel wheels, recovery equipment, roof racks, winches and a large range of new and OE (Original Equipment) 4WD parts are all under one roof here.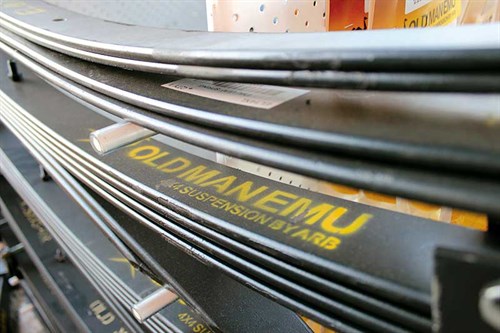 NO FENCE SITTING
Jason Van Beers of Van Beers Fencing knows the value of high quality off-road equipment. Working in remote blocks, Jason and his team rely heavily on the day-to-day performance of their Isuzu D-Max utes.
"They're our mobile work stations and they have to carry absolutely everything we need because we're working remotely and we don't have time to go back and forth," he says.
"This means that we're always carrying a hefty load. The standard suspension on my utes would really struggle with the loads we're putting them under, but the up-rated Old Man Emu suspension systems Morgan has recommended are excellent. Not only do they give us strength when we're off the road, they also provide for a pretty impressive ride on the tarmac too."
Jason, who hails from a fencing family and needs no introduction when it comes to the NZFC competition, has various modifications on his fleet of trucks, such as ARB bull bars, ARB side rails and steps, ARB Intensity LED spot lights, Safari Snorkel, upgraded Old Man Emu suspension, 12,000 pound winch, and the latest Mickey Thompson MTZ P3 tyres, all supplied and fitted by 4WD Solutions.
One of the latest additions – a 3mm pressed and folded thick steel underbody bash plate – was fitted after an incident with a tree stump, which highlights the kinds of hazards that are commonplace for Jason and his crew when out in the field.
"We're currently working on a large scale conversion in old forestry land. Awhile back we were working in a block in particularly tall grass. I just happened to turn the ute onto this stump and it knocked out all my hoses; I had transmission fluid everywhere and it was a real mess. So I went straight to Morgan and got the bash plate fitted and I doubt I'll have that sort of issue again."
Morgan says that a contractor like Jason working remotely means that spotlights have become integral safety equipment.
"Spotlight technology has come along in leaps and bounds. The field of vision a decent LED spot light or light bar can provide is pretty exceptional.
"We fitted Jason's Isuzu with a spread beam on the left-hand side so he can see off the road or track, and a spot on the right-hand side for pure distance coverage. Together they work very effectively for night driving, especially in hill country. The effect really is like daylight," says Morgan.
TRIED AND TRUSTED
Dave McMillan from Professional Farm Services is another 4WD Solutions customer to have kitted his vehicles – Ford Rangers this time – out with fit-for-purpose 4x4 equipment from the company's line-up of quality brands.
"I've known Morgan for 25 years and I absolutely trust his word and his skills when it comes to looking after vehicles. His team have always been great to work with," says Dave.
"When you're working on farms you need a lot of traction to get across the tough stuff. Today's utes such as the Ranger are pretty foolproof in this regard, but the difference for us between the ute you buy in the showroom and the ute we depend on day in, day out, is their ability to perform with a full load onboard.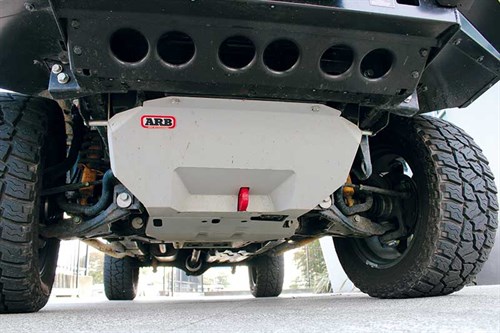 "We've upgraded our shocks and springs to accommodate the general tools we need to carry; you only have to start servicing pumps and pipes on a farm to realise just how much weight is in the gear you need to transport.
"We also often tow a 3.5-tonne digger for many miles too, so we needed a suspension system that strikes a good balance between offering great support out in the field and good levels of comfort on the tarmac. The last thing you want is a bucking bronco with a mini digger hitched to the back, but the sort of equipment that Morgan distributes is perfect for our needs."
Dave says he also likes the fact Cambridge-headquartered 4WD Solutions are local to him, although these days Morgan and Jayne are a part of a much bigger national ARB network too.
A CONSULTATIVE PROCESS
"We used to be quite limited to the Waikato region, but because our overall brand is growing so quickly, we've found ourselves in demand from clients' right across New Zealand," says Jayne.
"Word of mouth counts for a lot and we're now at the point where we have returning customers; people who have bought into our range of brands and now understand that quality counts for so much.
"I think there has been such an influx of cheap and nasty products into the country over the last few years that we're now at a point where people who have invested in the ute that is right for their business want to invest in quality equipment to suit it. People really are asking, 'I want a premium product. Where do I go to get the best?'"
Morgan says that even something as simple as a roof rack or a tyre provides for a good opportunity to assess exactly what it is a client needs from their vehicle. How much time will they actually spend off-road versus on? What are they putting on their roof? What will that suspension lift they are hankering for actually be needed for and will it have the load capacity they need? Those 4x4 tyres will certainly set their vehicle off nicely, but have they considered if they need a highway, all terrain or mud terrain tyre?
"The way utes are being used has certainly changed," concludes Morgan.
"They are as much for recreation now as they are for work. There are a lot for go, and there are a lot for show. Either way they're very capable machines and often represent a significant investment.
"We specialise in both aspects of the market. And if you're going to specify off-road equipment for your 4WD for either purpose, it's always going to be preferential to have high quality gear fitted by a qualified team."
For the latest farming news, subscribe to Farm Trader magazine here.
Keep up to date in the industry by signing up to Farm Trader's free newsletter or liking us on Facebook