Stockade ST400i cordless fencing stapler
---
Farm Trader caught up with fencing contractor and farmer Richard Ross who has been trialling the Stockade ST400i Cordless Fencing Stapler.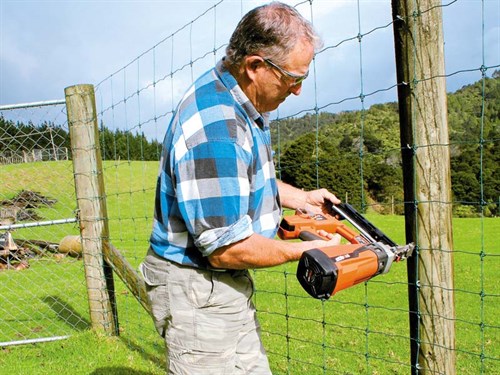 Having been in the industry for 30-odd years, Richard has seen a few changes in tools and technology.
"New stuff is coming along all the time, sometimes it makes life easier, and sometimes you wonder if it's worth bothering with," he says. "But when you find a tool like the ST400i that saves you time, gives you more flexibility and saves wear and tear on your body, it's worth investing in."
The development of the Stockade ST400i Cordless Fencing Stapler was driven by farmers and fencing contractors wanting a powerful and portable post stapling system, without being reliant on compressors and hoses. Having undergone extensive field testing, many New Zealand farmers and fencing contractors have already experienced the benefits of using the ST400i.
Richard has been using staple guns for the last 20 years and says he wishes he'd had the ST400i in his early days. "The great thing about a piece of equipment like this is that you get more fencing done in less time, so it pays for itself quickly if you're a contractor, or even if you're a farmer."
For around 25 years Richard has been fencing for the Cornwall Park Trust Board, and until 2009, managing the fencing of Auckland's regional parks from Tawharanui to Tapapakanga.
"On an average day I'd be fencing out wetlands, native bush areas and boundary fencing – realigning and replacing with number eight wire and post and batten fencing."
Richard also built sheep and cattle yards on almost every park over the time he worked there.
On their 300-acre property in Wainui Auckland, Richard and his wife Stephanie run two businesses; Balnagown Hunting and Balnagown Farmstay. An experienced hunter, Richard hosts visitors from around New Zealand and the world who stay in the farm hunting lodge and hunt fallow deer.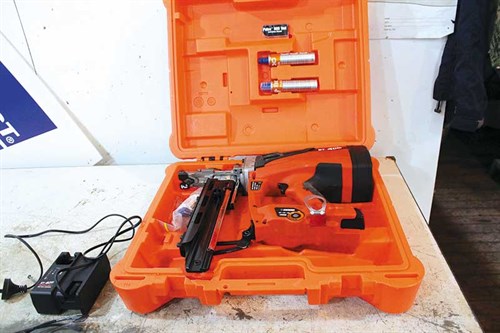 Through the farmstay side of the business, the couple host visitors from around the world who stay for a hands-on farming experience for up to a week. The couple also host children who may stay for up to six weeks. Stephanie, who is a teacher, helps the children learn English between farm activities while Richard shows guests what it's like to work on a New Zealand farm.
"They get to experience everything the farm has to offer, from feeding the baby animals to sheep shearing and other seasonal activities," says Stephanie.
With 300 deer as well as a few sheep and cattle on the property, good fencing is always a priority.
"Over the years the farm has been run on a bit of shoestring time-wise," he says.
Richard and Stephanie took the property over around 25 years ago. "It's taken a while to get to where we are today. But little by little we've been building, expanding and improving."
"Getting the fencing done is a time-consuming job, but it has to be done," says Richard. "Good fencing is just so important. Especially boundary fencing – you need to make sure your roadside fences are solid and that nothing can get through. Stock will just naturally push through a boundary for feed, especially in the winter months, so fences have to be secure and they have to be maintained. You certainly don't want stock getting out and causing an accident."
"The average farmer spends quite a bit of time building and maintaining fences and it can be pretty demanding on your wrists, elbows and shoulders," says Richard. "The ST400i saves that wear on your body, and trust me, when you get into your 50s and 60s, you'll be jolly thankful for it!"
At around four kilograms in weight, the ST400i is easily manageable and provides a whole lot of flexibility. "Once you're positioned, you only need one hand on the machine and you're away. You've got your other hand back so you can be holding wires and posts or whatever you need it for."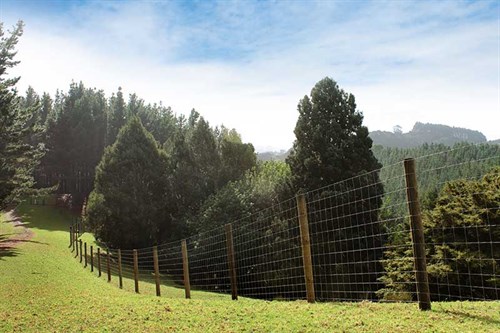 And because the ST400i harnesses cordless gas impulse technology, there's no need to lug around a compressor or worry about cords.
"It's fantastic for work on hilly terrain like mine," Richard explains. "You've got a whole lot more flexibility because you can just walk wherever you need to with it. If you can't get there with a vehicle and a compressor, you can with this. It even has a belt clip so you can attach it to your belt or a fence to keep it nearby."
The ST400i is neatly packaged in a sturdy compact case that also houses dual batteries, an AC charger, the instruction manual and safety glasses.
"The first thing I do before I pick up any tool is make sure I've got the right safety gear on," says Richard. "I've always used safety gloves for hammering and safety glasses with equipment like this. It's like putting on your seatbelt when you get in the car."
Built to the same exacting standards of Stockade's ST400 pneumatic fencing stapler, the ST400i is rugged, durable and engineered for tough New Zealand conditions.
Having tough equipment on the farm or out on the job is important, explains Richard. "Not that it's any excuse for not taking care of your tools," he says. "It's easy to lose sight of the fact you're working with some pretty valuable technology on a farm, but if you take care of your gear then you're going to save yourself money down the line."
The ST400i is also the most powerful cordless stapler on the market, driving nine gauge staples into hardwood and treated pine posts with ease.
"Going back 30-odd years we were doing this with a hammer and staples," says Richard. "And when you're fencing for a living, that's a lot of time and a big physical toll on your body."
"I'd definitely recommend the ST400i for fencing contractors – it will just transform the way you do your job. And for farmers, it's something you should be using as early as possible in your career."
Keep up to date in the industry by signing up to Farm Trader's free newsletter or liking us on Facebook