Contractor profile: Scheele Contractors
---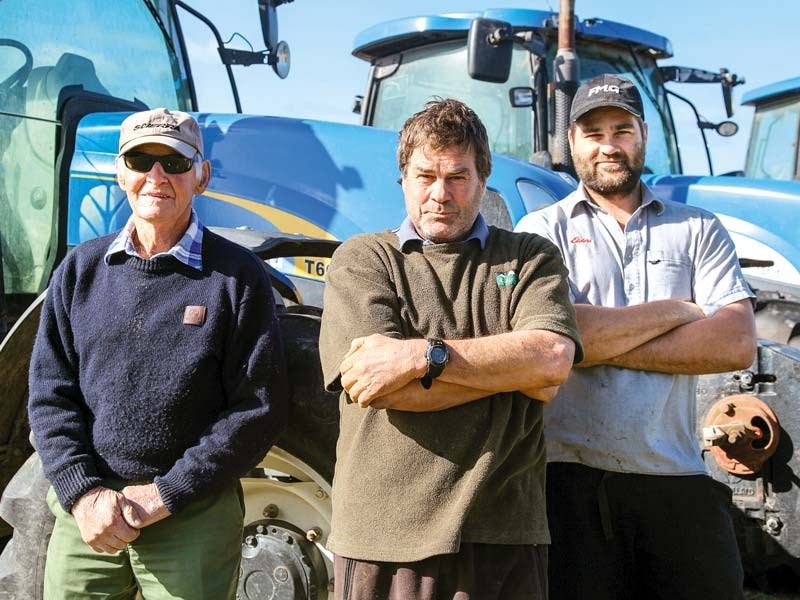 Ken, John, and Lyron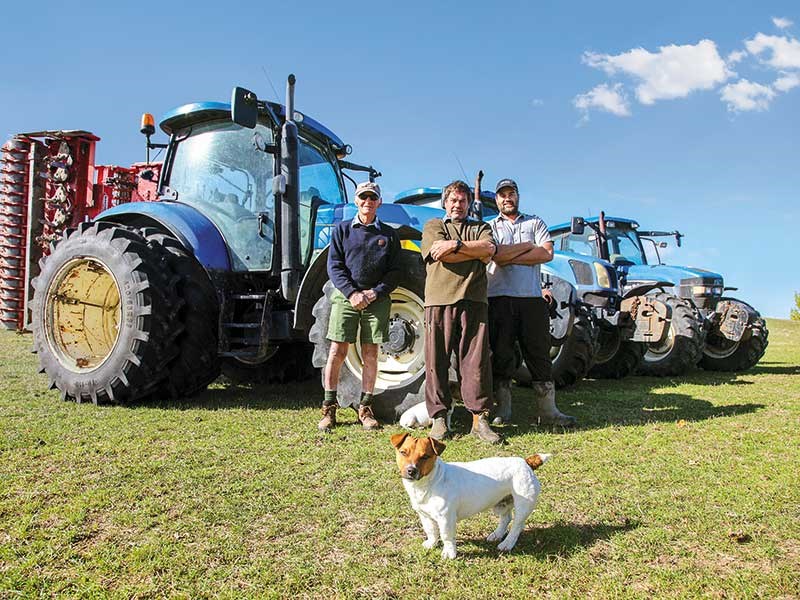 With RB the dog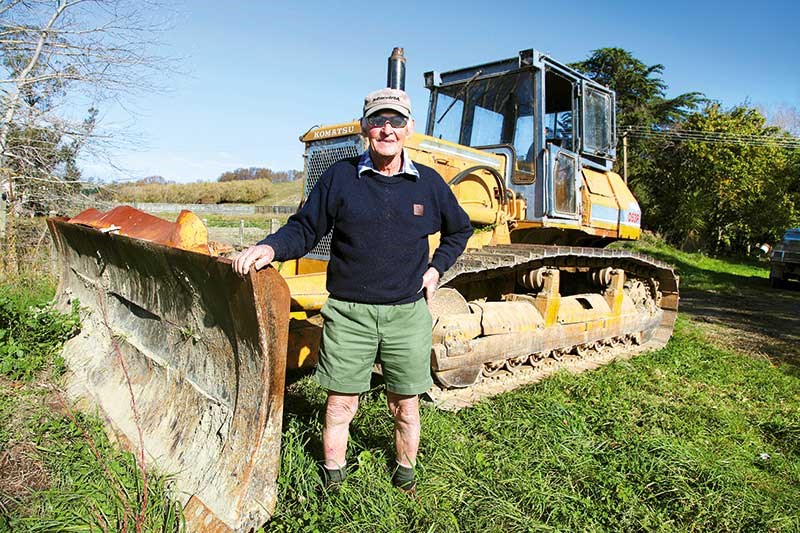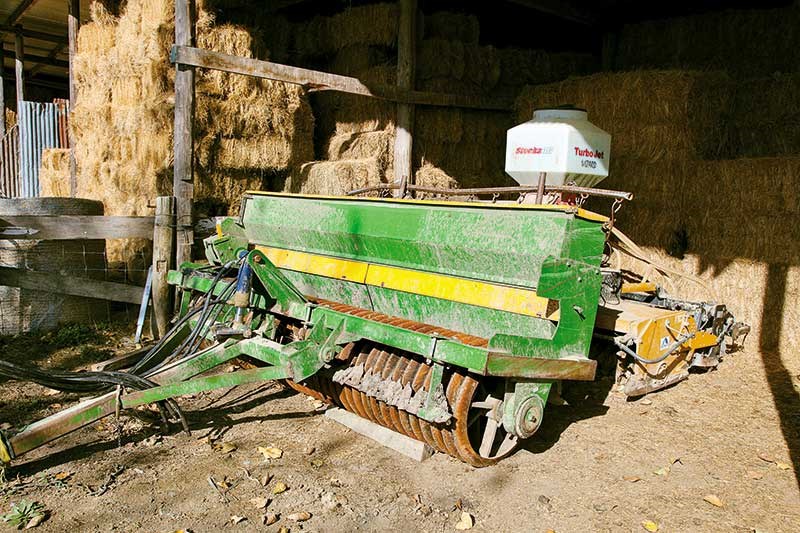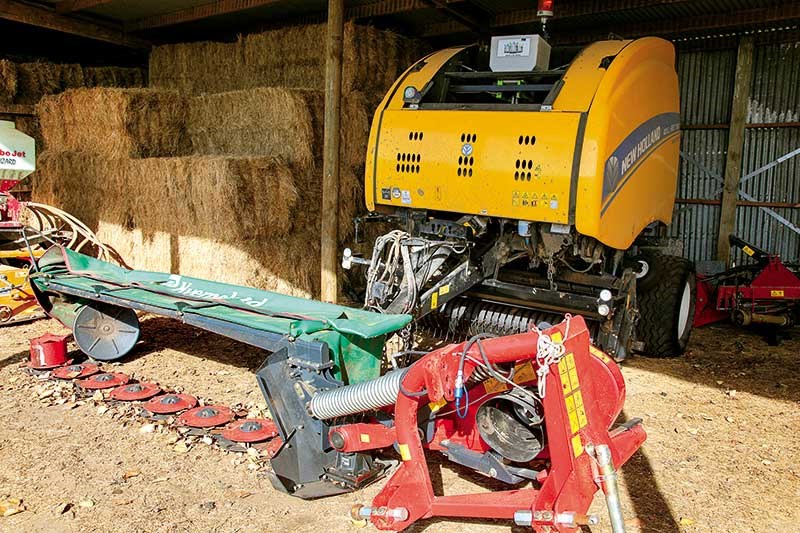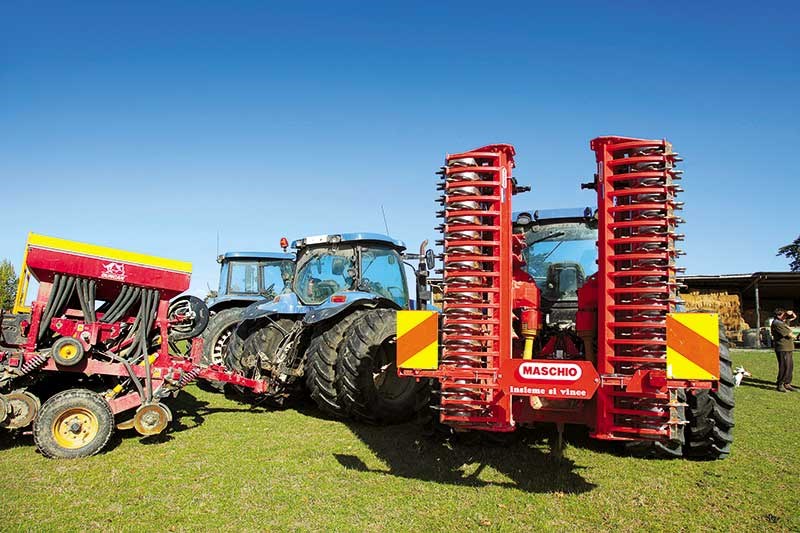 Three generations of the Scheele family have worked in the rural contracting business started by Ken Scheele in 1943.
Today Scheele Contractors is well known in Hawke's Bay for providing a wide variety of agricultural work and getting the job done efficiently.
At nearly 90 years old, Ken (aka Pop) is still going strong and, according to his son John, if it wasn't for his failing sight, "he'd still be out there driving." A few years ago, one of Ken's clients referred to him as "the oldest bulldozer driver in the country" and that's probably true.
There can't be many people his age who can readily clamber up onto a bulldozer to have their photo taken, or do a daily three-kilometre walk.
You'll find Ken and his wife Barbara in the heart of the countryside near Mangakuri Beach in Central Hawke's Bay. The day Farm Trader visited, Barbara had freshly baked scones and date loaf on the table and a ready welcome.
Ken's eyes light up when he recalls how he left school and went straight into driving tractors on the family farm at Patangata. Apart from a couple of years at the end of World War II when he went to Japan with the army, he's stuck to what he likes best: machinery. Much of his early work involved scrub cutting in remote places around Hawke's Bay with the help of a Caterpillar D2 Crawler tractor. As well, he and his brother Allan sowed fodder crops with the D2 and a three-furrow Reid and Grey trailing plough.
When Ken established the business on his own in the 1950s, he bought a Fordson Major tractor, followed by an International TD9 bulldozer, then a Fiat 70.
By the 1970s, Ken and Barbara's sons, John and Peter were involved in the business and took over the agriculture and haymaking side of things. They drove a Fiat Allis bulldozer and a Fiat 780 four-wheel drive tractor.
Ken puts the success and longevity of their business down to having loyal clients and the patience and support of their wives.
John says that still holds true today. "Locals support locals, that's the way it goes, isn't it? We don't need to advertise because one neighbour will tell the other about us."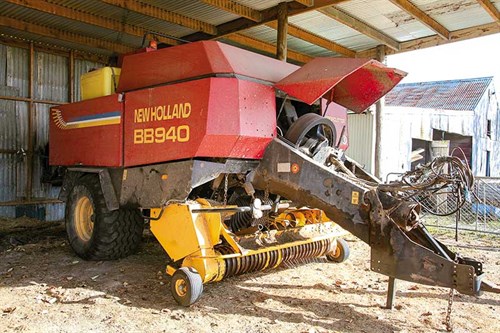 Having completed a busy summer season, the Scheeles are onto the next lot of work, which includes cutting and clearing tracks and cleaning out dams.
On a farm nearby, John's son Jason is operating a Hyundai 1401CP excavator and pulling willow trees out of a dam. The Scheeles recently purchased the excavator from Porter Group in Napier, and they are really pleased with it. It replaces the work that the bulldozer used to do.
"Jason has so much work on and we needed something really reliable. It comes with a 6000-hour service warranty, which is great," says John.
Jason completed a six-month excavator course in Masterton a few years ago and is in charge of this side of the family business.
"Having good machinery makes the job easier and keeps the farmer happy too," he says.
Farmer Harry Baragwanath is standing nearby and is rapt with the progress. He understands the skill required to operate machinery like this. "Its not just about operating the dippy thing, it's when the machine slides sideways – that's the challenge."
In addition to their contracting business, the Scheele family own three farms. John explains how this helps their business. "The farm and agricultural work complement each other. For example, when the tractor work is finished we catch up on all the farm work; we finished shearing in last week and before that, cut hay off the flats, which we sell."
John's son Lyron and his family live on one of these farms.
As it's got busier, the Scheeles have added more tractors and other machinery to their lineup.
"We could easily use 10 tractors if we had them, but in fact, have three main ones – all New Holland. When big jobs come up you have to have the gear to do the work."
The Scheeles like the New Holland brand "because they are good comfortable tractors and safe on hills. They are our work horses".
"The bulk of our work is hill work – it's got to be done and we don't shy away from that," adds Lyron.
As well, New Holland agents, Norwoods in Hastings gives excellent service and back-up. They'll probably buy a bigger, weightier New Holland tractor shortly in order to handle the bigger power harrows that they tow.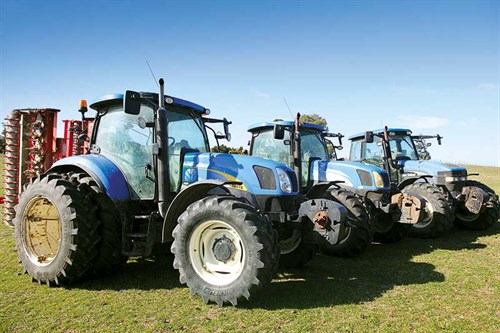 Their other tractors include an International, Fergusson and a John Deere; all are used mainly for haymaking.
Depending on their requirements, clients like a variety of bales, so Scheeles have the gear to do different ones; big square, rounds or conventional bales and baleage.
They also have a Same 4 WD tractor which Ken says is about as old as he is. "They were always noted as being the most stable 4WD for hill work and one of the first 4WD tractors the Italians made."
The Scheeles do a lot of prepping up soil for crops too; discing, power harrowing and sowing.
The Lemken and Maschio power harrows, being wider than ones that were used previously, have sped up work (40-50 acres per day) says John.
For direct drilling, John mostly uses his new Duncan DD30 drill.
Does Ken have any advice for young people starting out as rural contractors?
"Just stick with it. I had hard times earlier on when there wasn't much work and my solution was to look further afield. I did quite a lot of work for Lands and Survey in the late '60s and '70s up the Taihape way. Now it's all back in pine trees; when the subsidies for superphosphate came off, all those farmers moved on and forestry went in."
Just to think of what Ken started with one tractor and a lot of hard work.
According to Barbara, "Pop refuses to say he's retired, he will only say, 'I am semi-retired!'"
Scheele Contractors' machinery
New Holland tractors – TS135, T6 and 7060
International 574, John Deere 6620 and Ferguson Industrial tractor
New Holland Baler – NH-BB940 and BBU180
McHale H5200 bale wrapper
Kverneland mowers
Drills: Duncan Enviro DD30, plus Aitchison roller drill
Alpaca Rota Spiker sows seeds and works ground in one pass
Power harrows – Lemken and Maschio
Hyundai 140 LC-9 14 tonne and Hitachi eight-tonne excavators
Komatsu bulldozer
Keep up to date in the industry by signing up to Farm Trader's free newsletter or liking us on Facebook