New Zealand fencing contracting trends
---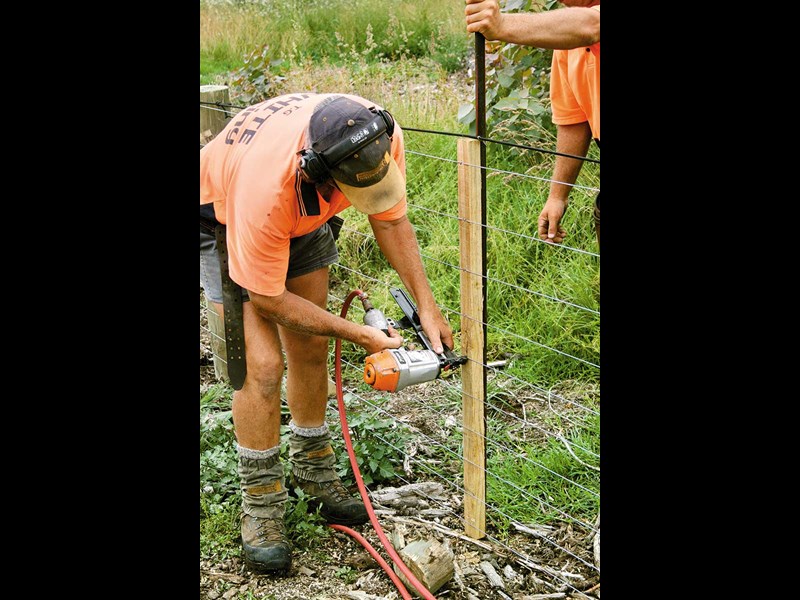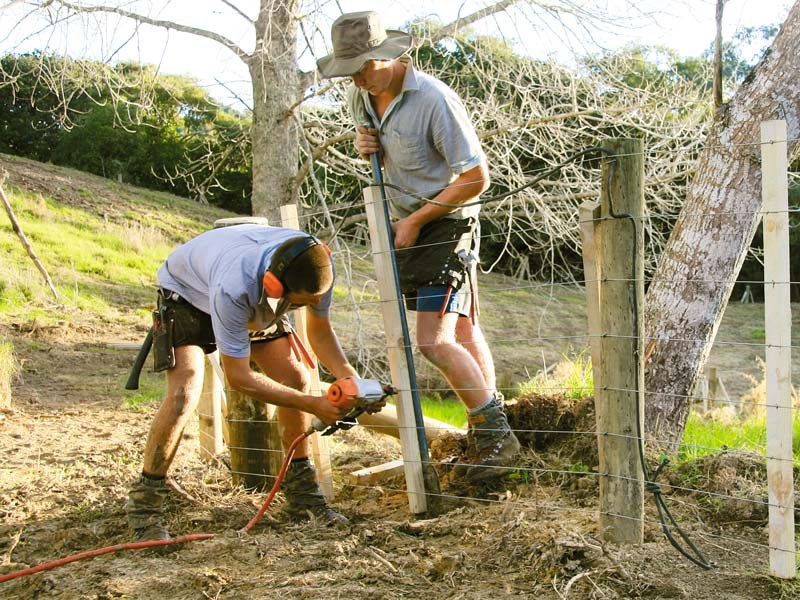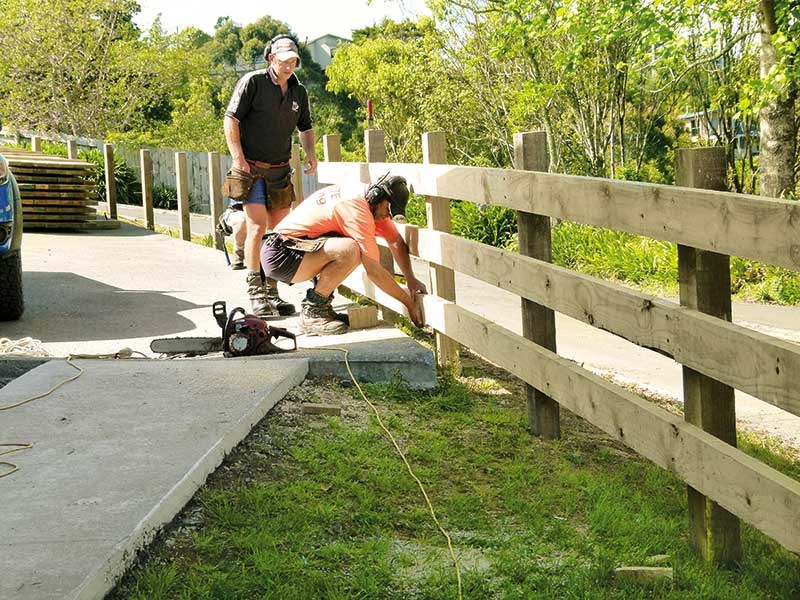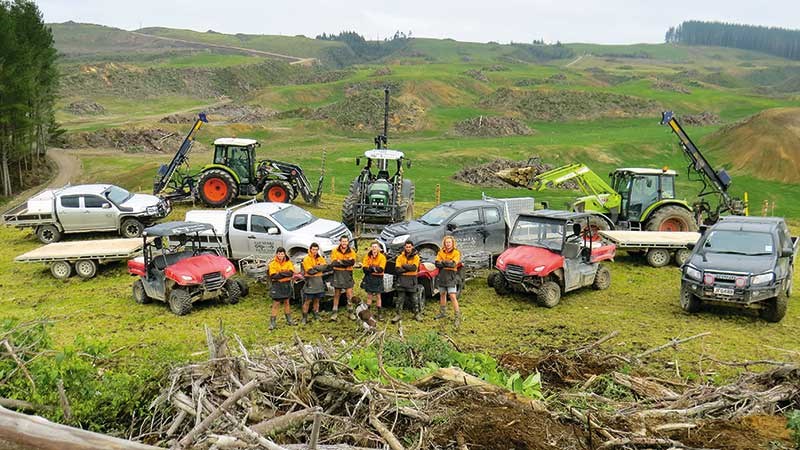 Technology in New Zealand's agricultural and growing systems are fast paced and changing both farming methods and how tasks are undertaken.
These fundamentals of operation have influenced the fencing industry, with many of today's fencing contractors inherently being fencing specialists, incorporating professionalism, investing in their businesses, seeking training and having strong working knowledge of materials and installation techniques.
Looking back, fencing appeared to be a part-time seasonal occupation for many, shearing and fencing went hand-in-hand, along with scrub cutting, though enjoyment of the 'lifestyle' and satisfaction seem the same as today's values. Fencing materials were sourced on farm, hand-cut with adzes, fencing was by hand, tools for tasks developed by the fencers themselves. Professionalism in the industry has come of age, with the majority of fencing contractors being full-time, highly focused on all aspects of their business, rather than job sharing with other industries like shearing.
Fencing contracting has become more business-orientated. Training and qualifications; memberships to industry organisations like FCANZ (Fencing Contractors Association of New Zealand), Site Safe; employment contracts; health and safety plans; public liability and full insurances; material sourcing; and pricing schedules are all reflective of not only a legally compliant business, but one that fully understands the interconnection of these business tools to the profitability of their businesses.
Fencing has always been an easy start-up business in a deregulated industry. A cheap tractor and post driver often leads to the self-declaration that the purchaser was a fencing contractor and therefore open for business. While this still exists, there are a growing number of fencing contractors that are starting up with a high outlay in the plant and machinery in their businesses as a start-up point and then working on the client growth partly in response to their demonstration of investment.
The first purchase is often four-wheel drive utes, partly governed by necessity to have a low maintenance vehicle and perhaps partly based on first impressions – the ability to drive up to meet the client on a new job creates a professional impression. Most contractors have modern utes, decked out with custom-built tool boxes.
Tractors are an essential outlay and remain the most popular choice by comparison with excavators, tracked machines, perhaps because of New Zealand's often hilly terrain and convenience of moving from job to job. There has been a move to cab tractors as opposed to ROPS, offering better protection of both the tractor and the operator, with visibility not being as restricted as previously believed. Four-wheel drives – in the 100hp range with the convenience of shuttle shifts, easy to get on and off – are considered good fencing tractors.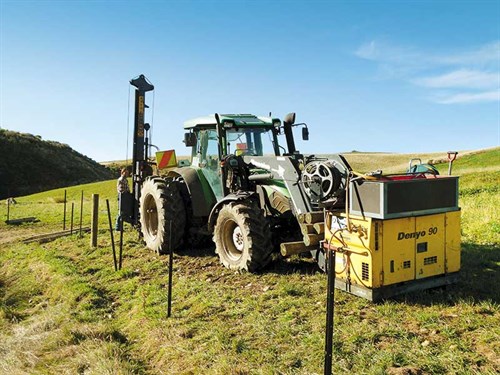 Post drivers have become commonplace both on farms and by fencing contractors. Fully hydraulic has become the norm, with numerous pricing options being available.
Many fencing contractors have moved from quad bikes to side-by-sides, with road-legal lightweight four-wheel drive vehicles like the Suzuki Jimmy offering a cost-effective safety compliant option that allows for excellent weather protection.
Fencing systems have seen a comprehensive development of mechanical tools including quality battery-powered tools for the growing use of bugle head screws in rail work and the electric chainsaw in rail work. Posting and stapling guns are becoming commonplace with the labour saving that they provide outweighing the staple price. The company Stockade, a division of Paslode, is a strong product developer with the launch of a 33x3.15mm staple gun in 2008 and a 49x3.15mm staple in 2009.
In 2013, a pneumatic 400 stapler (50x4mm staples) for post work was developed for the market, which has translated to significant time savings especially on netting fences.
In 2015, the Impulse 315 tool (battens) was launched for the first time, in New Zealand. In 2016, the Impulse 400 tool (posts) was launched at Mystery Creek, and has already generated a lot of interest and sale.
Seemingly simple advancements have become standard. The use of crimps in wirework is proven as more effective than knots with regards to breaking strains. Brian Collins of Strainrite comments: "When the fence undergoes impact (stock, tree damage) on 2.5mm-high tensile, breaking strain of 620kgs, whereas a figure 8 knot typically has a breaking strain of around 400kgs. With temporary fencing 'hot posts' electrified, pig tails, particularly good for break feeding, have become a key product with stock respecting these."
As with any industry there are issues facing the fencing industry. One is a skills shortage, amplified by the ability to find keen staff. FCANZ has been in the process of addressing this problem.
Operations manager Jane Butterick comments: "While there is plenty of work, one of the biggest challenges is recruiting good staff who are willing to work outdoors in a physically demanding job. This is an issue throughout the country and FCANZ has been looking what can be done to address this issue. We have targeted school leavers through the New Zealand Young Farmers Get Ahead Days. This gave us the opportunity to get in front of 1000 students throughout the country and promote the benefits of fencing as career. FCANZ has also been working alongside Limited Services Volunteers Course (LSV). LSV is a six-week motivational and training programme for young people between the ages of 18-25 run by the NZ Defence Force on behalf of the Ministry of Social Development. The first group of cadets that we met at the Burnham job matching day were excellent young people and we are excited about this initiative."
Another issue is imported materials and tools that can achieve low price points due to their quality, mainly appealing to the lifestyle market. They have created price pressure points with farmers, creating expectations with what they want to pay. However, up-front savings need to be weighed up against product performance and longevity. Electrics outriggers and insulators have been hit with non UV stabilised products being used which doesn't hold up in New Zealand climate, creating product failure within one or two years. As a purchaser, it's important to query about UV stabilisation when purchasing and checking for any warranty as its not just about product but also labour input for pull-down and reinstalling.
Don't miss Farm Trader's special rural contractors issue; on sale now!
Keep up to date in the industry by signing up to Farm Trader's free newsletter or liking us on Facebook