Duncan Renovator AS5300
---
Wairarapa dairy farmer Bill Patrick's new Duncan Renovator AS5300 allows him to cover more ground quicker and deal comfortably with trashy conditions.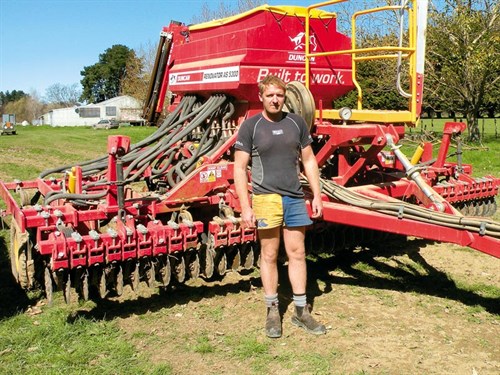 Bill and his family—including parents Bruce and Tina Patrick—use the new Duncan Ag drill on their large 2000-cow dairy farm in the Wairarapa, 15 minutes east of Masterton.
They purchased the Renovator AS5300 last year to replace a Duncan Renovator MK3 drill, which they had run for seven years. "The MK3 was good and we had a really good run out of it," says Bill.
"The only reason we upgraded to the bigger drill was to get more work done. It is basically the same setup. It has the same till and row spacings. We just went for a bigger machine to get more done."
Bill and his brother operate the new AS5300 drill and have done just more than 700 hectares with it in the past year.
"We have drilled cereals, oats, and barley — direct-drilled and into cultivated ground — and we have drilled summer and winter brassicas and our grass pasture mixes, also in direct-drilled and cultivated ground," he says.
"It's been good in both ground types and we have had good results. Autumn was really dry this year, and we had trouble with germination across the board with the drier country, but that was just because of weather problems."
The Duncan Renovator AS5300 is a 5.3m tine drill that folds down to 3.1m for transport and is ideal for large contracting and farming operations. It is designed for work in direct-drilled and worked ground and features a 2000-litre capacity split hopper for both seed and fertiliser. Bill, who is also a spreading and baling contractor, says trash moves easily through the drill.
"You're always going to find some areas that are quite trashy, but generally, it's been good and we're quite impressed. With the MK3, it used to catch a bit of trash with the tines and the clearance, but with this one, the clearance is deeper, so it has more spread and gets through the trashier stuff," he says."It has a simple calibration system, and it's really easy to set up and use. That's one of the main things. It's easy to change between seeds, and we have never had any trouble not being able to do anything with it."
The Duncan AS5300 seed drill is built for flat, undulating and hilly ground, although Bill has not used it on steep country to date.
"We're still using our small drill on our steep, hilly country. We pull the AS5300 with a 270hp tractor, but we are probably limited with our tractor setup a bit for using it on the hills. We need to get some dual wheels on it," says Bill.
"It contours well for a 5m machine. I was worried about whether it would contour but it follows the undulations well."
He's also impressed with the strength and build quality of the Renovator AS5300, which features 25mm coil tines and the Duncan T boot with tungsten tile on the leading edge.
"With the old MK3 drill, the framework never cracked, which was quite impressive because we were dragging it around a fair bit of rough stuff," says Bill.
"It's a bit early to tell with this one, but it looks strong in construction and heavy enough to last."
Keep up to date in the industry by signing up to Farm Trader's free newsletter or liking us on Facebook