Landpower's precision farming
---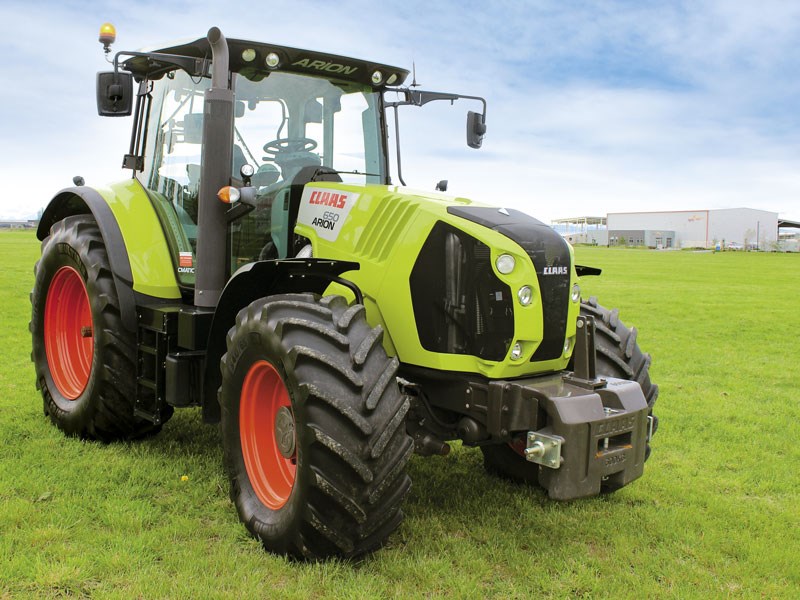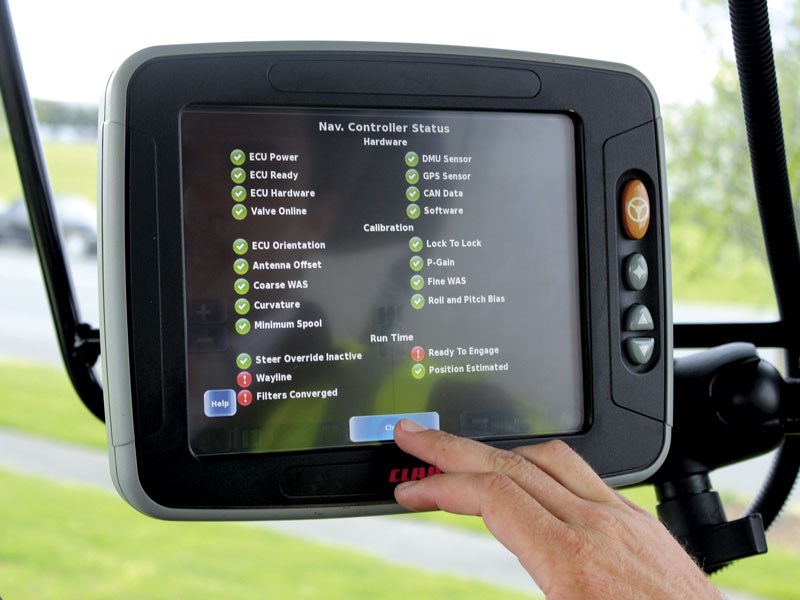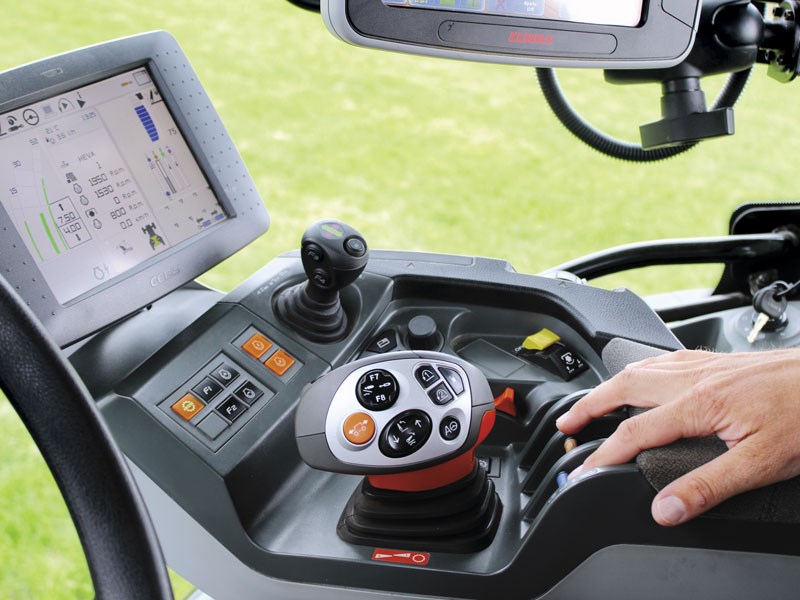 Travis Ryan-Salter from Landpower talks about the latest technology making its way into every Claas machine. He says it's all about precision farming.
Travis Ryan-Salter from Landpower is tasked with bringing Landpower's customers up to speed with the latest technology now making its way into every Claas machine. As he tells Cameron Officer, it is all about precision.
Boasting numerous branches throughout New Zealand and Australia, Landpower has grown to become one of the largest privately-owned farm machinery distributors in the region. Customers can visit 12 Claas Harvest Centres around the country, each one packed with machines that, these days, sport some pretty impressive technologies.
And it is Travis Ryan-Salter's job to get Landpower's many customers familiar with those new technological advances. As the distributor's product manager for precision farming, Travis is rarely in the office these days, spending time out in the field with clients and their Claas machines as each new generation of equipment comes loaded with smarter software to back up the horsepower.
I recently caught up with him for a chat at Landpower's New Zealand headquarters in Christchurch.
Travis' actual background is in agricultural science (he holds a BAg Sci (Hons) from Lincoln and he is working towards finishing off his PhD), but a natural interest in new technology led him to his current role with Landpower. It is a role he enjoys immensely, and despite advances in telematics, meaning he can assess a variety of tech topics remotely, he reckons it is always better to get out in the field.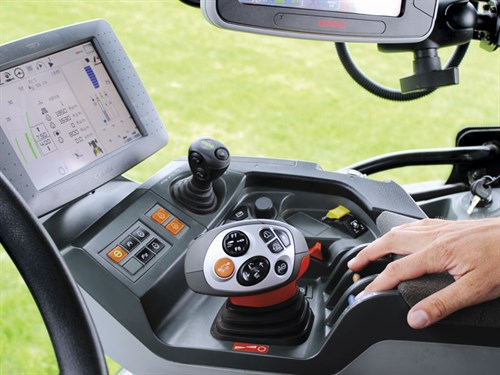 "I'm really there to listen as much as advise," he says.
"There's no point sitting in an office and guessing, so I always like to get out and see clients in their own environments; that is the best way to figure out what they need from their Claas machines and how the technologies we're incorporating these days can help their operation.
"These machines are big investments for our customers, so there's a real need for people to understand just what they are capable of achieving. A feature might be written down in black and white, but often it is not until a customer sees that feature working in their paddock that it really clicks."
Precise device
Up until now, machine telematics have been the big news story in product technology. But now the advances in land management that can be gained through data collated by the machines and implements working the field have changed the game again.
"Machine telematics are still a vital part of the Claas product offering, and we have various packages customers can opt for,"
says Travis.
"Our combine harvesters have numerous settings and options that can be adjusted. Customers and dealers can look at the settings remotely and decide whether changes are necessary. For example, there might be too much load on the engine, resulting in higher-than-normal fuel usage.
"Our dealers can work with the customer on that sort of stuff and having that back-up remains vital, especially for larger operations where the ability to compare machine performance across a fleet helps the client zero in on the best possible efficiencies."
But as Travis says, it is the idea of precision farming – targeted land management through automated systems and advanced GPS controls – that is developing rapidly.
The ability to identify differences in soil characteristics and crop health as well as forecast yield capacity within different parts of the paddock (while preventing nutrient accumulation) is pretty powerful. It is not just about crystal-ball gazing, though. Precision farming also aims to save the operator both time and money, ensuring investments in fertiliser and seed alike go further.
Section control
Aside from operational advances around automated steering and PTO implement controls, Claas also has a number of technology packages designed to get the most out of every field."One of the advanced systems we are now using is known as Section Control. This mitigates overlapping by automatically controlling sections the machine moves across the paddock during spraying, spreading, or drilling,"says Travis.
"It is designed to stop you from spraying or spreading in the same part of the paddock twice, in order to reduce wastage and improve operator comfort. It will even allow adjustments for odd-shaped paddocks or obstacles and the system recognises headlands too."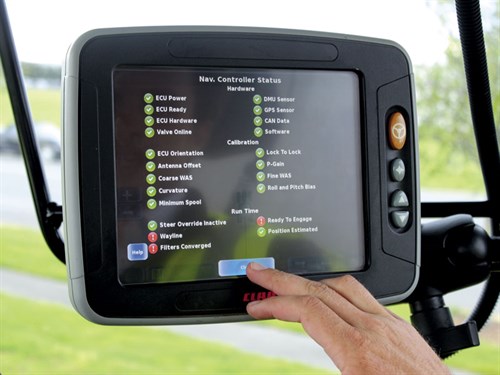 The advances don't stop there. Travis says that at the top end of this technology offering, utilising a loader wagon with a Claas tractor can become "as near to fully autonomous as we can currently get", whereby the loader wagon can control tractor acceleration, with the two machines working out the optimum speed to operate at.
"As to self-steering capabilities, we can either affix a Flexwheel electronic steering system to any of our machines, or Claas tractors and harvesters can be ordered from the factory with built-in hydraulic valves, which let the machine steer itself within set parameters. Its clever tech and ISOBUS functionality can be integrated too."
Data delivery
Elsewhere, Claas' Task Controller Geo system enables operators to vary the application rate of fertiliser and also offers the capability to carry out real-time yield mapping for harvesters. Travis says that, once again, this sort of system is designed to give the farmer the most efficient use of materials and the most consistent return.
"The yield mapping generated in the paddock can then be wirelessly sent back to the contractor's base, so staff can use that data to create yield maps, which can then be sent out to their client.
It provides for pretty seamless data delivery system and it all happens in real-time." Of course, the technology works in reverse too. Detailed operating orders for individual paddock sections can be created at HQ and transferred electronically to the tractor cab.
"I think the big idea here is to ensure this sort of technology isn't intimidating for our customers,"says Travis.
"It's actually incredibly intuitive and – from a machine technology point-of-view – it is here to stay.
"If a customer is having an issue getting to grips with something, then that is also the best way of learning for me, too. Every operation is different, so there is nothing like being forced to come up with a solution to help gain an understanding of what our clients are expecting out of their machinery.
"Like every part of the primary industries sector, precision farming comes back to working smarter and safer. I think Claas' combined technology is succeeding in
both aspects."
Keep up to date in the industry by signing up to Farm Trader's free newsletter or liking us on Facebook