Product profile: Honda Pioneer 1000
---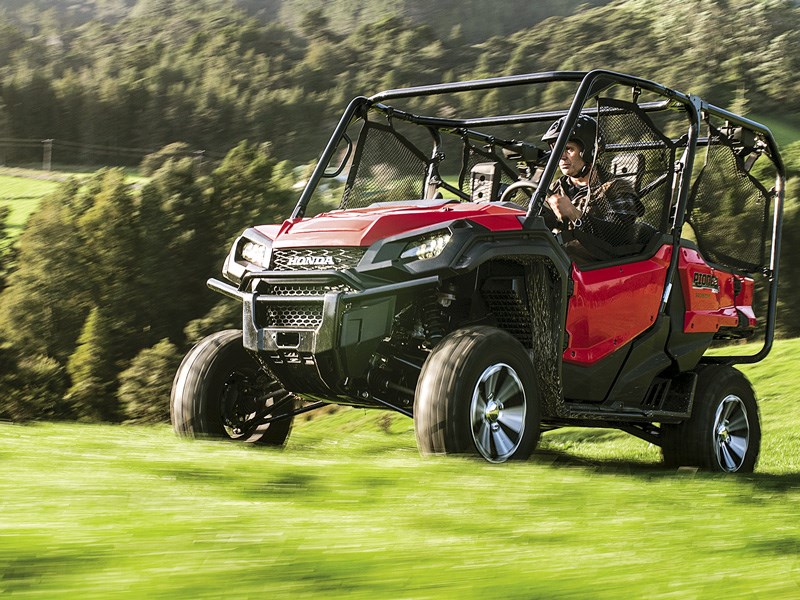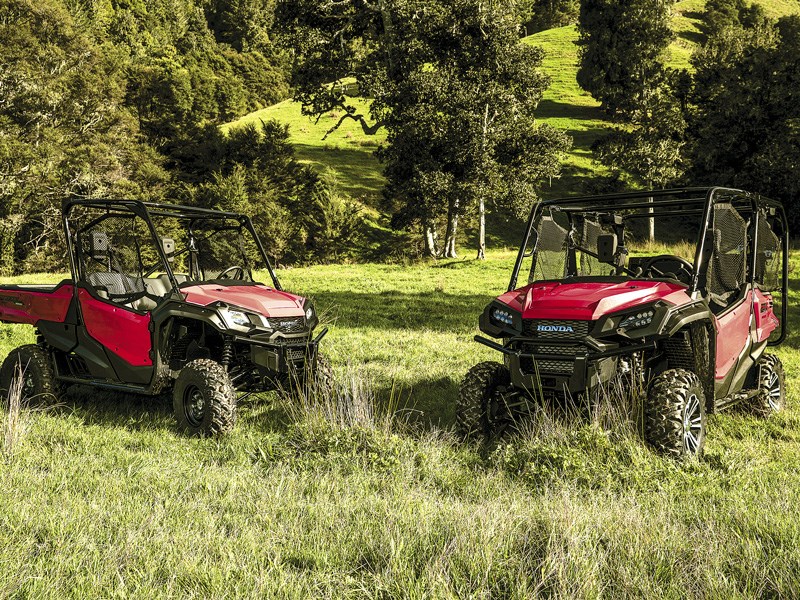 Take a closer look at Honda's latest offering in MUVs, the Pioneer 1000
The concept of a multipurpose side-by-side has changed forever with Honda announcing the Pioneer 1000 and Pioneer 1000-5. With features such as a class-leading, purpose-built, 999cc parallel-twin engine and the side-by-side industry's first Dual Clutch Transmission (DCT), it is immediately clear that a new standard has been set.
Honda engineers set out to develop a class-leading side-by-side (and that's exactly what the Pioneer 1000 is) with engine, chassis, and transmission features that make the Pioneer 1000 super capable in New Zealand terrain.
Honda has repeatedly proven that there is simply no one better at developing engines, and its full expertise was called upon for the Pioneer 1000's all-new, purpose-built side-by-side power plant. The new engine shares the Unicam® design like that of Honda's legendary CRF motocross models – achieving high performance while simultaneously minimising weight and bulk.
The longitudinally mounted engine is unique to Honda and eliminates unnecessary right angles in the driveline, ensuring an efficient transfer of power to the ground. The side-by-side market's first fully Automatic DCT also has a sport mode switch and manual paddle shifters. All-gear designs (with no belts) provide a direct, connected feel between the accelerator and the wheels, as well as improved durability, reduced maintenance, and efficient power transfer.
A low range sub-transmission has a 1.42:1 ratio (like a 4WD truck), essentially doubling the number of gears from six to 12. The Pioneer also has diff-lock for increased climbing ability and a turf mode to reduce terrain degradation when required.
Like the engine, the Pioneer 1000's chassis was purpose-built, engineered for uncompromising comfort and capability. Dual A-arm design and fully independent suspension front and rear, with 10.5 inches of plush travel up front and 10 inches in back ensure a compliant ride. Also standard on the five-person models is a self-levelling rear suspension system, which automatically maintains the appropriate ride height when fully loaded via a series of hydraulic chambers, thereby maximising ride comfort and maintaining consistent vehicle handling.
Serving as a constant reminder of the Pioneer 1000's premium status is the
attention to detail and the fit and finish of the interior. Included is a wide, comfortable bench seat for up to three passengers, with hand-hold straps and a shoulder belt for the centre passenger. Hard doors with nets are standard on all models.
Large, easy-to-reach transmission and drive levers with positive detents make it easy to identify the selected gear and drive mode by sight or feel. The LCD multifunction display has a large, easy-to-read screen, showing speed, odometer, trip A and B, tachometer, gear selected, transmission mode, drive mode, clock, fuel, water temperature, mode and maintenance reminder. Two open dash-storage areas and a weatherproof glove box provide ample storage.
With a large tilting cargo bed and massive one-tonne towing capacity, the Pioneer is set to work hard. An added bonus of the 5P model is the QuickFlip. Customers who opt for a five-person model can quickly convert the cargo bed into rear via the easy-to-use QuickFlip feature (exclusive to Honda).
Owners looking for more ways to customise their Pioneer 1000s can select
from a range of Honda genuine accessories. The Pioneer 1000 joins the capable and popular Pioneer 500 and 700 series and is available now.
Keep up to date in the industry by signing up to Farm Trader's free newsletter or liking us on Facebook