Profile: Duncan AS4000
---
Air-seeder Duncan Renovator AS4000 plants just about anything, in any condition
Whanganui contractor Tom Matthews was in search of the perfect drill. It had to work in cultivated ground, it had to operate as a direct drill in pastures or harvested crops, and it had to be tough enough to plant through thick layers of mulched residues left behind after the maize harvest without blocking.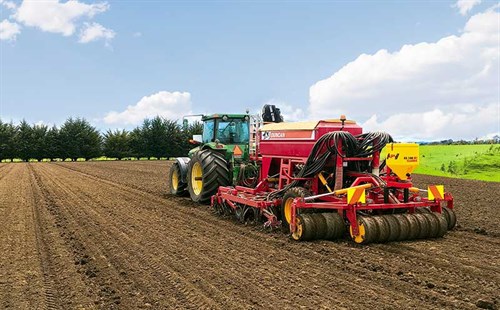 Duncan AS4000
"I got the AS4000 in April 2016 in time to drill grass seed into maize grain residue. It worked perfectly. The grass came up and we were able to graze lambs over winter and cut baleage in September. It was the first time we were able to do that," Tom says.
The Duncan AS4000 (as in air seeder that is four-metre wide) carries two tonnes of fertiliser and one tonne of seed. When it is fully loaded, Tom can cover up to seven hectares.
His model also has a crane mounted on the front to load half-tonne bags. "Sometimes in the yard, I may use the forklift but most of the time, I turn on the hydraulics and use the crane."
The drill has twin rows of staggered openers. Tom says the tines are well-weighted and they stay in the ground and give an even result.
Behind the seed coulters is a rubber roller mounted to the frame.
"Having the roller on the frame makes it easy. I can back into corners and the roller is always directly behind the drill," he says. The weight of the drill gives good penetration. Tom wondered if the weight could create excessive compaction but he found it was not an issue.
"The AS4000 ripped through any compaction created by turning on the headlands, and everything came up even through the wheel tracks. It leaves a perfect paddock and it plants just about anything in any conditions.
"We wanted an all-purpose drill for cereals or direct drilling into existing pastures or for brassicas. It does that and I can also set it up as a roller drill."
Tom was impressed with the results he had last spring despite the wet conditions.
"We worked up some paddocks and power-harrowed them, then they sat for up to two weeks before we could get on them again. We were able to go straight in with the drill and it came up perfect.
"Before, with our disc drill, we didn't get the penetration and had to re-work the paddocks after they were rained on. So it has already given us savings by going straight into it."
The row spacings on the Duncan AS4000 are 125mm and calibration takes two minutes. Tom was not sure there would be enough air pressure to blow out the seed and fertiliser the full width of the drill, but he says there is plenty of push.
"You can work up to 120kg of fert per hectare, no issue, so you can cover the ground. That's been huge this season. When it does dry out enough to work, we can go flat out."
Tom pulls his Duncan drill with a 280hp tractor and has an APV slug bait spinner mounted on the drill. In cultivated ground, he travels at about 12kph and for direct drilling, it is 8–10kph.
"We do a lot of hill work, so we wouldn't want a smaller tractor or a wider drill. The AS4000 is no trouble on hills even when full. You would tip the tractor before you could tip the drill, and you would be doing well if you could tip one of our tractors."
Setting up and finishing at the end of the day are easy as. Flick a few switches and the hydraulics folds the drill into transport mode in 20 seconds, and you're off home.
Keep up to date in the industry by signing up to Farm Trader's free newsletter or liking us on Facebook