The Disel and Dirt Derby tractor pull
---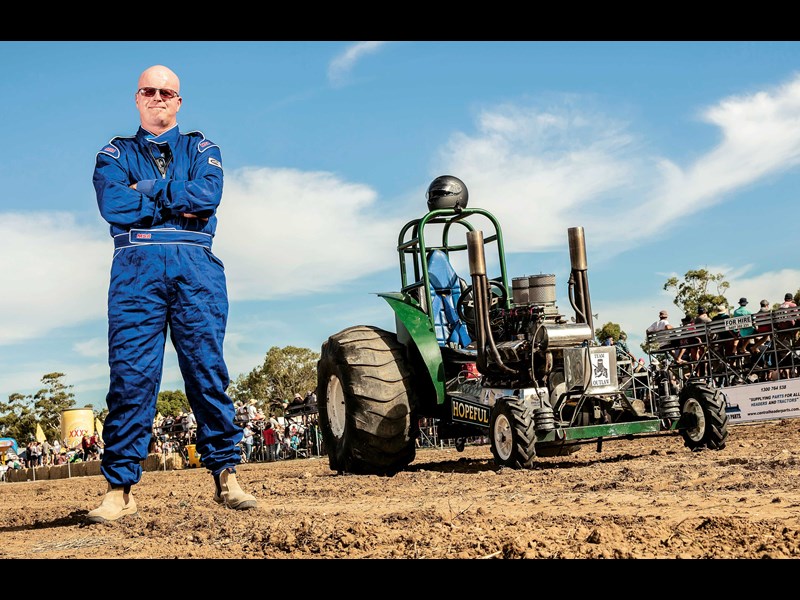 Ready to rumble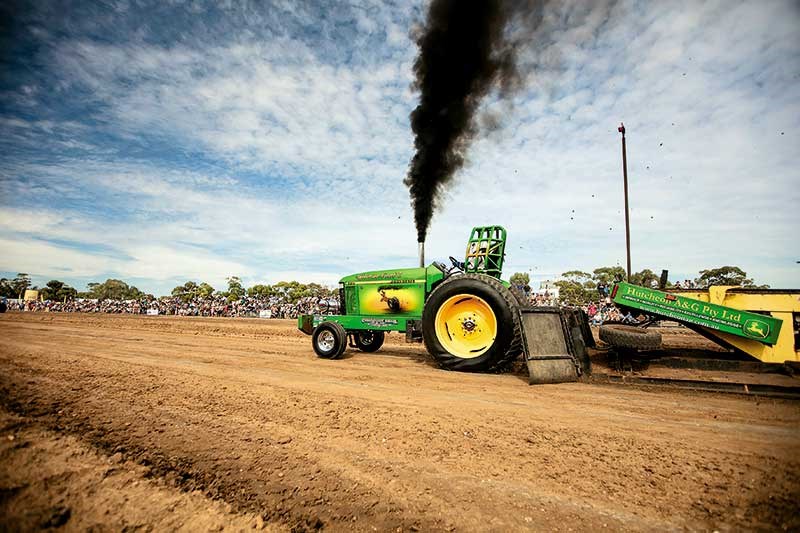 It may be a green machine but it ain't Euro 6 emission compliant, that's for sure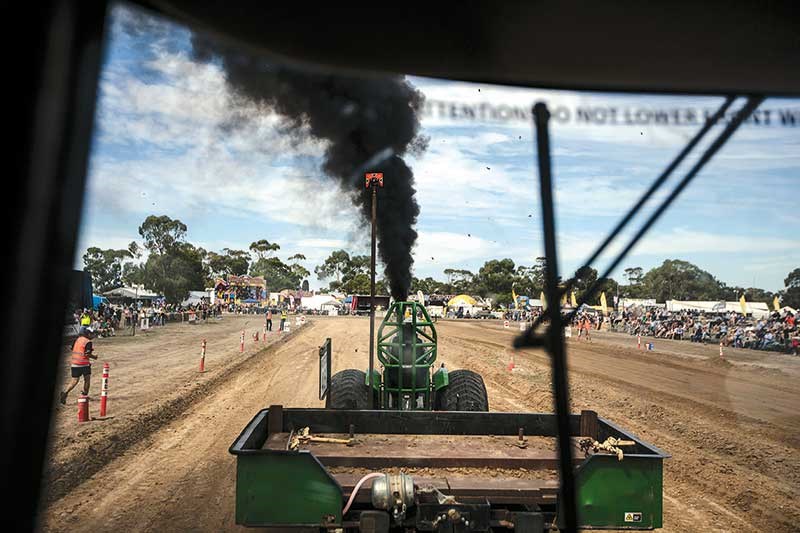 A sled's eye view of proceedings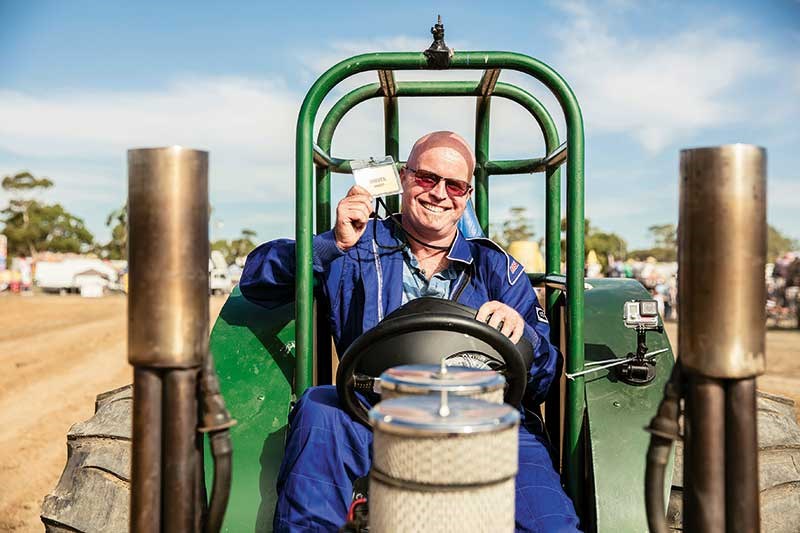 Many people would suspect that I already had a licence to pull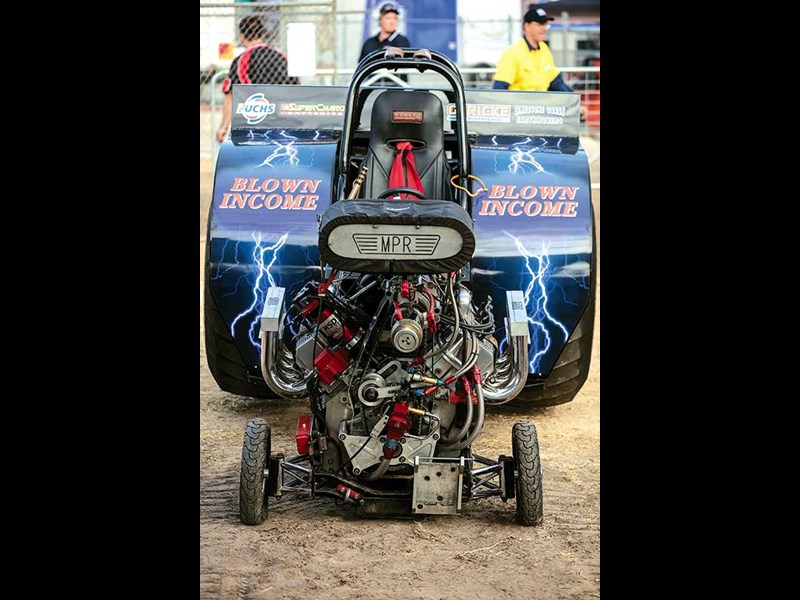 This thing is a chassis-twisting monster and an animal on the track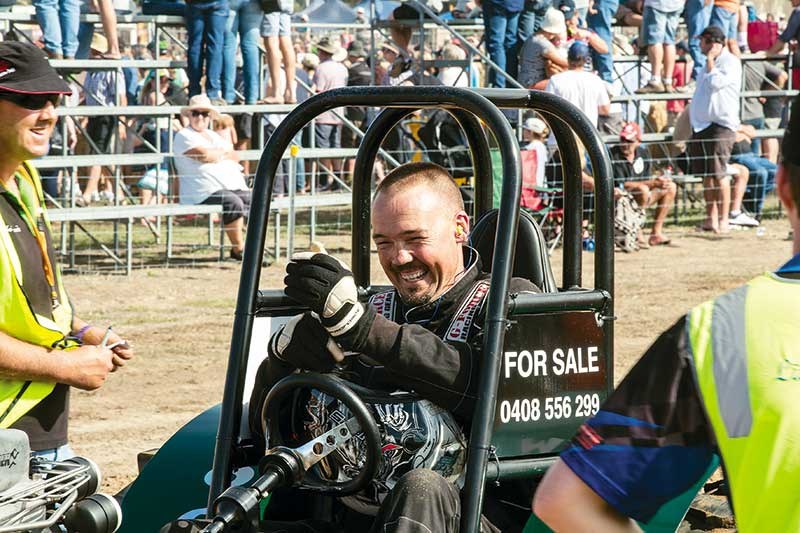 I know how he feels. Competition pulling does that to you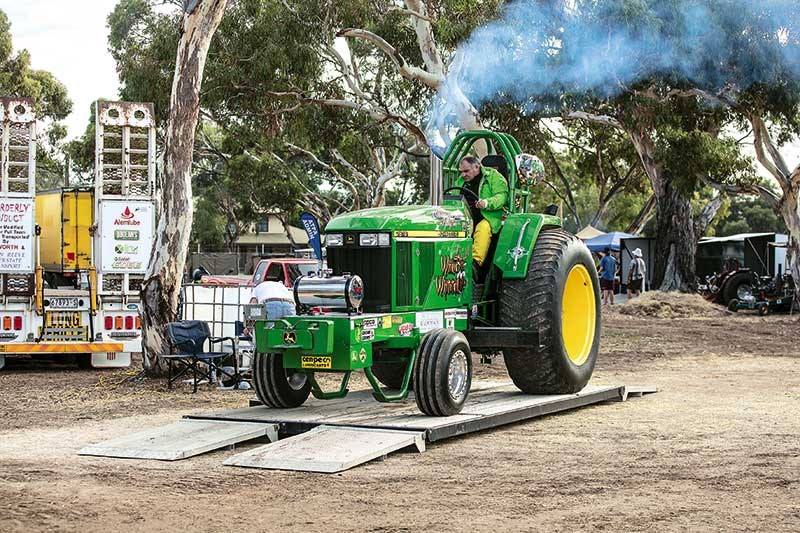 All competing machines are weighed before the event to make sure they are within the weight range for their class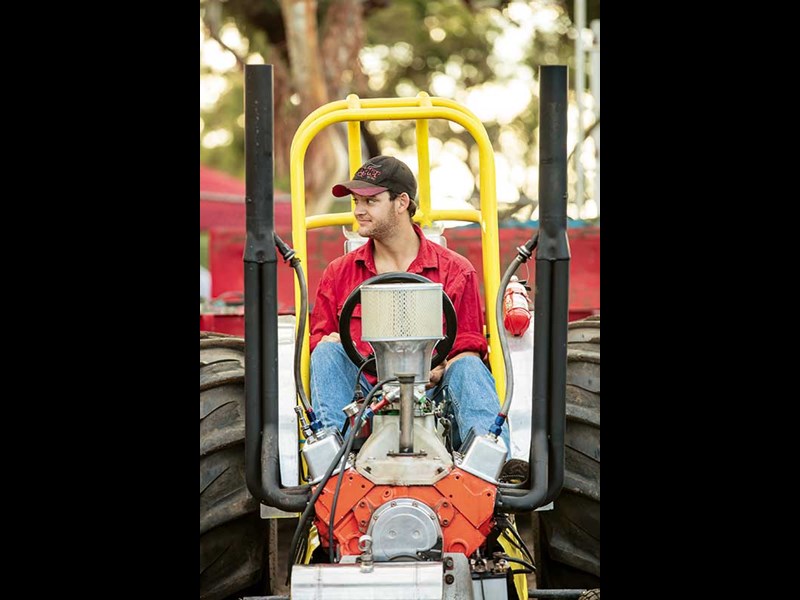 That would have to be the fastest I've ever seen a Fordson Major move! It's a far cry from running a saw bench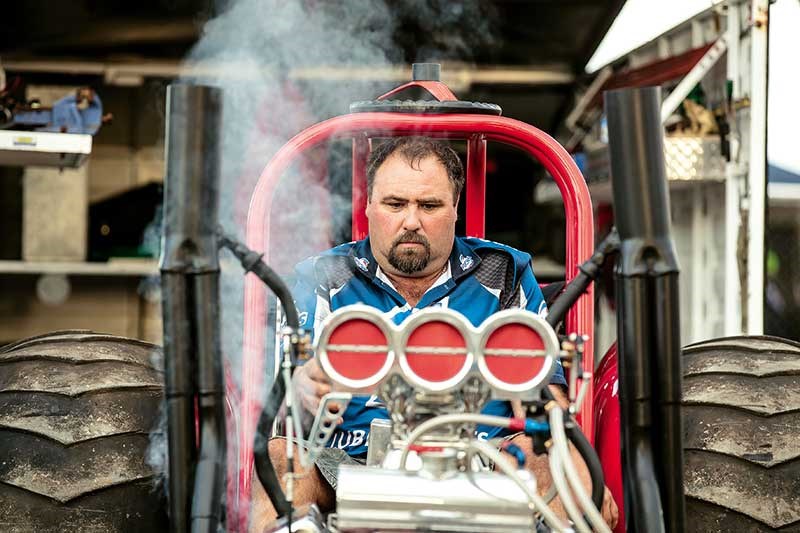 The sport calls for concentration on and off the track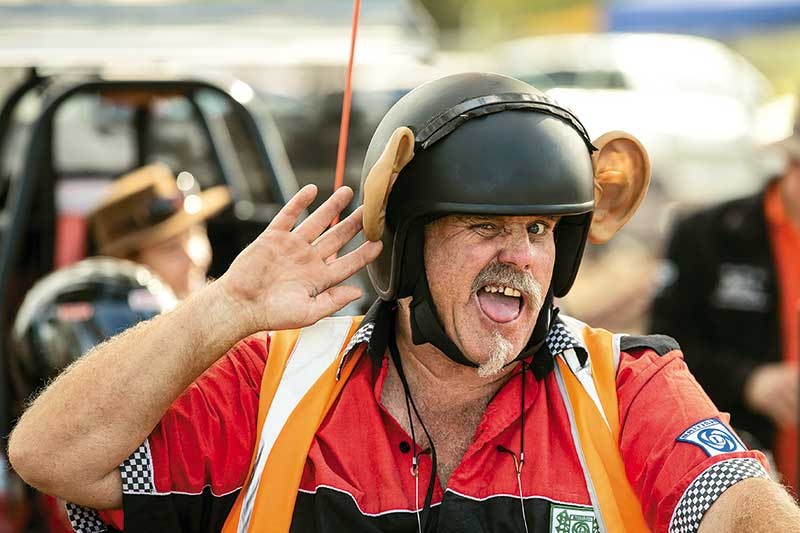 Yes, tractor pulling is that loud

Farm Trader recounts the thrilling experience from the tractor pull in Keith, South Australia
This was my first time competing in a tractor pull. In fact, it was my first time at a tractor pull, full stop. I was packing myself just a little.
Just a couple of weeks earlier, I'd caught up with Jobbo in his hometown of Quambatook for a ... er ... crash course in tractor pulling.
The Super Mini tractor is called Hopeful and is owned by Team Outlaw, which consists of Jobbo and his Melbourne-based teammates, Bob Kinnersley and Kenny Patterson.
Jobbo gave me a run down on the tractor and I took it for a squirt bob-tail. It was a hoot, just like driving a dirt dragster but without the important stuff like brakes or effective steering. I was hoping that my first competition drive in Hopeful wasn't going to be hopeless.
So that's how I found myself at the Diesel and Dirt Derby in Keith, South Australia – a wholesale celebration of horsepower and dust-laden farm-fuelled hoonery.
As well as the tractor pull, there were trophy trucks, jet boats and, my favourite, a header demolition derby. What better place to have a crack at dragging a 3.5-tonne sled 100m down a dirt track with a super mini-modified tractor?
The Super Mini tractor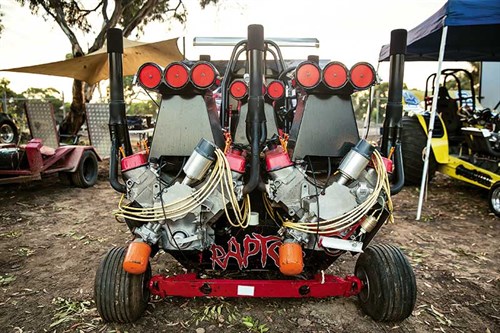 A Super Mini tractor generally tips the scales at 860kg and is often referred to as the Fat Man's class. Apparently, fat drivers fit into this weight category just nicely, which worksfor this particular writer.
The next class up is the Open Mini class where all manner of supercharged, turbo charged, nitro-powered, chassis-twisting madness can be found.
Heading up the size ladder, you'll find multi-engined behemoths in the Limited, Super, and Open Modified classes.
Then there's the diesel-fuelled Pro-Stockers, also known as the 'Smokers', which are roughly based on an existing production tractor. And there's the spectacular wheel-standing, two-wheel-drive truck class where competitors are limited to one naturally aspirated engine, in most cases a big block stroker.
Jobbo has a history with the sport that stretches back to 1982 when tractor pulling was in its infancy here in Oz.
A handy wielder of a spanner, Jobbo built this country's first pro-stocker, the T&I Terminator for Swan Hill based T&I Tractors back in 1998.
The rules are relatively simple: attempt to haul the sled as far down the track as you can.
The sled gradually tries to stop you by either dragging on the track surface or by throwing the weight forward on the sled, weighing down the pulling vehicle. If you crack the 100m mark or 'Full Pull', you then go in a 'Pull-Off' with any other tractor that manages to make the 100.
Apparently, according to Jobbo, quick reflexes, a strong tractor, and knowing what part of the track to use are the main qualities required to be competitive in pulling. I push this to the front of mind as the green flag drops at the end of the track.
Driving the pull tractor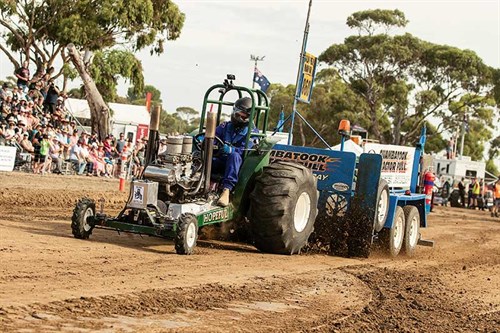 With my best race face on, I squeeze the go pedal as the sled chain pulls taut. I pick up some momentum, then nail my right foot all the way down to the floor. The stroker answers with a hairy-chested bellow, tyres digging at the track surface.
All of a sudden, those dicky little steer wheels out front seem woefully inadequate
for keeping the tractor in a straight line. The Chevy's V8 thunder reaches fever pitch and emits a yammering howl as it hunkers down and hauls. We gather pace down the dirt. Clods of earth hammer the sled.
I start to get out of shape, and instinctively, I button off briefly – not recommended as the sled can grab you. There's a pucker moment before I nail it again and the tractor thankfully pulls straight.
The sled starts to dig in and I've got my foot flat with the small block attempting to gulp in fuel and air through the twin Holley centre squirters perched atop the tunnel ram manifold.
Then, it's over. I'm dragged to a stop at 94.2m. I kill the ignition and hear my heart thudding in my temples. What a blast! A high horsepower homage to haulin' hay! And
I didn't even quite suck as much as I thought I might.
Keep up to date in the industry by signing up to Farm Trader's free newsletter or liking us on Facebook