Profile: Barbavilla Estate, Ireland
---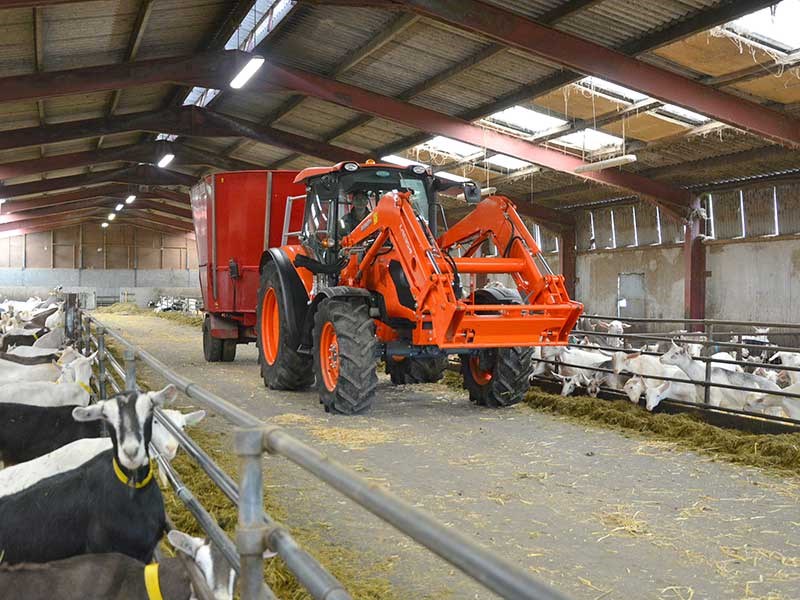 Juergen uses a tub feeder to feed a mix of silage and hay to the goats that are kept indoors all year round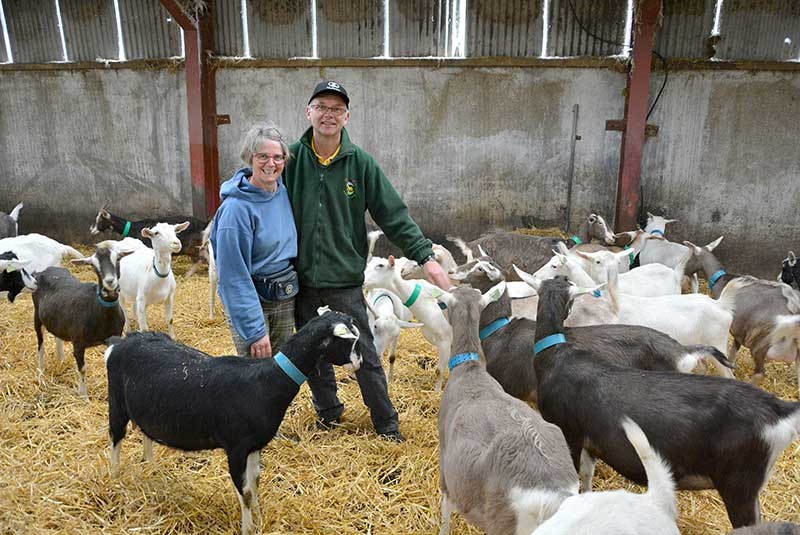 Claudia and Juergen Marl with their goats in Ireland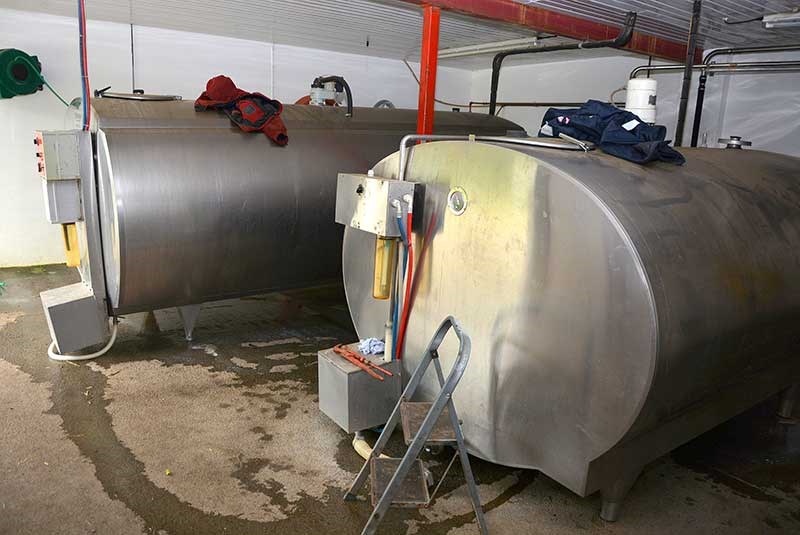 The goat milk is stored in two tanks on-farm for collection twice per week

When finding a decent second-hand tractor those on offer are usually quite expensive and came with very few guarantees, but Kubota is different
Originally from Germany but farming in Ireland for the past 27 years, Juergen Marl and his wife, Claudia, run Barba Goat Farm near Collinstown in County Westmeath.
The farm extends to 500 acres in the Barbavilla Estate and is home to 350 milking goats, but the Marls have plans to increase the herd to 500.
"Last year, I was looking for a second tractor on the farm to operate the diet feeder we use to feed the goats," Juergen says.
"I was originally searching for a used tractor but found them rather expensive and wasn't too sure about their source or service history.
"I happened to call into the Clarkes of Cavan Kubota dealership to have a look around and ended up purchasing a new Kubota M9960 tractor with a Kubota LA1354 front end power loader attached."
The Kubota purchase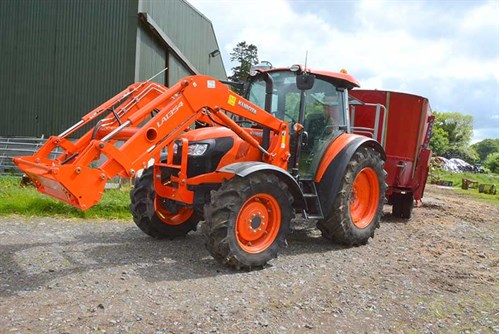 Juergen made his Kubota purchase, as he was impressed with the tractor price and the attractive warranty, which also influenced his buying decision.
"The three-year warranty extended to five years on the Kubota M9960 coupled with the keen price made buying this tractor new make more sense than buying a second-hand tractor," Juergen adds.
"The tractor is compact in stature yet spacious inside the cab, which makes it easy to operate along the feeding passage when dispensing silage to the goats.
"We use a JF Stoll VMR tub feeder to mix up hay and silage to feed the goats twice per day. I opted to purchase a Kubota power loader with the tractor as well. I use another tractor and loader to fill the feeder but I decided a second loader would also be useful at silage time to cart and stack the round bales."
As well as using his Kubota M9960 tractor on the diet feeder during winter, Juergen uses it to move round bales and operate the grass tedder at silage time.
Kubota M9960 specifications
Juergen's Kubota M9960 is powered by a Kubota common rail four-cylinder turbo engine and fitted with a 36 forward and 36 reverse transmission, which can reach a maximum forward speed of 40km/hour.
These gear ratios on the M9960 are achieved by a mechanical six-speed gearbox and a reduction box that offers three speeds as standard. In each of the six main speeds, the operator can select one additional power shift without engaging the clutch.
The manufacturers say that with an excellent power to weight ratio and a maximal load capacity of up to 3800kg, this tractor is best suited for use on grassland farms or as an on-farm tractor with front-loader use and for soil cultivation.
"Visibility from the cab is superb," Juergen says. "It also has a comfortable operating space within the cab. This makes using the loader handy and safe.
"What I like mostly about this Kubota M9960 tractor is the small radius turning circle and the fact that it does not have too many electronics. It is a super little tractor and one that does everything I ask of it around the farm."
Juergen's Kubota M9960 currently has around 650 hours on the clock but it is a long-term investment for the farm.
"With regular servicing, we aim to keep this Kubota for a long time," he says. "I am happy with how it has performed for us so far."
Juergen also operates a 2015 Massey Ferguson 5613 tractor and power loader combination for loading the diet feeder and other jobs on the farm.
Managing the farm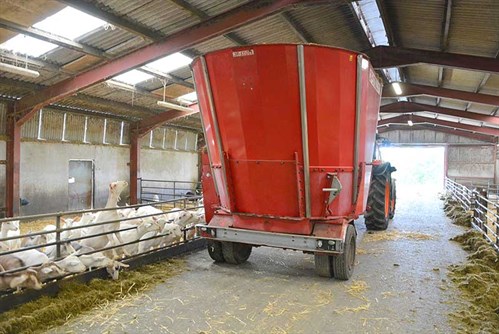 While Juergen is in charge of the machinery on the farm, Claudia looks after the goats and milking them.
After operating a goat herd on the farm from 2001, Juergen and Claudia decided
to disperse the herd in 2012 for personal reasons. However, after a one-year break
from the goats, the couple decided to restart their herd, which has now been running for four years.
Barba Goat Farm sends its milk to a number of different outlets to be processed into milk, yoghurt, and cheese.
"We did start afresh with a new herd in 2013 after taking a break for a year. There are 500 acres here at Barbavilla Estate in total, of which we use 340 for farming purposes, including 70 acres we use only to produce fodder for the goats," Claudia says.
"Although they stay indoors all year round, we use the 70 acres to make pit silage and round bale silage to stock as fodder to feed the goats during winter."
The new herd is quite a young one but has already established itself as being quite productive with top-quality milk, which is in high demand from local processors and milk buyers.
"This current herd has been in production for the past four years and consists of Toggenburg, Nubian, Alpine, and Saanen breeds," Claudia says. 
British Saanen goats produce higher milk yields and are the most commonly used breed commercially. Anglo Nubians produce a higher fat content in their milk and are also quite common on most goat farms.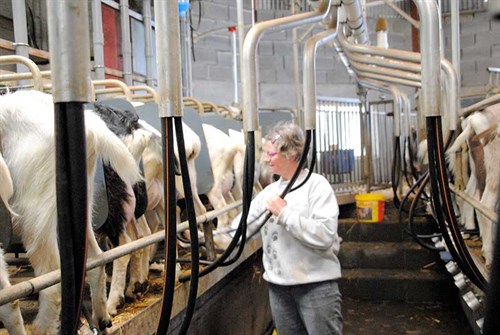 Claudia's goats are milked at 7am and again at 5pm each day, seven days a week, achieving a yield of around two litres per goat, per day. Milk is stored in the farm's two dairy tanks and is collected twice a week by the processors.
"We are currently milking 300 goats producing around 600 litres of fresh milk per day and receive 70 euro cents per litre from the processor," Claudia says. "We get paid on quantity rather than quality but we still aim to produce the best milk we can from our farming system.
"Goats are milked twice a day in our Fullwood rapid exit parlour, which holds 80 goats and milks 40 goats at once on one side.
"Our goats are currently yielding an average of two litres per animal but we always strive to increase that to 2.83 litres per goat, which is an excellent average.
"This parlour has been installed for the past 10 years and is efficient when milking the goats. Each milking takes around one and a half to two hours, and I usually milk them all myself keeping our labour requirements to a minimum.
"We do employ two staff here at Barba Goat Farm and also take on some students who come here to help out as well."
The deal with goats milk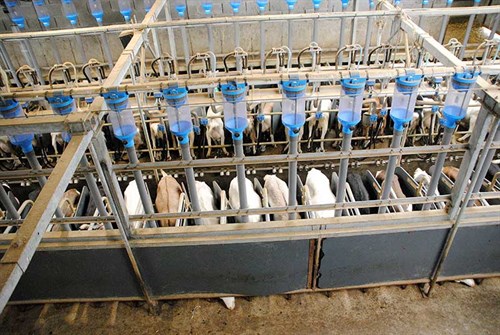 Demand is good for goat milk in Ireland and for products made from the goat's milk. Claudia and Juergen supply a number of outlets with their milk, including Glenisk Dairy in County Offaly and the Village Dairy in Carlow as well as some specialist cheese makers in Galway.
Claudia says, "There is currently a good demand for goat milk and cheese and that demand is on the increase. With that in mind, we are planning to increase the herd to 500 milking goats sometime in the near future."
The Marls use a milk recording programme to monitor the production of each goat that helps them choose which ones are the best in terms of milk yield and quality and to breed from.
"We operate a 20% goat replacement rate," she says. "That means we currently replace around 70 goats per year with younger stock.
"When we increase the herd to 500, we will, therefore, be replacing around 100 goats each year," she adds.
Most of the kids are born at Barba Goat Farm during spring with all the females being kept as replacements for the main herds. The young male kids are sold on to other farmers.
Goats tend to have a gestation period for around 150 days, give or take a week, and with that in mind, between 33 and 50% of the goats at the Marl's farm are in kid at
any one time.
The female goats are served by the billy goats when they are in the region of 40 to 45kg, which is the optimum condition for the goats to be at mating.
There are 10 billy goats used at Barba Goat Farm of varying breeds that have been purchased from other goat breeding farms in order to advance the genetics in the Marl herd.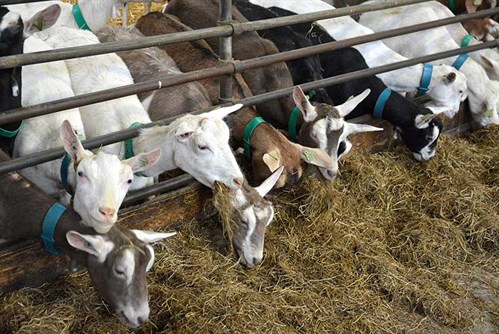 "The billy goats are pretty timid animals," Claudia says.
"We house them all in the same pen here when they are not being used.
"Billy goats get a bad rap for being quite smelly, and if people touch them, they, too, will be smelly. However, the smell comes from a gland between the billy goat's horns and if you don't touch this, then you won't smell."
Although some goat farmers graze their animals, it is more common to zero graze milking goats, housing them all year round to prevent intestinal parasite infections and the need for treatment, which involves withholding milk for human consumption as well as costly medicines.
Keep up to date in the industry by signing up to Farm Trader's free newsletter or liking us on Facebook