Profile: Duncan AS6100 seed drill
---
The Duncan AS6100 seed drill is working wonders for rural contractor, Nick Pratt, so Farm Trader went to Penola to find out more
South Australian contractor Nick Pratt's new Duncan AS6100 folding tine drill is creating a superior finish in pasture renovation, and he expects it will help him grow his seeding operation.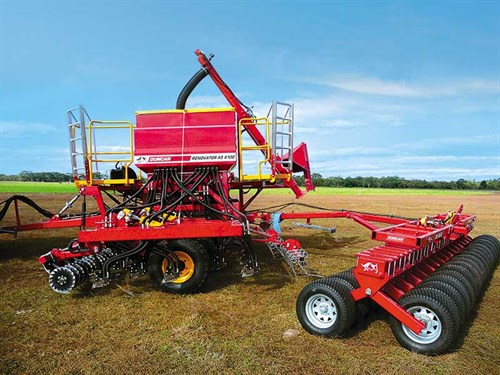 Nick contracts from his home in Penola, 50km north of Mount Gambier. The business, Emu Ridge Ag Contracting, primarily does hay baling and pasture renovation.
Nick purchased the new 6.1m wide AS6100 drill in April. He was previously using a 26-row seed drill with six-inch spacings from another brand as his main drill.
"We looked at a few different brands but I had done a dairy study in New Zealand in 1994," Nick says.
"I feel that farmers in New Zealand are some of the best at growing grass in the world. The Duncan is a true pasture renovation machine and that's the line we are going down with our contracting."
What makes the Duncan AS6100 seed drill different
Nick likes that the Duncan AS6100 seed drill is a simple machine with few wearing parts.
"It has the coulters on the front, with a Baker boot and rubber-tyre roller on the back. There are L-shaped finger tines for seed incorporation," he says.
"Our other drill didn't have coulters. We had very good success without them, but we thought the coulters would probably help handle trash. The fingers tines weren't on our old machine but when the seed falls out the back on the Duncan it gets incorporated more."
Nick says the Duncan AS6100 creates a beautiful finish. His previous drill had separate press wheels that followed the tine as it was drilling, leaving a small V mark.
"The Duncan leaves a better-finished product out the back of the machine. It has totally lived up to our expectations. There were a few little teething problems with it but we have sorted those out."
Nick and his son James have only been using the drill since the start of May and have done about 500 hectares with it, mostly pasture and some cereal cover crops.
They have been around to check on the progress of those early jobs and have found a string of happy clients.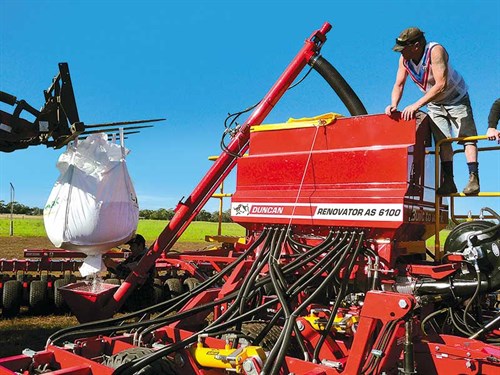 James has done most of the work with the Duncan to date, and Nick says it is manoeuvrable and easy to operate once it is calibrated.
"We tow it with a 250hp Case IH Magnum, which we bought new for the drill because we wanted to make sure we had adequate horsepower. We are very happy with the setup and we are certainly hoping to build our clientele base over the next couple or three years to expand our contracting business."
Nick has recently picked up another 120-hectare seeding job, with other new jobs coming onboard.
"Seeding is quite seasonal and goes from April through to July, then we start again in August–September and go through until October–November for spring and summer sowing," he says.
"With the drilling, there is huge potential for more work. With the price of land almost doubling over the last 12 to 18 months, I feel that farmers need to get more out of the land they have. With beef prices being on a high, it's a good time for farmers to improve their pastures."
Nick says there is no direct drill of the Duncan's calibre within a 50km radius of Penola. "I think that's where we probably got in early and hopefully we will be able to make the most of that situation. We will advertise coming into spring and next winter and that will hopefully get us more work."
Nick purchased the Duncan AS6100 from John Telfer at Hage Tractors and Implements
in Naracoorte.
Keep up to date in the industry by signing up to Farm Trader's free newsletter or liking us on Facebook