Farm advice: upskill your staff for irrigation this summer
---
Now is the time to start preparing for spring and summer, this means starting to think about irrigation as a vital component of farm operation
This year has seen an eventful autumn and winter for farming communities across the country. We've had flooding, snow, and storms. While we're not through winter yet, we can take heart that spring is just around the corner, bringing more sunshine and warmer weather.
Irrigation is often the area where the biggest risks lie on farm. If it's not properly scheduled and managed, it will result in a loss of production, and this could be significant.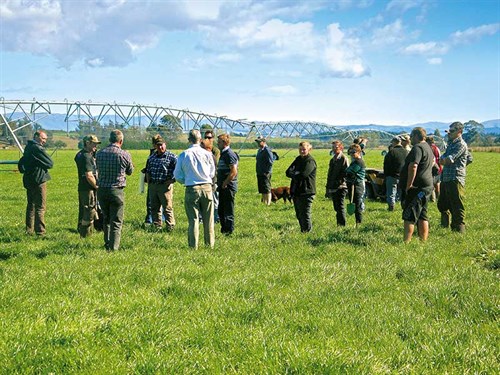 There's also the risk of not complying with consent requirements – water take, nutrient losses, and farm practice. The other risks are the need to ensure your irrigation equipment investment is protected through a regular maintenance programme and by regularly reviewing insurance cover against natural events. 
This year, we've experienced flooding and snow, but in 2013, wind had a devastating effect on irrigators, putting them out of action for months. 
Ensuring that farm staff is well trained in how irrigation equipment works, knows how to optimise its operation, and test its working correctly is critical to manage your risk. 
The staff also needs to understand the environmental and health and safety requirements in place.
How Irrigation NZ can help
Irrigation NZ offers a range of courses for farm staff, whether they're new to the industry or are looking to advance their knowledge of irrigation. 
Today, farming is increasingly moving to a 'consent to farm' environment where it's necessary to be able to demonstrate that farm staff understands and can comply with the regulatory requirements relating to irrigation.
Irrigation New Zealand's been leading the development of industry best practice
and is well-placed to share its expertise through training.
We offer training to help farmers work through the regulatory environment, choose, contract, and then commission irrigation systems.
We also offer irrigation operator and manager training to help farmers understand the regulatory environment, develop knowledge of soils, plant water use, and climate and how to schedule irrigation as a result.
The course also covers irrigation operation and maintenance including a hands-on 'bucket test' – an easy method to check whether an irrigator is performing correctly. 
A comprehensive set of resources to use on the farm is included in the training. Upcoming irrigation operator and manager training sessions are happening in Cromwell, Omakau, and Ranfurly (September) and in Ashburton (October) with more events to be announced in the future.
For more information, visit here.
We are also planning to offer a NZ Certificate in Irrigation Management for the first time. This Level 4 NZQA course is suitable for those who have completed the irrigation operator and manager training and want to be able to oversee the management of irrigation systems. 
For more information about irrigation 
For more information about this option, please contact Kate on 03 974 1425.
And if you haven't already done so, this month is a great time to check that your irrigation equipment is adequately insured for when it gets busy in the coming spring and summer.
You can do this by calling our on-farm insurance partner FMG on 0800 366 466.
For advice, check out their Irrigator Advice Guide by searching 'advice' on their website. 
Keep up to date in the industry by signing up to Farm Trader's free newsletter or liking us on Facebook