Contractor profile: Slattery Contracting
---
Farm Trader visited Slattery Contractors to check out how the high achievers run their farm and came to their success
When it comes to agricultural contracting, there's no shortage of experience in the Slattery household. 
Having grown up immersed in the industry, Roger boasts an impressive pedigree as a second-generation ag contractor, learning alongside his father, Paul, and uncle, Ray (founders of Slattery Bros).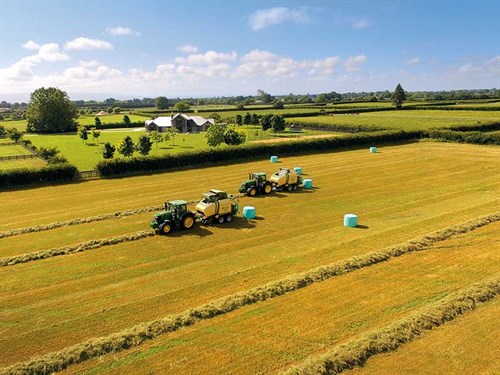 In turn, Roger has shared his expertise with his wife, Helen, who is now nationally recognised for her knowledge and skillset in the industry.
In fact, Helen recently made history, becoming the first woman in the sector to gain a National Certificate in Infrastructure Works Supervision Level 5.
She is also a board member of the national organisation Rural Contractors New Zealand (RCNZ). And she's still on a learning curve, having undertaken a Bachelor of Health Sciences, majoring in Occupational Health and Safety, through Massey University.
"I've discovered that I love learning and mastering new skills," she admits. "Although at the rate I'm going, I may well graduate alongside our kids."
Aged 14 and 10, Matt and Tara-Rose represent the third generation of Slattery Contracting. While both Roger and Helen encourage them to follow their own paths, there's no doubt it would be an achievement to continue the 60-year family tradition of Slattery Contracting.
Slattery history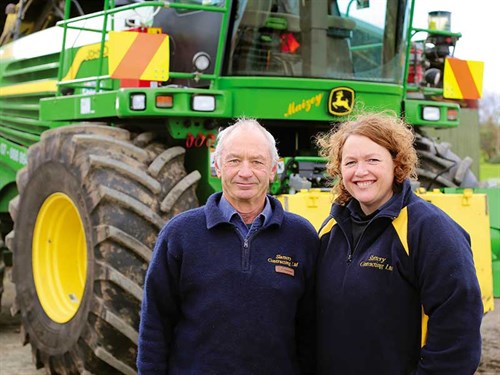 Brothers Paul and Ray Slattery started making hay and cultivating land in the mid-1950s, sometimes breaking in land many miles away from home.
Roger's mother, Justine, ran the farm, took the phone calls from clients, organised the hay gangs, and looked after the five Slattery children.
Son Roger took over the business in the early 1980s. It has grown extensively alongside all facets of hay, silage, harvesting, and cultivation.
Slattery Contracting also has the only drilling rig in the Matamata district. Mounted on a four-wheel drive truck enables it to drill in most terrains, and it's capable of drilling holes from 400mm to 1400mm diameter and up to 5.5mm deep.
The Slattery Contracting team is made up of five core members, with seasonal staff and subcontractors employed during peak times.
Helen runs the office and part of this involves computerising the maze of information in Roger's mind.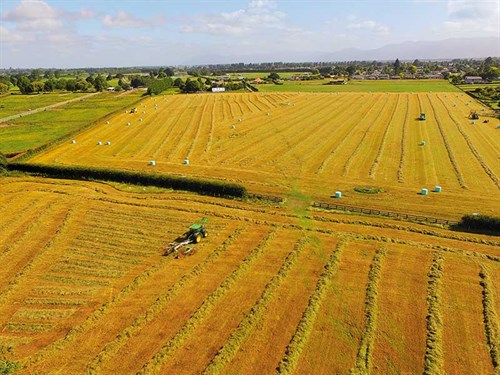 "He can juggle dozens of different jobs and tell you the details of a machine and who is on what job. I need to have that information on screen so we can manage, invoice, and keep tabs on machinery usage and driver hours."
The couple's strengths complement each other and the business has continued to thrive even through the toughest seasons.
Helen's passion for the industry led to Slattery Contracting being involved in the initial setup of the Plasback recycling in the area a decade ago.
It allows farmers to recycle bale wrap and silage covers, polypropylene bags, and HDPE drums recycling and recovery (through the ECOLAB and Agpro ranges of drums).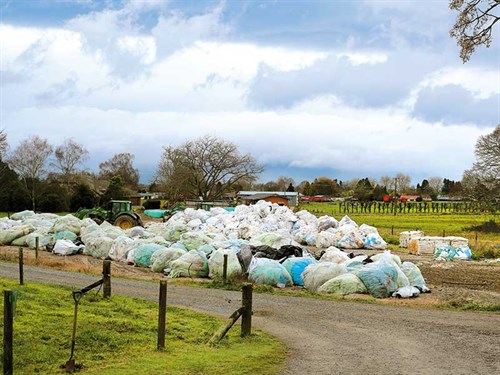 "Basically, I didn't want my kids to grow up surrounded by plastic hills, which we were starting to see before the scheme was implemented," she says. "In the first year, we collected about nine tonnes nationwide. That's compared to about 1800 tonnes annually now and still growing.
There's no doubt that farmers see the value in the Plasback recycling scheme, and it's pretty exciting to see more people coming onboard in support and the Ministry of the Environment Product Stewardship Accreditation has been renewed."
Machinery management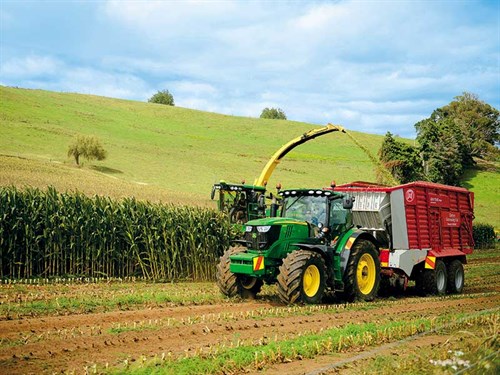 As with all ag contractors, machinery is the heart of the business, and Roger's passion is finding machinery that is fit for a particular task, allowing him and his team to operate effectively and efficiently.
Once again, Helen's organisational skills are integral to the thorough record-keeping and her determination to create the safest working environment possible for the staff means she's continually monitoring every machine's history.
With an impressive array of gear, including a John Deere forage harvester and Isuzu truck, Helen has a list of tractors and gear on her office wall and knows where each of them are at any given time. This is no small task, given that in the peak season, the team can juggle upwards of 70 machinery movements in a day.
In terms of tractor horsepower, green is the overriding colour scheme, with Roger and Helen opting for John Deere and Fendt tractors.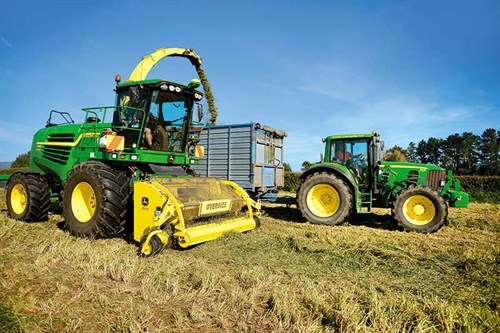 Other machinery includes the John Deere forage harvester, two Lely loader wagons and 770p tedder, a Kuhn airseeder, two Krone combi balers and a Big Pack Square Baler, McHale baler and wrappers (998 and HS2000), a range of Claas Mower Conditioners, and plenty of cultivation and other machinery.
Roger has more than three and a half decades of experience but still enjoys the aspect of dealing with (and having a yarn with) farmers from around the Waikato area.
He's also enjoyed seeing the technology developments over the years and is grateful for today's highly spec'd tractors, as he remembers working in both intense sun and torrential rain in tractors without even a cab.
"Now everything's built for performance and comfort, with GPS and autosteer and so many safety features. Gone are the days of having a tinker under the hood. Now you need to call the tractor technician or specialist, as everything's controlled by a computer."
When he's not sorting jobs, driving gear, advising farmers on crops, and dealing with
a myriad of other tasks that fall under his umbrella, Roger works as a volunteer firefighter and has been one for 35 years.
Slattery personal achievements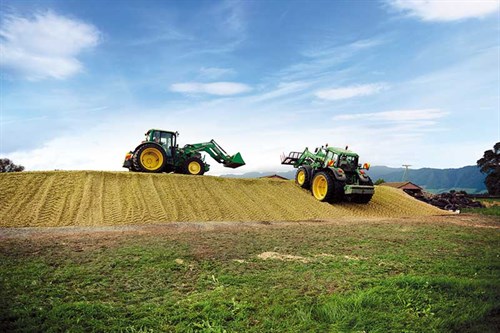 Between the family business, raising two children, and with Helen heavily involved in RCNZ, there's little spare time, When there is some, Helen or Roger generally manage to add on another challenge to achieve.
The impressive collection of certificates and national titles on the office wall reflect their seriousness to the industry, which is their livelihood.
Roger is a Qualified Agricultural Contractor and ITO Assessor, and Helen is a Qualified Agricultural Contractor with Level 3 National Certificate in Agricultural Contracting, Level 3 National Certificate in Civil Infrastructure Health, Safety and Environment (Operations), and Level 5 Infrastructure Works Supervision (Rural Contracting).
Helen's benchmark of becoming the first woman to achieve Level 5 in a National Certificate in Infrastructure Works Supervision involved about 18 months of intense learning.
The qualification covers core management skills, including scheduling project resources, health safety and environment, monitoring project quality assurance, and documenting projects. Specialist skills in rural contracting (management) were also covered.
This qualification is achieved by working through unit standards and evidence required. Each unit is assessed by an industry-approved assessor.
"What Helen has achieved is not only great for her but also the whole rural contracting sector," RCNZ trainer/assessor Noel Blackwell says.
He adds that he has evaluated many training achievements over the years as RCNZ's trainer/assessor and found Helen's work highly professional and easy to assess the evidence she supplied.
"In this modern world of professional business, what Helen has achieved has put a sign out there that says: 'Rural Contractors are professionals'," Noel says. 
"Helen has led the way and I know that there are other rural contractors who are doing many of the Connexis (the ITO for infrastructure industries) National Certificates. This will only help the rural contracting industry."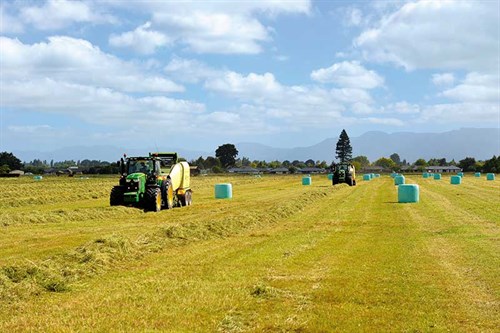 RCNZ chief executive Roger Parton also congratulates Helen on her achievement and says it's a testament to her commitment to the sector to be the first woman in the rural contracting sector to gain a Level 5 Certificate.
"This goes to show that Helen is truly outstanding in her field and a real role model to both male and female rural contractors," he adds.
Along with holding the qualified contractor status through RCNZ, the company is currently a Registered Contractor, receiving their first registration certificate back in 2006.
This entitles them to use the RCNZ Approval in Principle from Immigration NZ for bringing in experienced seasonal staff to ease the shortage of skilled ag machinery operators during peak times.
The rest of the team is equally committed. Operations manager Cameron Barrie joined the team as a seasonal worker in 2011 after serving in the army, doing tours in East Timor and Afghanistan, and assisting in the aftermath of the Christchurch earthquake.
Having worked through the modern apprenticeship scheme to achieve his National Certificate in Agricultural Contracting, like Roger and Helen, he thrives on the challenges of agricultural contracting.
Services offered
Slattery Contracting's services include round and square bales, loader wagons, bulk chopper grass, all aspects of maize, including harvesting, inoculant application, cultivation, and seeding, undersowing, truck cartage, drilling rig for soak, and foundation holes and farm plastic recycling. For more information, visit their website here. 
Slattery Contracting: advice on silage fermentation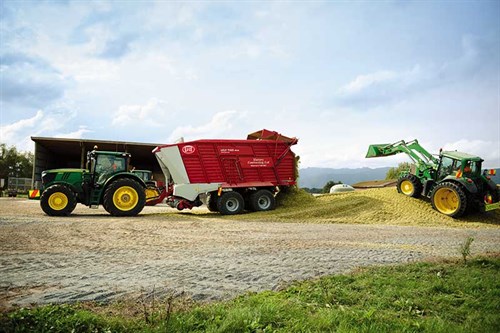 For a good silage outcome to be achieved, a rapid drop in pH is required, down to a level (4) where no butyric fermentation will occur.
There are two phases in making silage:
The first stage is aerobic respiration, where the oxygen available is turned into sugars and the proteins are turned into energy, heat is produced and bacteria increases in population. Sugars and proteins are lost from silage when left too long in the field, not covered in the stack or baled and not wrapped. If they are lost during this process, they aren't available for the cows/stock to use. Compaction is essential so properly seal/cover silage quickly to reduce further oxygen entering the silage.
The second stage is lactic fermentation when the oxygen has been used up. The anaerobic bacteria then gets busy, as they only work when there is no oxygen around. As they multiply, the bacteria turn the sugars into the all-important lactic acid, which results in a drop in the pH level, preserving the silage and making it stable. 
If the pH is not low enough (4 or below) for the silage to become stable, which will result in butyric fermentation.
This will lead to the breakdown of valuable nutrients of the silage. The silage will be far less palatable for stock, it becomes putrid, the dreaded smelly silage.
A handy tip to remember is that no amount of additive can improve the quality of silage that started as poor quality pasture, is contaminated with soil, or had substandard harvesting or compacting methods.
Slattery Contracting: advice on bale stacks
After all the time, effort, and investment that goes into making silage bales, here are a few tips and tricks when it comes to stacking the bales:
Location is important. Think about what is above, below, and to the sides of the stack. Building a stack of bales under trees can lead to bales being pierced by twigs and sticks and animals clawing their way over the bales.
Fence the stacks off. We have had experiences of farmers not fencing the area off properly and letting young stock into the paddock to nip off the regrowth, followed quickly by a call to us to rewrap the bales, as the stock has decided the silage (plastic and all) was tastier than the pasture.
Keep away from gateways and thoroughfares. Consider the width of vehicles going in and out of the paddocks and how your paddock is accessed. Tape up any damage immediately to prevent damage to the bales.
Move with bale clamps, not forks. The seal of plastic is not broken and air is not forced into the bale causing wastage.
Always set up rodent bait stations. Rats and mice are notorious for making nests in silage. Monitor the rat bait in the stations regularly to ensure ongoing protection.
Keep up to date in the industry by signing up to Farm Trader's free newsletter or liking us on Facebook