Contractor Profile: Hilltop Harvesting
---
Farm Trader checks in with Hilltop Harvesting contracting to check out their range of machinery and services
Whether you farm in the 'winterless north' or in the traditionally rain-soaked west coast region, over the past months your thoughts have possibly been reflected in the name of a 1980s Scottish pop group, Wet Wet Wet!
Even on a trip to visit Wayne Preston and the team at Hilltop Harvesting on the southeast side of the Brynderwyn Hills (North Auckland), the weather should have been starting to fine up for spring, but it bucketed down for much of the day.
However, that didn't seem to dampen (bad pun) the spirits of the guys at the Preston's family-run operation. As Wayne explains, when the weather's no good for going out to work, it gives everybody time to get down to the serious business of machinery repairs and maintenance.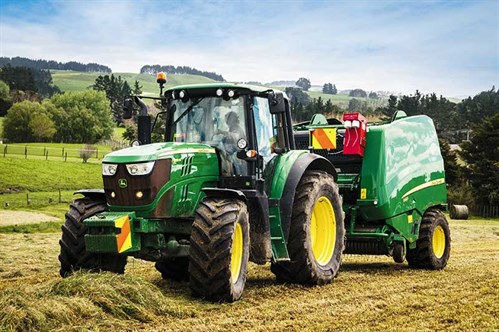 It only takes a quick glance at the fleet (mainly John Deere tractors) for an outsider to see that repairs and maintenance are an important component of the Hilltop Harvesting philosophy.
In fact, as I was arriving at the yard, one of the oldest tractors in the fleet – Wayne's original 6420 front-end loader – was being driven off for its scheduled service. Wayne chuckles when he says he rarely gets rid of a machine that's served him well.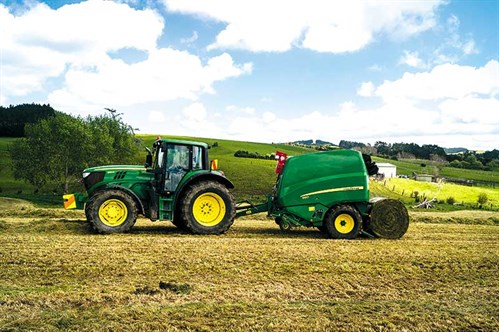 He just places it in his reserve fleet, although when his older Claas forager is due for replacement in the not too distant future, it'll have to make way for the new one when it arrives.
I was interested to find out how Wayne got into the contracting business and was poised with pen and paper to jot down some notes. However, it's probably best if I let Wayne tell the story in his own words.
About Hilltop Harvesting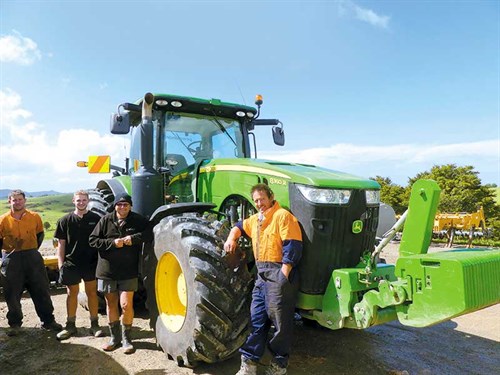 "I was brought up on a dairy farm, and my wife Nicola and I ended up dairy farming for 18 years. We have three children – Ashlee, Aaron, and Hannah.
"While 50/50 share-milking at Te Arai near Mangawhai in Northland, my first tractor was a John Deere 2130 two-wheel drive. I guess because my father, Warren, had a 1971 John Deere 2020, I just followed down the John Deere track.
"We used to do most of the contracting work on the farm ourselves, sharing gear between a handful of neighbouring farms, and that's where the passion for machinery started.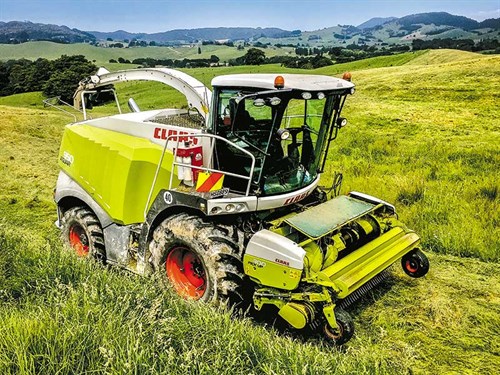 "In 2003, we sold the cows and bought a lifestyle block, built a new house and began agricultural contracting in a partnership with two tractors: a John Deere 6420 and a 6920 along with an old 690 Claas chopper with a four-row maize head.
"Initially, we sub-contracted to another local contractor towing his round baler. However, after a couple of years, we bought out our business partner. From there, it continued to grow, and now we have 10 John Deere's, one Fendt, and two Claas forager's, square and round balers, and all the sundry items that go with the rest of the equipment.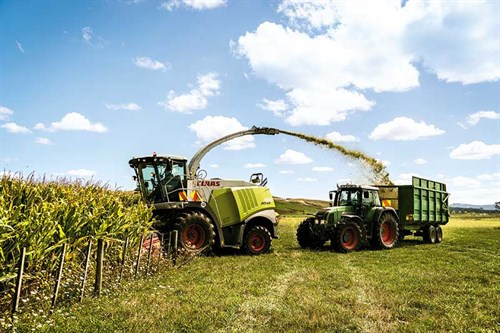 "I love providing the service and enjoy working with farmers, even though you learn to hate the mobile phone with a passion. When the pressure comes on, it's reassuring to know I have an excellent team who get the job done and work long hours to meet deadlines around fickle weather patterns and tight timelines.
"Things can get pretty intense, particularly when you consider that we basically have three months to plant 800ha of maize, 400ha of other crops, 600ha of stack silage, and 15,000 bales between rounds and squares in this heavy, undulating countryside. We work from Mata near Whangarei to Ruawai over to Tomarata and Tapora and down as far as Glorit, so it involves quite a bit of travel time, especially in machines that travel at around 40km/h.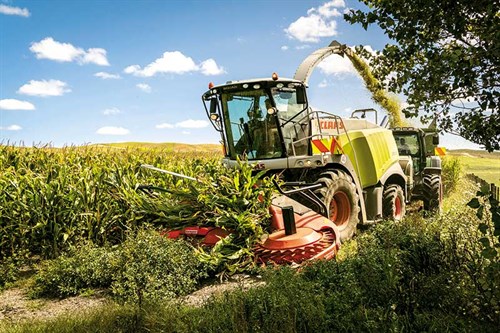 "In peak season, we have 12 staff and carry four through winter doing truck driving and repairs and maintenance. This is predominately done in our own workshop with the help of Nathan Lusty at Agridustrial, a couple of kilometres down the road for any tractor repairs and Claas Harvest Center Northland, who service our choppers.
"Both of these companies provide us with exceptional service, giving us peace of mind when the pressure is on.
"Things have changed over the years, with farms now run more intensely and farmers tending to focus more on their cows and less on doing tractor work themselves.
"We tend to do all aspects of our customer's contracting work now, compared to a time when farmers would mow their own silage or roll their own stacks. However, as agricultural gear has become bigger, more expensive, and more efficient, it's now more cost-effective to contract the work out rather than farmers doing it themselves.
"I am privileged to have my Dad still driving for me in his trusty 7810, and my son Aaron has recently joined the team. We all have a lot of fun, plenty of light-hearted banter, but we all look out for each other."
Customer feedback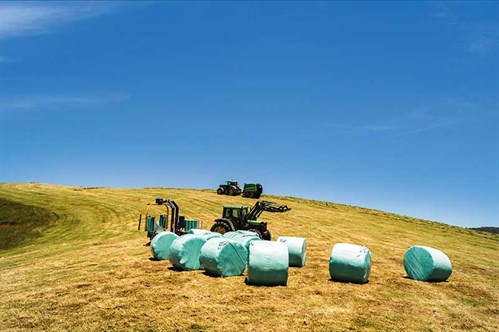 The "fun and light-hearted banter" that Wayne speaks of is evidenced by the fact that it spills over to his customers as well. Farmers such as Troy Everson jokingly told me that he only had one complaint about Hilltop Harvesting's service and that was that they didn't throw the covers over the silage stacks and place the tyres to finish the job off.
In a more serious vein, Troy says he's used Wayne's services "right from the outset" and that he appreciates the way he always answers his phone and does what he says he's going to do.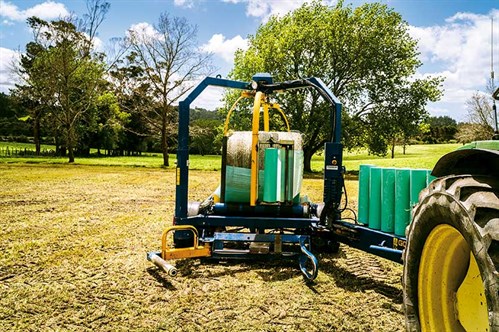 Another farmer I spoke to – David Lusty, owner of Totara Park Farm in Kaiwaka – says his 50ha of grass and 15ha of maize is planted and harvested by Wayne and the Hilltop team and that they're a great bunch of guys who have top-quality gear and who are always "on the ball".
It seemed like every Hilltop Harvesting customer I spoke to, knew another farmer who was also a happy customer, and all were more than happy to give a glowing reference.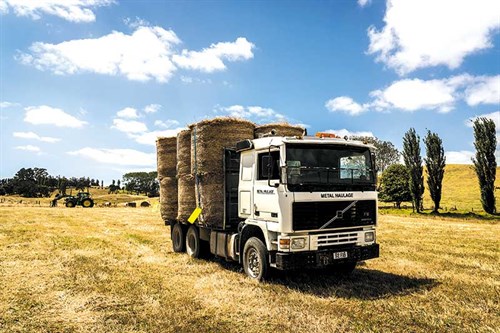 Other local farmers such as Carl Flintoff of neighbouring Tomarata and Carlton Smyth who farms in Kaiwaka, were equally full of praise for the service they receive from Wayne and his team.
Hilltop Harvesting charges its customers by the hectare and not by the hour – an excellent budgeting tool and an aspect that most of its customers prefer, as they know at the outset how much it's going to cost them.
Both Carl and Carlton say that in this day and age, where sowing, conditioning, harvesting, and baling equipment have become sophisticated, it's no longer viable for most farmers to own and operate this level of gear, especially given the short window of time available to get the job done.
Everybody agrees that this winter has been particularly wet, adding the likelihood of getting machinery stuck and causing further delays. In showing me a photo of one of his balers up to its axles in a paddock, Wayne laughed at the fact that it's a common sight across the country this season.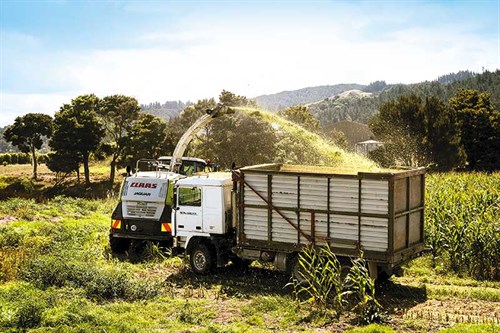 Wayne's 20-year-old son Aaron is a shining light on the horizon, as he's being brought up to speed with operating the vast array of machinery in the Hilltop Harvesting fleet.
He already has his Class 4 truck licence and is currently going for his Class 5, all of which will be handy for the trucking side of the business, which carries out water delivery, stock, and road metal cartage with the fleet of Volvos.
And should the unthinkable happen in years to come where the company has to engage in an advertising campaign, Aaron will be able to combine his love of photography with his prowess as a musician to make a pretty slick advert for TV or social media.
Having just had his first-ever ride in a helicopter to take some of the shots that appear in this article, I wouldn't be surprised if he shoulder-taps his dad to buy a Hughes 500 or a Bell Jet Ranger sometime soon.
Keep up to date in the industry by signing up to Farm Trader's free newsletter or liking us on Facebook