Cover story: Alpine Buildings
---
When it came to choosing the right shed for the business, CRB Harvesting chose Alpine Buildings' kitset. Farm Trader spoke to the Northland contractor to find out more.
When it comes to protecting his assets, Northland agricultural contractor Logan Suvalko freely admits to being fussy about his machinery. Making sure his gear is housed in the best possible conditions is a definite priority.
Logan's business, CRB (Cut Rate Bale) Harvesting, specialises in harvesting hay from smaller plots of land that larger contractors are often too busy to attend to during the relatively short harvesting season.
CRB typically harvests 100 to 200 square bale lots, although Logan sets a minimum job lot requirement of 100 bales.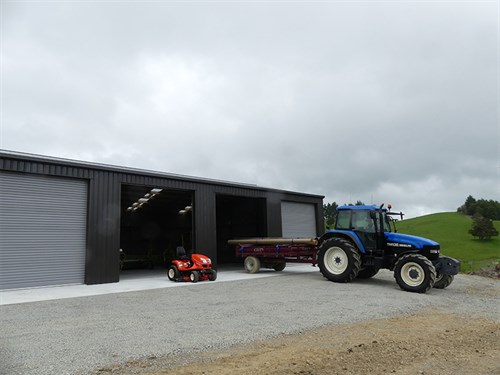 His main customers are equestrian and lifestyle block owners wanting to harvest hay for their own use and perhaps sell the excess to neighbouring farmers to cover harvesting costs and, in many cases, make a profit.
Being fastidious by nature, when it came to researching the various specifications of the many shed brands on the market that could possibly suit his needs, Logan spent a considerable amount of time comparing prices and making visits to existing sheds to make notes on the pros and cons of each brand.
Choosing Alpine Buildings
As well as trusting his own gut, the decision to entrust Alpine Buildings with his precious collection of machinery was backed up by two friends.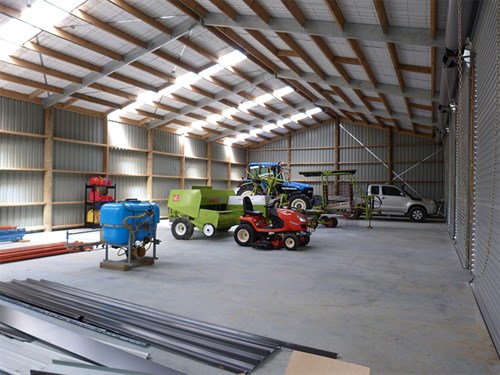 "I went and checked their sheds out to get an idea of the size and configuration that could suit my needs," Logan says.
Once every piece of his research data had been analysed, the Alpine Buildings kitset ticked all the boxes for Logan's requirements. The call was made to Almanzo Boakes, Alpine Building's sales manager, to set the wheels in motion for getting the plans and building consent underway for the 24m x 12m kitset shed.
Among the reasons behind Logan's decision to go with Alpine is the fact that the buildings are wooden-framed, making it easier to install interior fixtures and fittings, and the clear span advantage of open interior, due to no poles blocking any inside space.
Logan was also impressed by the building's anti-bird nesting feature and, of course, value for money.
"Aside from protecting my equipment from corrosive bird droppings, I knew my insurance company would like the anti-bird nesting feature," he says.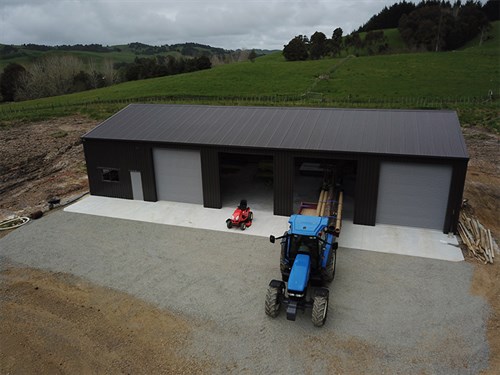 With the shed built on poles, Logan also appreciated being able to place the concrete floor and apron last if weather was an issue. This also allowed the concrete contractor to perform this job at his leisure on a rainy day, which resulted in significant savings for Logan when other jobs were rained off.
These two features were further influencing factors in his decision to go with Alpine Buildings.
Quick and easy set-up
The time frame from placing his order to having the kitset arrive on-site was only a matter of a few weeks. He admits it seemed like no time at all before he had a closed-in 288 square metre shed all set up and ready to house his gear. Logan had never considered it an option to house his equipment in a shed with its front open to the elements. Getting the gear under cover was his priority.
Having an inventory of modern, pristinely maintained equipment such as the New Holland TM35 tractor, the Claas Markant 65 square baler, his Toyota Hilux ute, and other harvesting equipment under cover, gave him peace of mind knowing that it would remain in good condition in the future.
"The team at Alpine Buildings took all the hassle out of the building consents/permitting process," he says.
The business did all the groundwork as far as calculating the engineering requirements for the likes of wind-strength and snow loading, although, he conceded the latter is never likely to be of concern in Northland.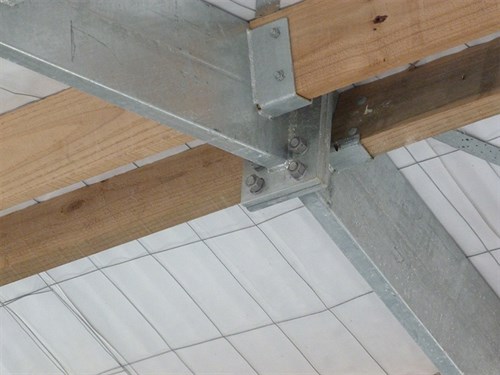 However, with his property being zoned as 'coastal', the building's ability to withstand a high wind-loading was something the design team at Alpine needed to factor into the equation.
Logan points out that the fact Alpine Buildings has the flexibility to deal with a range of engineering calculations to suit a wide range of building site, and the requirements of the multitude of council authorities throughout New Zealand was certainly an influencing factor in his decision to choose that brand.
Alpine Buildings take great care to ensure that the kitset is labelled and packaged for the direct trip to site. The team is aware of the delay that missing items can cause on-site, so all kitsets are double-checked to ensure everything is there. I spoke to two builders, Mike Wright in Christchurch and Andre Nicolai in Kaiwaka, Northland, who both say that Alpine Buildings' sheds are a pleasure to build, as every component required to complete it arrives on one truckload, and the timber is always straight and dry and clearly marked as to where it's meant to fit.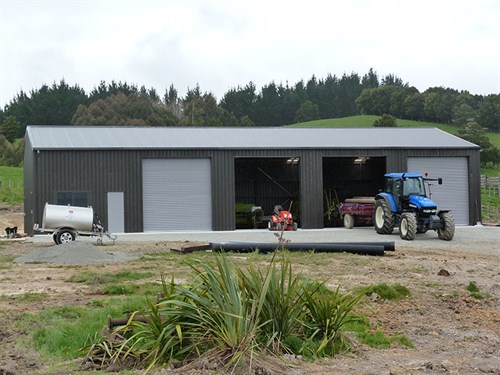 However, the last word goes to Logan, who says he's extremely pleased with his new shed and the service received throughout the process.
Watch Farm Trader's interview with Alpine Buildings at this year's Fieldays. 
Keep up to date in the industry by signing up to Farm Trader's free newsletter or liking us on Facebook