Farm Advice: Irrigation scheduling helps get the best out of your system
---
IrrigationNZ CEO, Andrew Curtis, discusses how developing an irrigation strategy for scheduling your irrigation will help you get the best use of water
Scheduling involves planning your water application across the season and also for individual irrigation events.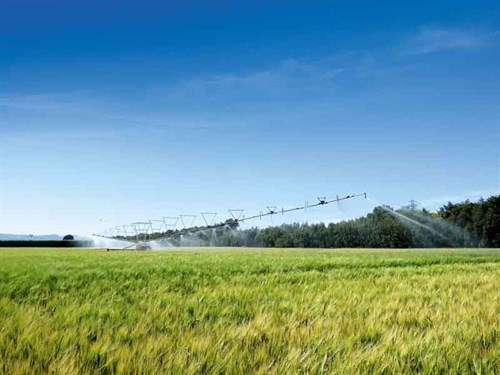 There are a few things you'll need to know before you start. The key one is having an understanding of your soils – including their water-holding capacity, the full-point (the point beyond which any water applied is wasted and drains away) and the point at which plant growth starts to drop-off, which is known as the stress-point. Soil water infiltration rates are also important, as these determine the maximum rate at which water can be applied.
You will also need to know how much water grass or crops will use in both the shoulder seasons and at peak demand time (usually mid-summer), the maximum amount of water your system can apply each day and the rotation length (the time before it can return to irrigate).
This information will enable you to work out whether your system will be able to cope during the times of highest demand or whether you'll have adjust your irrigation strategy because you don't have enough capacity to undertake all the irrigation you need at that time. The other constraints on your ability to irrigate to be considered are your total water allocation and any restrictions on your water use.
There are a number of tools that can help you work-out this information. S-Map is a great resource for understanding your soils, but getting someone in to identify the properties of your soil is always a worthwhile investment. Information about your irrigation system capacity and rotation length should have been provided as part of the irrigation installation work.
You can then develop an irrigation strategy to schedule your irrigation as needed – avoiding your soil moisture falling below the stress point or above the full point. You will need to spread your water allocation across the irrigation season but recognise that in high summer there will be more demand for irrigation to avoid crops becoming stressed.
If you've worked out that your irrigation system doesn't have the capacity to meet the demand for water during the peak of the summer, you can reset your trigger point above the actual stress point just before it starts getting dry, this will mean that if a prolonged dry period occurs there's a greater chance you can keep up and stay above the stress point.
In the autumn and springtime, more rainfall may occur, so if water is limited you can reduce the depth of water applied to leave more storage space in the soil to take advantage of this.
Getting your irrigation scheduling right isn't easy but it's definitely worthwhile putting the effort into understanding how scheduling works. IrrigationNZ is running a series of half-day workshops this summer on irrigation scheduling and soil moisture monitoring in Nelson, Marlborough, Hawkes Bay, and Northland. There will also be full day sessions available in Canterbury. 
For more information, visit irrigationnz.co.nz/events
Keep up to date in the industry by signing up to Farm Trader's free newsletter or liking us on Facebook