Contractor profile: Marsh Contracting
---
If you want to see an example of 'multi-faceted', look no further than to Marsh Contracting of Pongakawa, 30 minutes south of Te Puke in the Bay of Plenty
Talk to Neville Marsh and you immediately start asking yourself if this man ever gets any sleep. You have to wonder where he gets his seemingly endless energy and innovations from.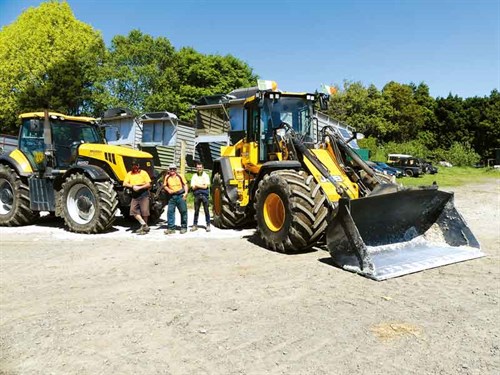 Aside from running a kiwi fruit and avocado-growing operation and raising Hereford bulls, Neville also runs his 50-hectare farm, his contracting business, and a manufacturing operation that designs, manufactures, sells, and hires portable weighbridges and protective rake rings.
It's all in the family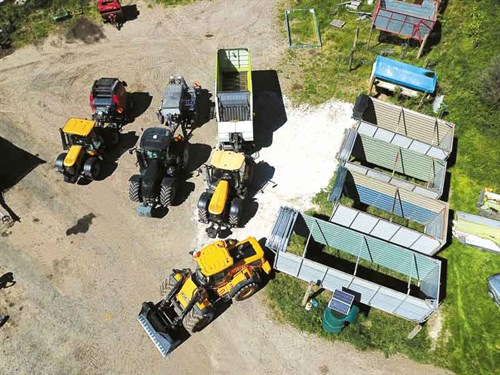 Such a wide-ranging portfolio can't be run by one person. So Neville has combined the talents of his family members to coordinate the daily operation of approximately 15 tractors, three truck and trailer units, a maize and silage harvester, along with a plethora of associated agricultural equipment.
In 2005, Neville's daughter Tammy gave up a career as a trained beautician to take over the day-to-day running of the operation, in the capacity of office manager for the contracting side of the operation.
This freed up his wife, Jill, as well as much of his own time to allow them to concentrate on the manufacturing plant with demand for his portable weighbridges and rake rings ramping up.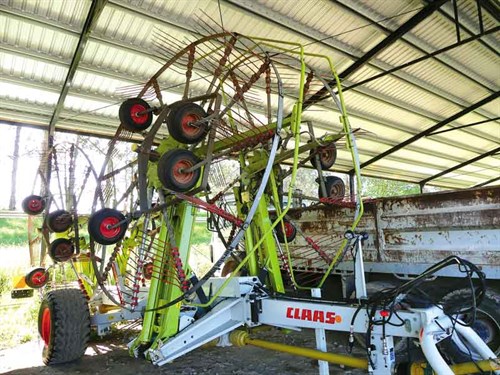 Son Daniel, who has been in the business since leaving school, taking time off to do a season in the US, also multi-tasks in the business. The operations manager is kept busy. He can usually be found behind the wheel of the Claas 950 or one of the many other trucks and tractors in the fleet. That's when he's not busy organising the firm's workload and repairing machinery.
This season, Tammy's partner Ben Brownless joined the business as 2IC to assist Daniel with his workload. Much like everyone else in the family, Ben's role also involves a generous helping of multitasking. He also thrives on the challenge, although, enjoys being in the cab of his favourite machine – the Valtra Valmet S274.
Neville says the ability to multitask is an essential element in joining the Marsh Contracting team, with Daniel, Tammy, and Ben leading by example. "In fact, I've pretty much removed myself from the day-to-day running of the contracting side of the operation," Neville admits.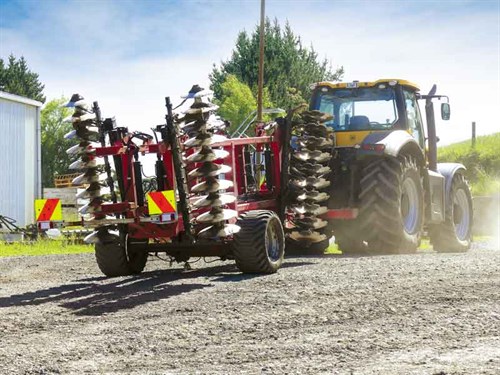 These days, he prefers to oversee his other enterprises, happy in the knowledge that the contracting business he built from scratch is in the safe hands of the younger generation.
The Marsh Contracting enterprise has been built upon a combination of having the right machines and implements to do the job and by employing quality staff to operate that gear.
The company employs seven permanent staff, some of whom have been with the company for between seven and 10 years, as well as a seasonal workforce of up to eight extra operators, many from Ireland.
Neville says the Irish guys tell him they love working in this part of the world. "They have an excellent work ethic, are great with the machinery, and always happy to pitch in with whatever needs to be done at any given time."
The JCB fleet in the yard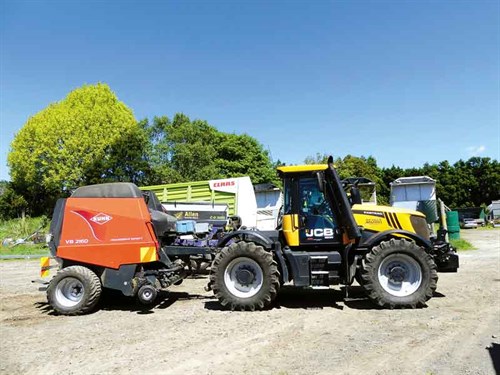 Any self-respecting lover of machinery would be pop-eyed upon entering the Marsh Contracting yard, even when, like the day of our visit, a large proportion of the fleet is out working on jobs in the company's far-flung territory.
As the workday ends and machines slowly start returning to the yard, it's obvious that the JCB brand features abundantly in the company's inventory. In fact, Neville says his business currently operates the largest JCB fleet in New Zealand.
When asked what it was that originally attracted him to JCB, he says that following a back injury a number of years ago, he was given a JCB 155 to trial for a month. He was so impressed by the machine's comfortable ride because of its full front and rear suspension that he bought it at the end of the trial period.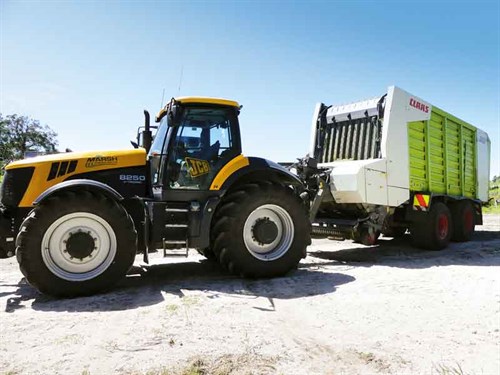 That machine went on to provide reliable service, which prompted the purchase of other JCB machines over the years, with two of the more recent purchases – a 435S Farm Master and a hot off the assembly line 8330 Fastrac.
Other JCBs in the yard on the day of Farm Trader's visit were an 8310 Fastrac and an 8250 V-Tronic, with the rest of the fleet out on jobs around the Bay of Plenty.
Top billing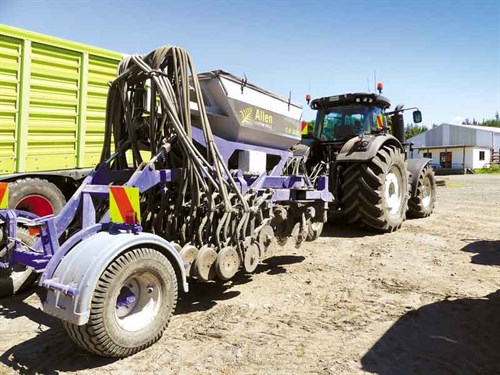 While there are a number of other brands of tractor in the yard, another favourite that has proved its worth in power output and reliability stakes, thus featuring as 'top billing', is Valtra. Ben says one of his favourite machines in the yard is the black Valtra S274, which he spends a fair portion of his workday in.
Ben waxes lyrical about the machine's quiet and comfortable cab in which he carries out many of his operations managerial role in between getting down to the job at hand.
He says with around 300hp at his disposal, along with the fact the tractor is fitted 900 Series tyres, it's well-suited to towing a multitude of implements, such as loader wagons, power harrows, discs, and seed drills.
He also reckons that it does a fantastic job of towing-out stuck tractors – a role it has needed to perform on numerous occasions, given the extremely wet conditions most of New Zealand has experienced this year. Other features of the Valtra S274 Ben likes are its Vario transmission and the top speed of 53km/h, giving him the ability to travel relatively long distances fairly quickly.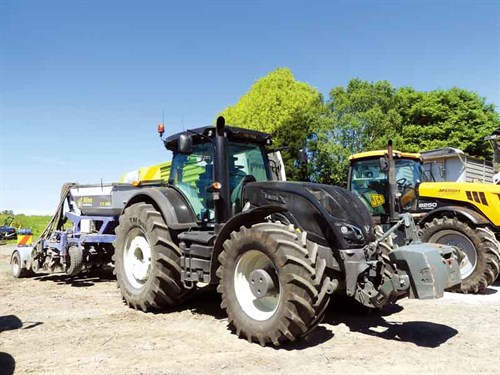 With much of Marsh Contracting's customer base in locations far from the yard, the ability to travel to the worksite in the shortest possible space of time is important to the company and customer alike. The S274 is now around 18 months old, has 750 hours on the clock, and has proven itself to be reliable. While an obvious fan of the Valtra S274, Ben's also pretty keen on the JCB Farm Master 435S.
He said that during a stint in the cab, he found the machine to have plenty of hydraulic power and that it easily pushed "a couple of truckloads of grass". Weighing-in at around 15 tonnes, it's great for compacting the stack. He is also seemed impressed by its manoeuvrability and smooth operation, although, it only has a top speed of 47km/h.
The generation game
While you get the impression that Daniel Marsh prefers to go quietly about his daily business, he did take some time out to talk to Farm Trader about his favourite machine – the company's Claas 950.
Daniel says the application of the Claas 950 he prefers is maize harvesting, although he's almost as happy when working with the forager front attached. Due to the fact he operates on a fair bit of peat base, they've had to limit themselves to using an eight-row chopper front on the machine, which weighs-in at around 18 tonnes with the eight-row head fitted. However, they recently had the engine re-chipped to give it "a bit more diesel".
It seems to be a family trait that Marsh-family members prefer not to blow their own trumpet, so we asked Daniel for the low-down on the patriarch Neville.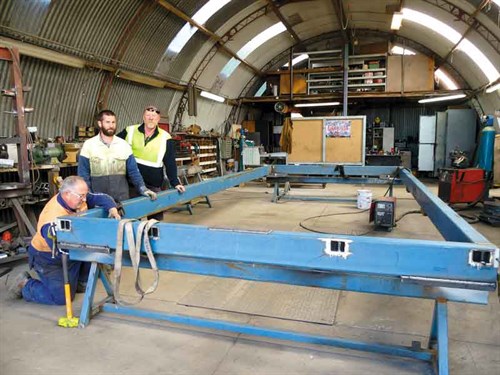 It appears that aside from attending to all the business mentioned at the beginning of this article, Neville runs another sideline with an original-looking 1952 International grader that gets trotted out on a weekly basis to grade races. However, it's the weighbridge and rake band operation that consumes most of his time these days.
Daniel says Neville's famous 'MarshN Ring' rake bands are sold not only in New Zealand but are also exported to Australia. He reckons there aren't too many of a particular brand of rake that get sold without a protective MarshN Ring rake band attached to it.
Weighing in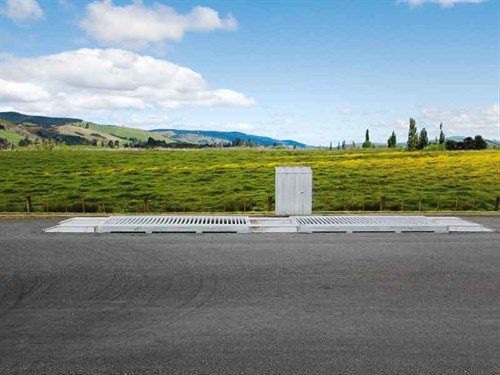 The company manufactures 30- and 50-tonne portable weighbridges that can be either purchased outright or hired directly from the company. Neville says the weighbridges are built by contractors for contractors and are certified and capable of weighing many different types of vehicles. All weighbridges are fitted with a dedicated truck-weighing indicator, including vehicle ID and date and time, which is printed onto the weighbridge docket.
Both weighbridges come with six aluminium ramps (optional), a Rinstrum R420 indicator, an Epson Roll or Slip Printer, two 12-volt batteries in a case, and a laser level. There are also a basic model and a PC compatible model, which comes with a data log and memory stick to download the information directly into Excel.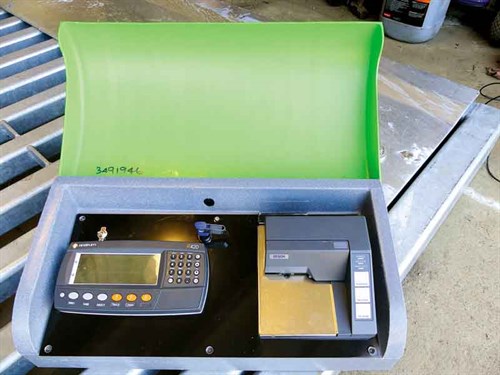 Keep up to date in the industry by signing up to Farm Trader's free newsletter or liking us on Facebook