Farm advice: Tackling velvetleaf
---
Farmers and rural contractors are being urged to check that all machinery is clean to protect farms from nasty weeds
The warning comes from a multi-agency steering group set up to tackle the damaging agricultural pest velvetleaf in the Waikato region.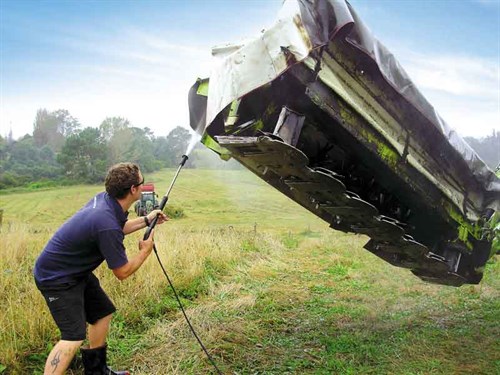 Made up of representatives of Waikato Regional Council, Federated Farmers (Waikato), DairyNZ, the Rural Agricultural Contractors Association, PGG Wrightson, Foundation for Arable Research, Pioneer Seeds, AgResearch, and Farmlands, the steering group aims to ensure a co-ordinated response to tackling velvetleaf.
Considered one of the world's worst cropping weeds, velvetleaf has been found growing on farms in the Matamata-Piako, Te Awamutu, and north Waikato areas of the Waikato region.
It has spread to properties by:
infested fodder beet seeds imported from overseas
the distribution of infested maize crops and maize silage
unclean machinery
Waikato Regional Council's biosecurity pest plants team leader Darion Embling says landowners and farm contractors need to be vigilant.
"Machinery and vehicle movements aren't the only culprits responsible for the spread
of pests but they do pose a very high risk," he says.
"Last year, we were able to conclusively link velvetleaf infestations on some properties to the movement of unclean machinery, which is why good machine hygiene practices are
so important.
"That's why we've set up this steering group – to ensure we can educate operators throughout the ag industry that biosecurity starts at the farm gate. Cleaning machinery is a big part of that. It will ensure plant or soil contamination that might be harbouring pests, weeds, or seeds is removed before entering the next property," Darion says.
"We now have 37 properties in the region that have had confirmed infestations of velvetleaf, ranging from a handful of plants to hundreds and even thousands. And we know the seeds can remain dormant for up to 60 years.
"We're working closely with farm managers, landowners, and rural contractors to manage the risks and have developed long-term plans to stop this nasty weed from spreading to other properties," Darion says.
Suspected sightings of velvetleaf should be reported to Waikato Regional Council's biosecurity pest plants team on 0800 246 732 (0800 BIOSEC). This allows council staff to assess the property and then work with landowners and farm managers on a plan
if the presence of velvetleaf is confirmed. 
Advice on machine hygiene is available at waikatoregion.govt.nz/biosecurity.
Keep up to date in the industry by signing up to Farm Trader's free newsletter or liking us on Facebook