Profile: Terra Trac
---
CLAAS unveiled prototypes of its Jaguar forage harvesters and Axion advanced technology tractors equipped with Terra Trac at the recent Agritechnica event in Germany
Based on the same proven crawler track technology found on Lexion combine harvesters, the Jaguar assembly features a unique 'headland protection system' that protects soil and grass cover during turning.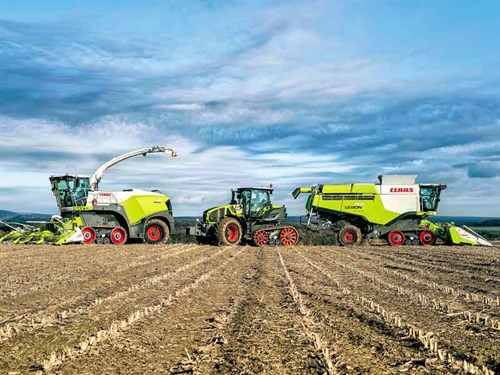 During turning, the land wheel of each track is raised, leaving the machine supported on a combination of the drive wheel and middle rollers. As a result, the contact area and degree of soil pressure change briefly to a level comparable to that produced by 800mm diameter tyres.
Studies by Kiel University of Applied Sciences in Germany have shown that the technology reduces the undesirable shear effect to almost the same level as that of a wheeled machine.
Jaguar with Terra Trac 
Fitted with 635mm wide tracks, the Jaguar with Terra Trac still retains a slim transportation width of three metres and a top speed of 40km/h. Optional 800mm wide tracks increase the external width to 3.5 metres.
Another practical benefit is that the removal and installation of the corn cracker from the side of the harvester is considerably easier, as the crawler tracks are lower than the tyres.
Axion 900 with Terra Trac 
Also making its debut at Agritechnica was the Axion 900 with Terra Trac. This new model is billed as the first half-track tractor with full suspension; a concept which was awarded a silver medal for innovation.
The tractor crawler assembly features a larger drive wheel to increase torque. The independent suspension of the drive wheel, land wheel and support rollers allows the crawler track unit to adapt optimally to the ground, ensuring optimum traction, efficiency and comfort at all times.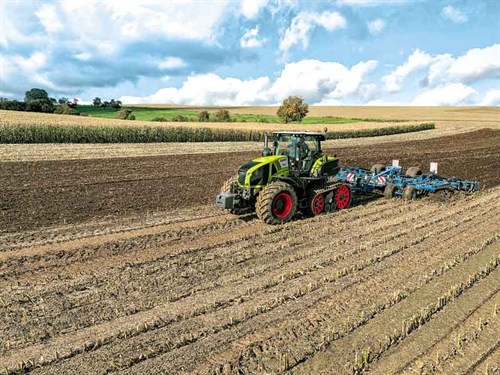 Even during heavy tillage at low speed, the crawler track system transmits the drive power to the ground with minimal slippage.
The suspension offers a very high level of driving comfort at up to 40km/h. Despite its large contact area, the Axion 900 with Terra Trac is significantly narrower than a tractor fitted with wide or twin tyres.
Claas Lexion combine harvesters with Terra Trac
More than 25,000 Claas Lexion combine harvesters are fitted with Terra Trac technology worldwide. Jaguar with Terra Trac and Axion with Terera Trac are still undergoing development , with no further announcements having been made concerning their future production schedule at this stage.
Keep up to date in the industry by signing up to Farm Trader's free newsletter or liking us on Facebook