Farm Advice: Steps to plan and protect our local rivers
---
Every farmer wants healthy rivers that support aquatic ecosystems. This is an important promotional edge with which to sell New Zealand's products overseas.
Rivers and their water quality are at the forefront of Kiwi thinking, says Don Harford from Waikato Regional Council. We all want swimmable rivers and water suitable for drinking, farming and industrial use.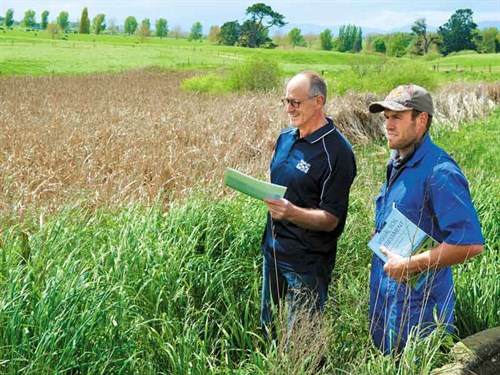 However, some of our farming practices degrade water quality, and this is not sustainable. We need to do things differently. The rural community is now working hard to resolve the challenges of controlling farm run-off. Research is pushing the boundaries to provide science solutions.
Regulations are being put in place to ensure that everyone plays their part as we change the direction and speed of travel in protecting and restoring our rivers. What we do in our river catchments and on farm cannot be done piecemeal. It needs a planned approach.
Considerable effort has been made by regulating point source pollution over the last 20 years. The more difficult task of placing limits on diffuse pollution, contaminants leaving the land to receiving waters, is now high on everyone's agenda. Regional and unitary councils are moving to meet Government's requirements to have water quality limits and targets in place by 2025. It is anticipated that these limits and targets will affect all landowners.
A further challenge is the diverse rural landscapes and different farming systems we have. So no one-size-fits-all if we are to preserve our place for posterity. We need careful farm planning to ensure we protect and restore our local rivers and lakes as we go about making farming profitable.
Nitrogen, phosphorus, sediment and water-borne pathogens are the major diffuse pollution challenges that face the farming community.
First step
A good starting point is to know the level of contaminant risk facing your catchment. In Canterbury the largest risk is nitrogen to groundwater. On the east coast of the North Island the issue is sediment loss from hill country. Around Auckland it is E. coli contamination of beaches. In many areas it will be a combination of all four contaminants. 
At the farm level, a farm environment plan (FEP) is a very good farm management tool. Both Dairy NZ and Beef + Lamb New Zealand have farm environment planning toolkits and resources to help farmers improve their environmental performance.
Outlining the environmental risks on your property is the first step for a farm environment plan. Use a farm map to do this. Identify the hots spots and critical source areas and mark them on your farm map. Often the 80/20 rule applies, where 80 percent of the contaminants are coming from less than 20 percent of the property.
These hot spots may be around the milking shed, the wool shed, the feed pad or the stock yard. It may be the raceway, the silage pit or a stream crossing point.
Getting out in a rain storm and watching water flow paths across and exiting the farm will give an indication of the contaminant flow path to receiving water bodies. It will also give you a good feel for the level of sediment loss. It may be sediment run off from a cultivated area, stream bank erosion or slumps and slips. 
Overseer, a farm modelling tool, can help identify the risk of nitrate leaching to groundwater. Using this programme allows you to model various scenarios and so provides nitrogen mitigation alternatives.
When outlining environmental risk you should take into consideration soil type, annual rainfall, farm slope and contour, farming system, frequency of rainstorm events, and grazing management. Knowing the catchment issues will allow you to focus on your farm risks. Ranking the risk on farm will provide priority for mitigation.
Second step
The second step will be planning for suitable mitigations that fit with your farming system. If mitigations involve farm system changes, then Harford recommends financial analysis, so that the most cost effective mitigation is chosen.
Dealing with the issue closer to the source is more likely to be a cheaper alternative, in terms of both construction and maintenance.
For example, fencing off and planting out steeper, highly eroding slopes may be cheaper than constructing a wetland further down the farm. Changing the direction of winter crops grazed by cattle may be cheaper than sediment bunds and silt traps.
High nitrogen leaching can be diluted with low nitrogen feed, like maize silage. Standing cows off pasture on a loafing pad in the autumn and winter and collecting the urine for spring application not only prevents pugging, it reduces nitrogen leaching. Look for the co-benefits – those mitigations that also improve farm performance.
Because phosphorus and E. coli are often transported with sediment, controlling sediment will bring co-benefits in controlling both phosphorus and E. coli as well. Overseer will provide an estimate of phosphorus loss. However, it does not tell you where on the farm this is coming from. Tracks and races are often areas where contaminant loss is highest on the farm. Cutouts along the race or track and into the paddock provide a cheap form of control.
Harford was involved with the development of the farm menus, an excellent source of mitigation ideas for dairy, drystock and cropping. This can be seen online at farmmenus.org.nz. This collaborative task involved eight industry organisations.
Third step
The third farm environment planning step is to add a completion date to the mitigation list. This provides a framework to plan expenditure and work, and is a checklist by which you can measure progress. Harford recommends you approach the task in a measured way, doing what time and money allow. There is no point planting more poplar and willow poles on a slip site than can be adequately maintained during the year.
No point in choosing a cow feed dilution solution for nitrogen leaching, if you do not have the required equipment or labour. Harford encourages farmers to match their mitigation to their farming system.
Any management process involves planning and implementation. However, it also requires monitoring, leading to necessary adjustments to the plan. This enables you to stay focused and to stay on track to the point of completion. 
Keep up to date in the industry by signing up to Farm Trader's free newsletter or liking us on Facebook