Profile: Taupo Hand
---
Farm Trader meets father and son duo Terry and Blair, who designed the Taupo Hand multi-purpose attachment
A versatile extension for a front-end loader or digger, the patented design of the Taupo Hand has seen it involved in a variety of oddball tasks. However, Terry and Blair are proud of the role it plays in recycling with Goodwood Ltd – an untreated woodwaste recycling company based in Tauranga and Hamilton.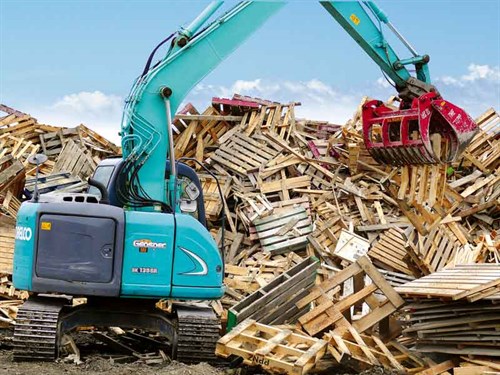 When the Farm Trader team arrived at Mount Maunganui to find out more and spotted the impressive cruise ship Sun Princess, we had no idea that the recycling story we'd driven from Auckland to cover would in any way be related to a cruise ship.
With regards what relationship cruise ships have with recycled wood product, the answer apparently is: "between 15 and 30m3 of mulch per voyage".
The pallets that deliver a cruise ship's provisions to the hold are, for Goodwood, an easily recyclable material, and with the close proximity of Goodwood's yard to the Port of Tauranga, the disposal of these pallets has become easier than ever.
Cruise-line operators are just one of a growing group of businesses placing increased focus on recycling their used wood products. The Goodwood team says that while the raw material that comes into their yard consists of untreated wooden pallets, kiwifruit and avocado creates are also being delivered daily to their site.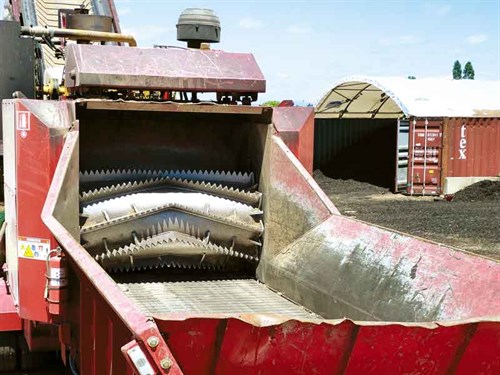 Thousands of pallets arrive at the Goodwood Mt Maunganui yard (they also have a yard in Hamilton) every week to be turned into mulch.
The process of turning anything made of wood into mulch, or any of the other products Goodwood manufactures, is made possible by some clever pieces of engineering, such as the pallet-crunching Taupo Hand made by Feeder Leader along with a Rotochopper MP2 horizontal grinder.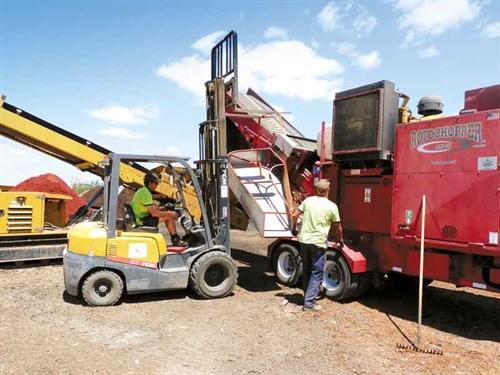 Goodwood owner, Richard Hutchinson, found the Taupo Hand on the internet and was impressed with what it could do.
He said he was impressed with the quality of the attachment and with the knowledge of Feeder Leader owner Terry Cameron's ability to understand the modifications that would be required for use on Goodwood's hydraulic excavators. With support from Goodwood, Terry has now created the Taupo Hand 'Godzilla' Mk111, which has been performing well at the Goodwood yard ever since.
Feeder Leader modified their original Taupo Hand design, originally created for fitting to a skid steer loader as opposed to a hydraulic excavator, as required at the Goodwood recycling plant. The modifications were twofold. The stresses exerted when dragging, grabbing, and lifting are different to the stresses applied when the load is being pushed; hence, the need to beef up and change some of the original design features.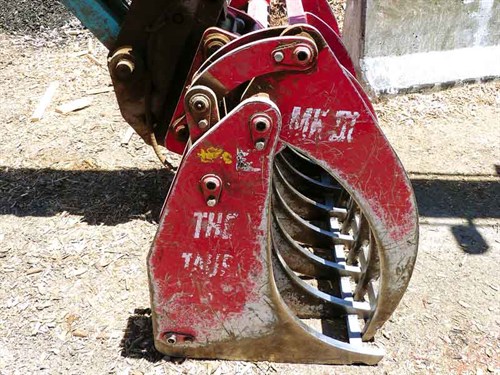 Also, the jaws of the Taupo Hand needed to open wider than originally intended to create an extra 20 to 30% extra grabbing capability in order for it to pick up enough pallets at a time to keep up with the voracious appetite of the Rotochopper.
Finally, larger hydraulic rams and more durable pins were fitted in order to exert greater forces and to provide longevity to the component parts of the attachment.
Waste not want not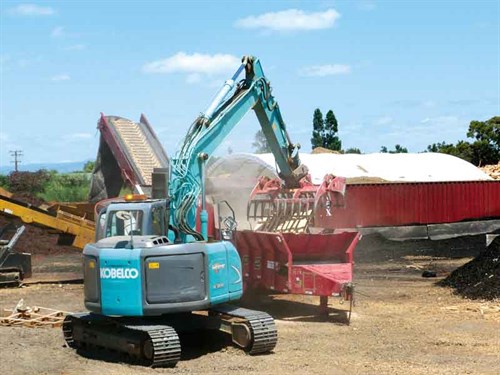 In the spirit of recycling, nothing in the Goodwood yard goes to waste. Even nails are separated out by means of powerful cross-belt magnets placed over a conveyor belt in the system, separating nails from the process by means of a chute and into awaiting bins and sent to a local metal recyler. When it comes to repurposing the pallets into mulch, it takes approximately 20 normal-sized pallets to produce one cubic metre of mulch.
The mulching process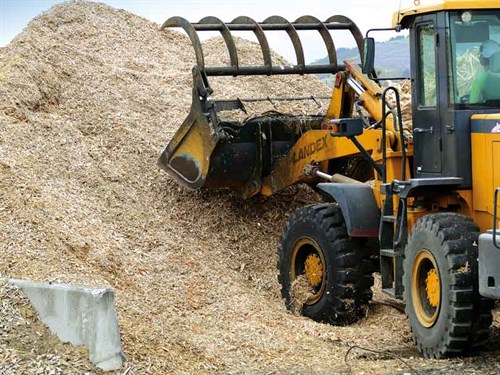 Having been partially broken down by the forces exerted by the Taupo Hand, the pallets are then placed in the Rotochopper's hopper where powerful jaws (driven by a 380hp Caterpillar C9 engine) further crush the wood. It then passes through screens of varying sizes, which determine the particle size of the final product.
End users of the mulch often specify preferred grades of mulch, which can have a particle size of sawdust up to 100mm in size. Aesthetics also play a major role in customer requirements. To this end, Goodwood supplies mulch in four options: natural, black, red, and brown.
Colouring the mulch is achieved by injecting an environmentally friendly oxide stain that attaches itself to the fibres of the wood and remains colour-fast. Colouring is carried out as a part of the mulching process, courtesy of an on-board injector system.
When it comes to garden mulch, Californian Redwood, which is locally produced from waste wood, is particularly popular due to its natural ability to support plant growth and for its pleasant aroma.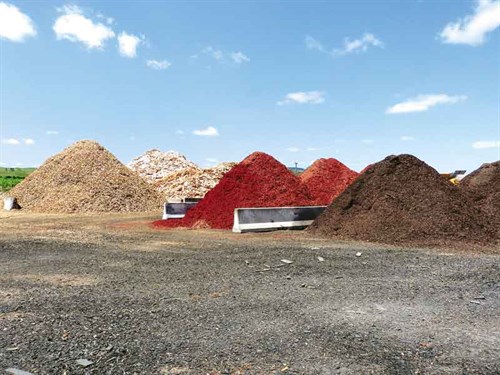 While Californian Redwood is a protected species in the US, that isn't the case in New Zealand, and to that end, approximately 90% of the California Redwood processed in this country is exported.
Another Goodwood product proving to be popular for council and school playgrounds is Goodfall playground mulch. Being manufactured from untreated timber, Goodfall is not only environmentally friendly but it's also virtually wind-resistant due to its particle size. It also stays cool in summer, drains well in wet weather, and meets Ministry of Educations strict safety requirements.
The knowledgeable Goodfall sales team is also certified RoSPA Level 1 Playground Inspectors. Goodwood's catchphrase is 'Do Good with Wood' and is committed to preventing untreated wood from being wasted by sending it to landfill.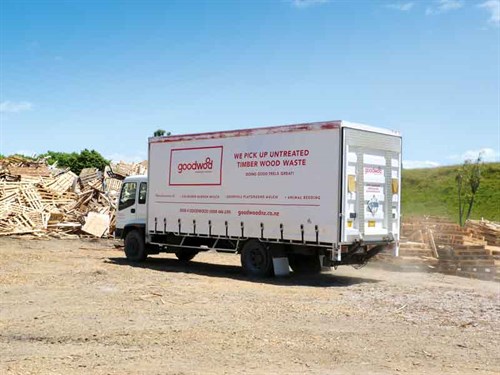 To that end, they don't charge a fee for dropping off clean untreated pallets, bins, or timber at the Mt Maunganui or Hamilton site. However, there is a small charge for product needing to be collected by one of their trucks. Because of its qualities of being soft and warm, along with its absorption capabilities, untreated mulch is a much sought-after commodity when it comes to providing bedding for animals.
Goodwood manufactures a range of animal bedding products for the dairy, goat, and horse industry. Their most popular products are a premium animal bedding product for calf pens and a standoff pad bedding product, which is larger and specifically manufactured for stand off pads.
These products are created from clean untreated timber off cuts recycled from large wood manufacturing sawmills and sold via Bonnie the Cow (animalbedding.co.nz), which is a subsidiary of Goodwood Ltd. Goodwood is a proud supporter of Riding for the Disabled, supplying its Hamilton operation with a large quantity of animal bedding.
About Feeder Leader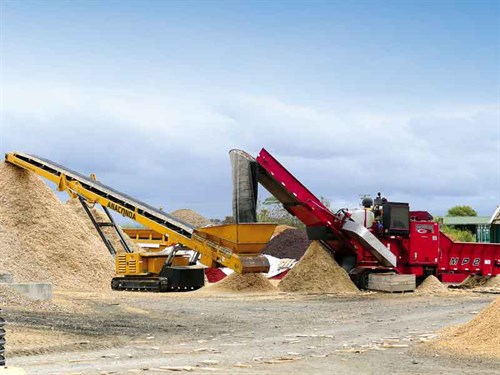 The Feeder Leader company is based in Taupo and is a family-owned manufacturing business, which supplies a vast range of machinery to the farming and agricultural sectors.
The company prides itself on its extensive research and development programme, which it carries out on the farm in conjunction with the farmers who actually use the product.
Feeder Leader operates alongside the Cameron family's long-established company, Taupo Tractor and Machinery Ltd. The Taupo Hand is manufactured using built-to-last box section steel in four different sizes, each with its own unique application.
Read more farming features on Farm Trader
Keep up to date in the industry by signing up to Farm Trader's free newsletter or liking us on Facebook