Profile: Vaderstad Carrier disc cultivator
---
The Vaderstad Carrier disc cultivator is delivering better soil structure at Dow AgroSciences at Omato, south of New Plymouth
If a definition of madness is to continue doing something and expect a different outcome, then Craig Scott is one of the sanest people on the planet. Craig is a field research farm manager for Dow AgroSciences at Omata, south of New Plymouth.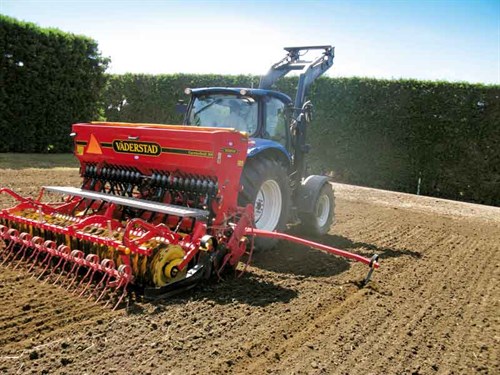 Under continuous cultivation, soil structure at the research farm was deteriorating, so rather than cultivate harder and more often, he changed tack. For the last five years, staff at the farm has been using a Vaderstad Carrier disc cultivator.
"To get a better soil structure, we wanted to change to non-PTO implements. PTO-driven equipment, like power harrows break down the soil and beat it with flails to a finer tilth,"
he says.
After speaking with advisors from their local Norwood Farm Machinery Centre, they came up with a three-pronged approach: 1) one pass with an aerator, 2) one pass with the Vaderstad Carrier, and 3) lucerne rather than lupins as the rest crop.
"This is reversing the damage and improving soil structure and fertility. Another bonus is fewer passes, which saves time and fuel and reduces soil compaction."
The Vaderstad Carrier Craig opted for is the 300 model. At three-metre wide and mounted on three-point linkage, it was chosen to fit in with their existing three-metre tramlines. The Carrier runs in combination with Vaderstad's BioDrill seeding unit.
Craig is one of two farm managers who tows the Vaderstad Carrier behind the 110hp tractor. He says the cultivator-drill combination is heavy and needs at least 100hp. Both operators find the Carrier easy to connect and to use.
"It has bout markers on the arms that you raise and lower to mark the next row. They are very precise."
Vaderstad Carrier features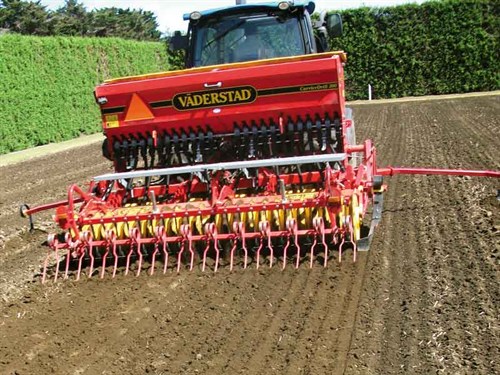 The Carrier has to be easy to use and accurate because individual test plots on the research farm are 1.0m x 2.5m, which amounts to about 1000 plots per hectare.
The Vaderstad Carrier cultivator has two rows of discs, followed by a packer. There are options for different types of discs and packers. Craig chose Vaderstad's TrueCut 470mm discs and a single SteelRunner packer. The TrueCut discs are designed to be tough with bigger cutouts to handle crop residues. Working depths can be as shallow as 1–2 cm and as deep as 15–20 cm.
"We tow a Vaderstad rake behind the Carrier. It breaks up solid clods that make it through the, and levels out the ground."
Spacings on the BioDrill seeder are changeable, but much of the time, it's used to sow cereals at 150mm row spacings.
"The BioDrill is very easy to calibrate. Throw the bags into the hopper, turn the handle, weigh the seeds, and adjust accordingly," Craig says. He keeps a record of the settings for different seeds.
The Vaderstad is designed to be fast, however, Craig doesn't exceed 8km/ph given the small size of the plots they work.
Craig says the Vaderstad Carrier is multi-talented. It will incorporate stubble or prepare a seedbed. With the BioDrill, it can drill into stubble or work in cultivated ground. He has used the BioDrill to sow seeds ranging from peas to brassicas.
"It requires minimal maintenance, which is one of the good things about it. We grease the roller and eye the glass showing the oil level. Other than that, we don't touch it."
Craig is pleased with the improvement in soil structure and says if the Carrier ever wears out, he would get another one. "But it is solid. It won't wear out in my lifetime."
Read more about farming equipment on Farm Trader
Keep up to date in the industry by signing up to Farm Trader's free newsletter or liking us on Facebook