Farm advice: Manage your work-life balance
---
Pulling long hours over busy periods is the norm but can leave you feeling worn out. DairyNZ advices on how to maintain a work-life balance.
Kiwi farmers are renowned for their hard-working nature. Pulling long hours over busy periods like mating and calving is the norm. That's just the reality of dairy farming, right Some of you may be happy to work like that, knowing once the season is over, the pressure will ease and there'll be some downtime to recharge your batteries. But does this actually happen?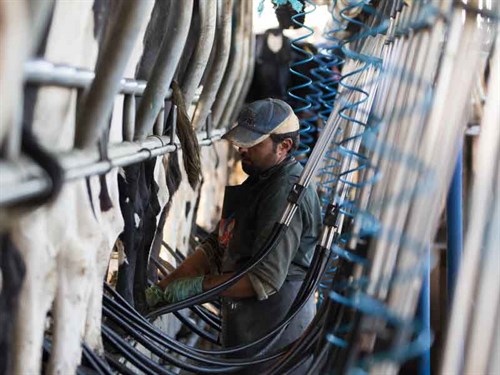 A DairyNZ study has revealed many farmers and workers continue to be busy all year-round. The analysis of 552 employee timesheets found little variation across hours worked each month. For many of you, that may or may not come as a surprise. To me, it means that something is not quite right. It's just not sustainable and there has to be a different way.
I believe it's increasingly important that you and your team regularly take time off for your health and wellbeing. An occasional long weekend is great, but it's important to take a longer break (a week or two) when possible to allow you to fully switch-off and recharge. We receive many questions about the Holidays Act 2003 and, in particular, annual holidays or annual leave.
This is great, as it shows many of you are either applying for time off or making sure you're aware of the regulations to communicate with your team. The Act entitles employees up to four weeks' annual leave once they've been in continuous employment for 12 months, or in advance if agreed by their employer.
Time recording systems
To help keep on top of what hours your team is working and ensuring everyone (including managers and owners) is getting adequate rest, I recommend using a time recording system, ideally one that records leave balance as well.
If you aren't already using one, DairyNZ has reviewed some the most popular time recording apps to help decide which might suit you best. Visit the DairyNZ website and search timekeeping apps to check out the results.
So you don't spend your precious time off doing paperwork, we've also spoken to three of the leading providers of payroll systems in the rural sector – PaySauce, Smart Payroll, and AgriSmart – who have agreed to offer some sign-up specials over the next few months to dairy farmers. Simply mention DairyNZ to the above providers to find out more.
And remember, helping you and your staff to have a sustainable work-life balance makes for a great workplace and a happy team. 
Keep up to date in the industry by signing up to Farm Trader's free newsletter or liking us on Facebook