Contractor profile: Grain & Food
---
Run by twin brothers, Grain & Food is an agricultural contracting business in Gordonton, northeast of Hamilton
Twin brothers Darren and Jonathon Miers have never worked apart. Their solid relationship has helped them build an equally solid agricultural contracting business. 
Family and community are at the heart of Grain & Food, an agricultural contracting business in Gordonton, northeast of Hamilton.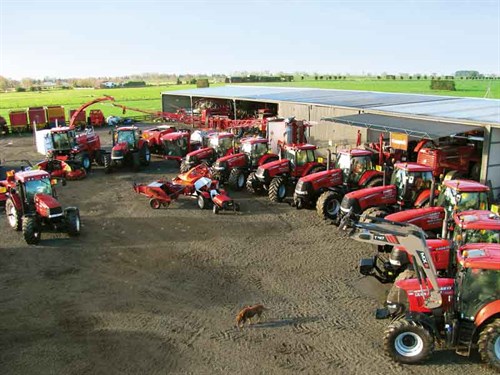 Run by twin brothers Darren and Jonathan Miers, the company provides a range of services to dairy farmers in the surrounding area, including Horsham Downs, Whitikahu, Orini, Gordonton, Newstead, and as far as Tatuanui (past Morrinsville).
"We are lucky to have great clients," Darren says. "We have very little client turnover, and we still have our very first client. That's in part due to the effort we put into relationships with farmers. We know their families, we know their kids, and we care about their farming businesses.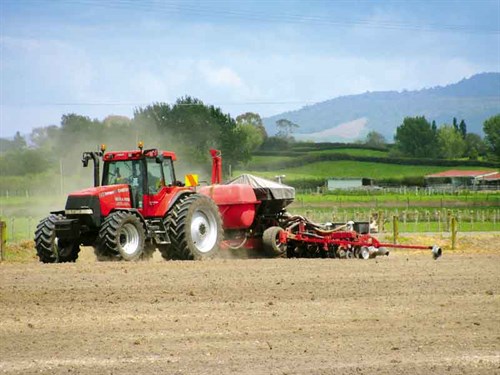 "We can do anything a dairy farmer needs but we don't milk the cows. We are big enough to tackle any job but small enough to care how well it is done."
Their agricultural contracting services include ground cultivation and planting, spraying, hay and grass silage baling, and maize planting and harvesting. Earthworks is an increasing area of demand, and the company has a dedicated digger operator and several diggers.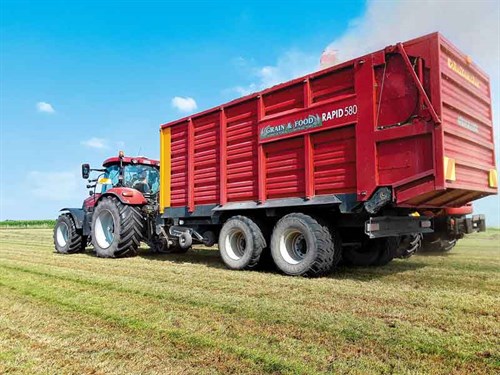 Experienced in the construction and maintenance of races and drains, they have worked on building sites, feed pads, and effluent ponds for clients. The extensive fleet of vehicles includes trucks and trailers, rollers, graders, muck spreaders, and fertilisers and lime spreaders.
Paint it red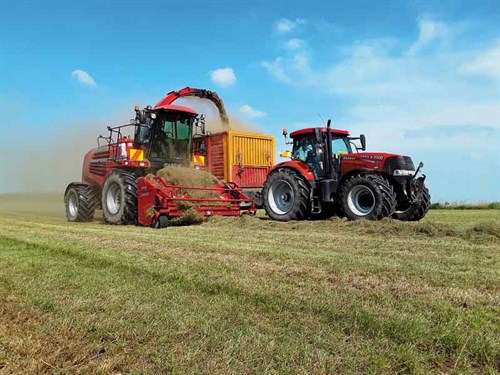 The Grain & Food tractors and harvesters are easily recognisable, as they are all painted Case IH red.
"We believe in supporting the Case brand, as it has very much been part of our success," Darren says. The red theme started when they purchased an old John Deere forage harvester. 
"It needed painting, so we decided to do it red to go with the tractors," Darren says. "That became a talking point. When local farmers see Grain & Food go past, our branding is very much based around red tractors and that has flowed into red harvesters."
Since then, most vehicles and parts – if they are not already Case red – are spray-painted to match the rest of the fleet (including utes, and at one time, an excavator). "It's become a bit of a rod for our own back, doing sandblasting and spray-painting new machines, but it's part of our branding now," laughs Darren.
It's all in the family
Darren and Jonathan are sixth generation contractors. They grew up on a family farm at Rototuna and Flagstaff; land that has since been developed into a thriving suburb of North Hamilton.
As twins, they have always worked together. "We've never had a job apart," Darren says. "I wouldn't do without him, and I like to think he wouldn't do without me. We both have different strengths that we bring to the business."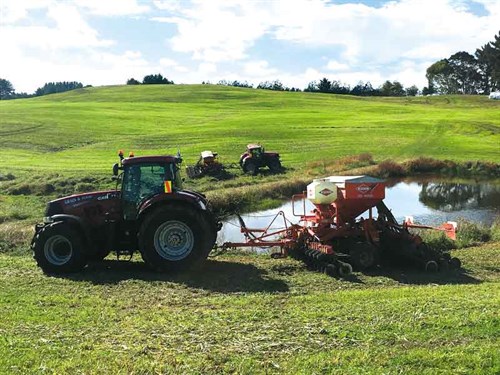 Darren focuses on day-to-day management, including allocating jobs, overseeing accounts, and administration as well as driving the maize harvester, digger, and other machinery. Jonathan runs the workshop, oversees maintenance and product development, and, during the busy season, drives machinery too.
"He's behind a lot of our good ideas and the machines we redesign and build," Darren says. Like many twins, they share a connection that goes beyond words.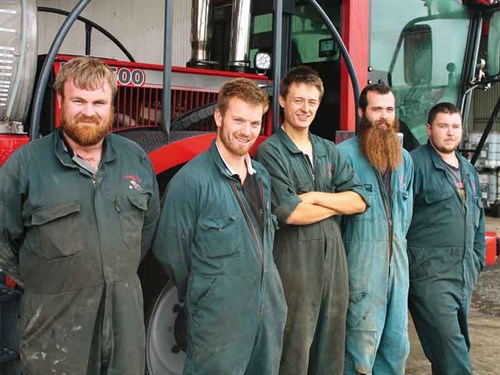 "We can look at each other and know what the other is thinking," Jonathan says. Family underpins the business. Darren's children – Courtney (14), Brooke (12), and Bailey (9) – are never far away. They live at a house on-site, adjacent to the yard filled with machinery and workshop sheds. There are pet chickens, a friendly pet pig called Dave, and pet dogs milling around. Jonathan and his wife Daisy, and their children Camilla (almost 3) and baby Jay (1 1/2-month-old) live at a house 100 metres down the road.
The support of their family has been instrumental to the operation and success of the business. For many years, Darren's late wife Rachel supported him in the business, doing accounts and helping prepare food for the workers. Although she passed away in 2011, after a brave battle with cancer, she is still in the hearts of Darren and his family.
Making machinery work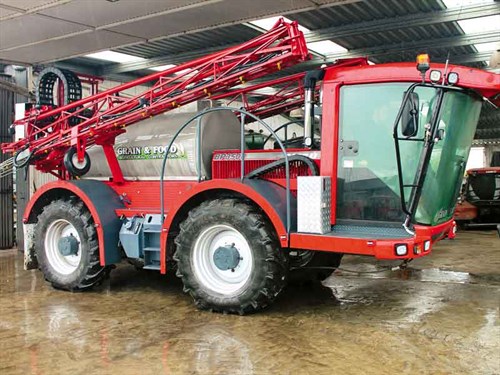 There is a strong DIY streak to the Miers brothers' mentality. They are innovative in their approach to machinery, building and adapting equipment and vehicles to improve efficiencies.
The workshop shed has a hydraulic door, which levers open using recycled 20-tonne digger rams. On rainy days, the workshop is a hive of activity as the team, under Jonathan's guidance, develop and repair machinery and troubleshoot for the busy maize harvest ahead.
A recent innovation – which has been one and a half years in the making – is a custom-built sprayer built from a JCB Fastrac with a Claas chopper cab mounted on the front.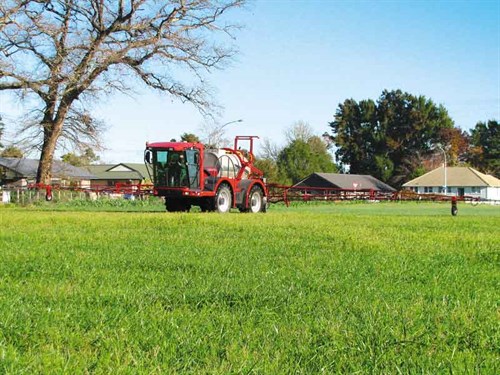 "We couldn't buy what we wanted off the shelf, so we built what we wanted," Darren says. "New Zealand is a unique country, and it's hard to buy something that meets your needs off the shelf.
"A lot of our equipment is modified in some form or another to improve its performance beyond its factory components. This enables us to have an edge. We are currently doing a lot of work on nutrient placement, and how to produce more crop for less fertiliser and nitrogen."
The brothers have a strong preference for Cummins engines. "Most of our machines have Cummins engines powering them," Darren says. "They are known for their longevity, reliability, and good low-end torque."
International connection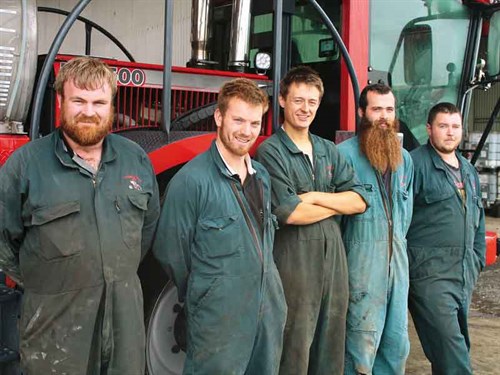 During maize harvest season, the Grain & Food 'family' expands with overseas seasonal workers, doubling the core team of nine or 10 to about 20 workers.
Sitting around a table for a cup of coffee with the Saturday morning crew at Grain & Food is like a United Nations meeting. There are workers from Norway, England, Ireland, and Scotland, and in the past, they've also had people from the US, Canada, Germany, Switzerland, Italy, Wales, and the Philippines.
"It's nice having the different nationalities working here," Darren says. "Over the years, we've found that if someone has the passion to travel to New Zealand, pay for airfare and sort out a visa, he's going to be a good hard worker."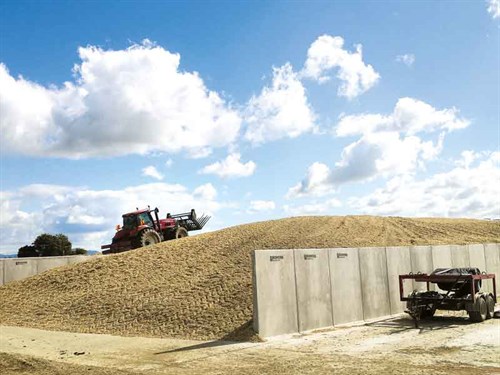 Peder Dobloug (20) has come from Norway to work at Grain & Food. He grew up on a family dairy farm near Oslo where his father milked 80 cows. By Norway's standards, that's a relatively large farm (the average is 20–25 cows, he says), so to work in New Zealand's agricultural industry is quite different.
"I like it here," Peter says, who says he loves driving tractors – something he grew up doing. "There are a lot of contractors here in New Zealand, and farmers tend to rely on contractors more here than in other places I've worked."
Barney Cornforth (28) grew up on a 120-cow organic dairy farm Yorkshire, England. "For as long as I can remember, I've always wanted to come to New Zealand," he says. He arrived in October 2016 and enjoys the work – "a bit of everything" – but tends to spend a lot of time driving the silage baler. "Back home, we didn't do as much maize as you do here," he says.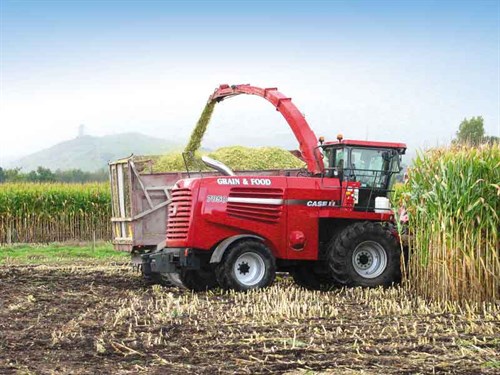 Peter and Barney live on-site in a house next to Darren's family, which adds to the family feel of the business. Soon, they will be joined by two Irishman and a Scotsman for the maize harvest season.
Steve Parkyn (26) hails from Cornwell, England, where he worked as a car mechanic and in his father's building business. He's been at Grain & Food since June 2016 and enjoys applying his mechanical skills to large and small farming machinery.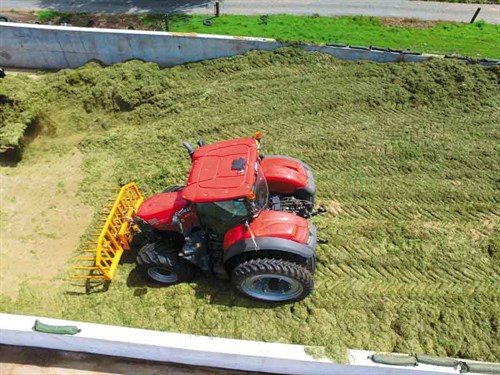 "I get to work on a range of different vehicles, and I just love it," Steve says. His sister Sarah told him about the job opportunities at Grain & Food; she did a stint there as a cook for a time. John Farquhar (23) is from Banff, Aberdeenshire—a town in Scotland. Having grown up on a sheep/arable farm and with a passion for tractors, John worked at Grain & Food for nine months in 2015, left, and then returned in 2016. He loves the variety of work.
"I spend my time in the workshop working on the tractors, and that suits me," he says. He has a favourite tractor – the Case IH Puma 225, which he's nicknamed 'Meg'. "I've got a bit of a soft spot for her," he admits.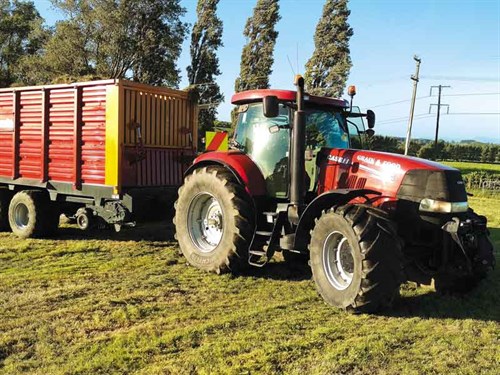 John's fiancé Lee-ann McDonnell (25) also from Banff in Scotland takes care of cooking and cleaning duties for Grain & Food. When seasonal demands, such as maize harvesting, require late nights, she makes hot meals in bulk and delivers them around the district.
"It's a logistical exercise and if the guys are all in different places, it can take up to two hours to deliver all the food," Lee-ann says.
Meals are portioned into individual containers and transported in an insulated chilli bin to keep them warm. Favourite meals include roasts, lasagnes, and fish and chips. Katie Ormond Ahern originally came to Grain & Food with her now-husband Mark from Ireland eight years ago. She manages the accounts and administration, and the couple are now official Kiwi citizens.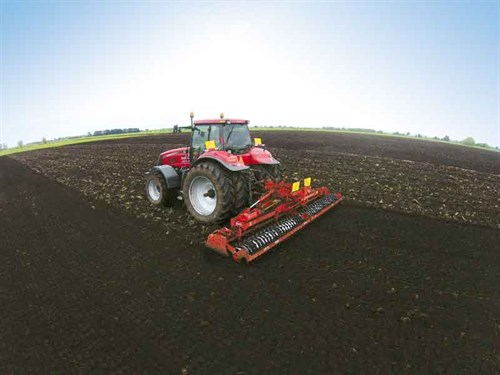 "This place wouldn't run without Katie," Darren says. "She knows the clients and is very much like a family member."
Darren and his children attended Katie and Mark's wedding in Ireland in 2016. Jonathan has also travelled to Switzerland to stay with former workers. "One of the upsides of employing young people from all over the world is that you have friends from all over the world," he says.
Darren adds that while their core staff are Kiwis, and they'd love to employ more, recruiting from overseas gives them access to a large pool of passionate and skilled tractor drivers. "Unfortunately, our government doesn't see tractor driving as a specialist skill, but it really is. We can't just put anyone on a tractor for the first time. We are working with farmers' livelihoods and it is a big responsibility. If you get it wrong, they won't get the crop they need for feeding their animals."
Agricultural contracting is changing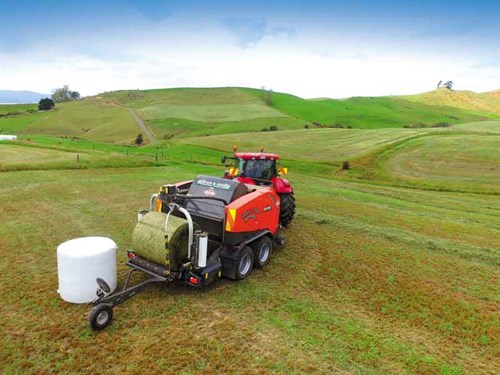 Darren says that agricultural contracting, like dairy farming, has changed over the years. "Farming is much more of a business than it was 20 years ago, and you have to balance production and profitability with environmental compliance and costs."
With dairying facing increased compliance costs and financial pressures, the squeeze is on contractors. "For contractors like us, if farmers get a cold, we get the bubonic plague," Darren says.
Margins have decreased for contractors, and there is still the ongoing cost of machinery, maintenance, and staffing as well as increased costs with health and safety requirements.
Contractors must remain agile to meet customer demands, be responsive, and work within farmers' budgets. Over the years, the size of machinery has got larger but the reasons are pragmatic. "Farmers think we like big gear but that's our way of improving efficiencies and maintaining margins," Darren says.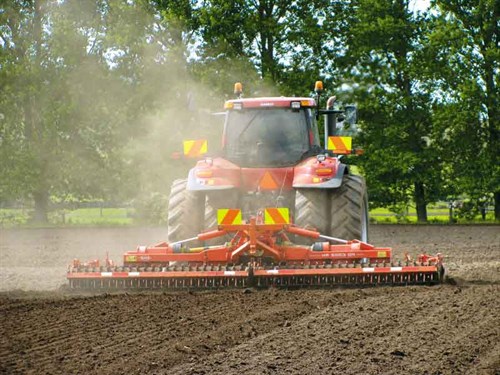 A six-metre power harrow can cover more ground than a three-metre one. A larger trailer can cart more maize silage and save time and manpower. This is limited by the farms they work on. "Paddock sizes, small farms, and narrow gateways dictate the size of the gear we can use," Darren says.
Giving back to the community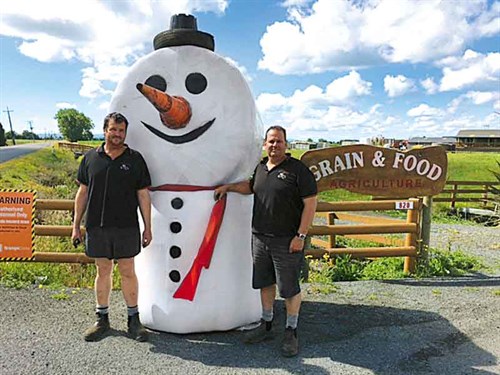 Community is also at the heart of Grain & Food. Darren's three children have all attended nearby Whitikahu School, and they always help out with working bees and fundraising efforts. Their philosophy is to give back and to support their neighbours, and the Miers brothers are always quick to lend a hand or do something to bring a smile to the community.
A case in point are the four giant snowmen they made last Christmas for the community. Each one was made of two white silage bales, a road cone as a nose, and a black bucket with a tyre as a hat. The twins' mum, Barbara, sewed four red scarves for each snowman, which were placed at key points around the Orini and Gordonton area.
"It was a small thing we could do for the community to make kids smile," Darren says. "We heard there were also lots of tourists stopping to take pictures and it got a lot of interest on social media."
Keep up to date in the industry by signing up to Farm Trader's free newsletter or liking us on Facebook