Profile: Mastenbroek 20/15 drainage trencher
---
Awakeri's new Mastenbroek 20/15 drainage trencher increasing productivity beyond expectations
Awakeri Drainage Ltd reckons their new machine is hot stuff; at least according to Jarvis Bishop, whose family-owned drainage business has operated in Hastings for the past 47 years.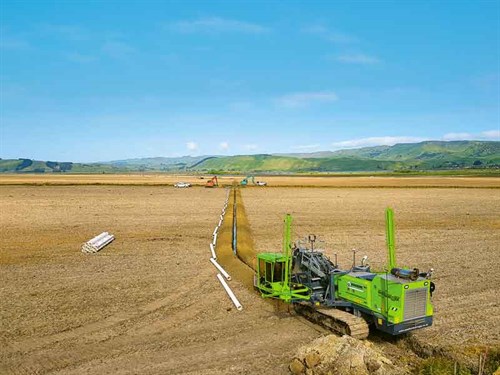 Awakeri Drainage purchased the Mastenbroek 20/15 drainage trencher in June from Lincolnshire in the UK, and it's been hard at work since its arrival in New Zealand. Jarvis says purchasing the state-of-the-art machine was a massive decision, but it is exceeding all expectations.
"It was needed to keep up with the amount of work we had on and the benefits are obvious. It's worked very hard for the eight months we've had it, installing close to 100km of drainage pipe.
"The machine is the talk of the town and clients are equally impressed with its technology and the speed at which it allows us to complete projects.
"We completed one of our larger drainage jobs in only four days; that was productivity we could only dream of earlier. In fact, our productivity has multiplied by three or four times. We're operating in a completely new and efficient way due to its design and modern technology, with complete GPS guidance and depth control."
The latest technology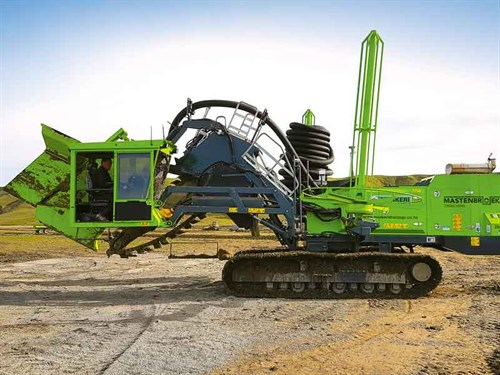 Jarvis, who, as the younger generation, has his finger on the pulse when it comes to adopting new technology, explains how it works.
"Following a consultation with a client, we take our GPS survey quad to the field, gather thousands of topographical data points, and take this information back to the office, or we can analyse it there in the field. From this information, we can establish watersheds, flow directions, and contours, which the eye struggles to see.
"We then draw up different subsurface drainage options to establish the most efficient and cost-effective way to drain the land." This is a vast improvement on the systems they had with traditional laser surveying.
"This modern technology takes all the guesswork out of it and leaves you with the facts. Our quoting is faster and more accurate, and we know for sure we have the right drainage system on the table."
Powerhouse of productivity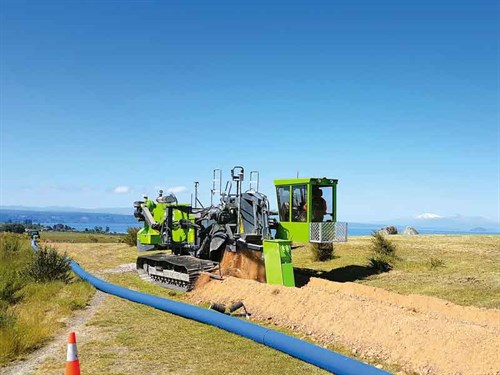 A good drainage system will improve the biology of the soil, which in turn will see productivity rise.
"Drainage may seem a huge initial investment but it pays off quickly in terms of giving the client a much better soil profile, which then improves the productivity and value of the land," Jarvis says. "The improvements can be seen often in a very short space of time – wet patches become dry, the water table is stabilised and oxygen is fed into the soil, and crop yields increase."
While Awakeri's main specialty is land drainage, the team also carries out general contracting – farm maintenance and forestry roading being a large proportion of the work – updating and cutting new tracks and skid sites, as well as dam building, orchard removal, demolition, house sites and foundations, subdivision development, quarry extraction, and tennis courts. The company also has a Masterskreen mobile screening and Metso crushing plant used to process aggregate at their yard.
"In the last 18 months, we've jumped into the aggregate market even more, partly due to changes in the aggregate scene in Hawke's Bay, and the attraction of a good product. Customers will always need something that will suit the application and be good value for money."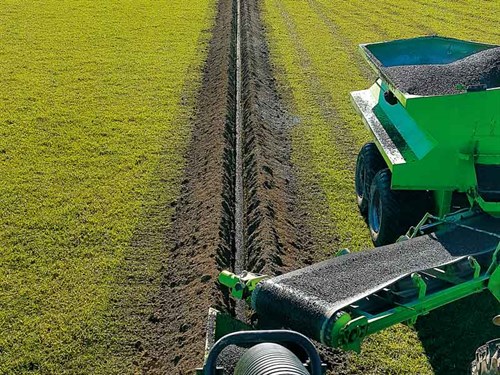 Awakeri also runs a concrete recycling system, where anyone can dump old rubbish concrete. They process and crush it and remove the steel and rubbish, which leaves a 100% recycled roading and hard fill material.
This product has many applications, and the high content of cement fines means it sets very hard, according to Jarvis. During the year, general contracting work never stops. From drain cleaning to dam building, farmers always need to improve their plot. The aggregate side is consistent year-round, from re-metalling orchard tracks to building new house foundations.
"With drainage, we can do 14-hour days in the season, but in summer, once the crops are in, the trencher will be sitting for only a few weeks for maintenance before the next season starts," Jarvis says.
Company history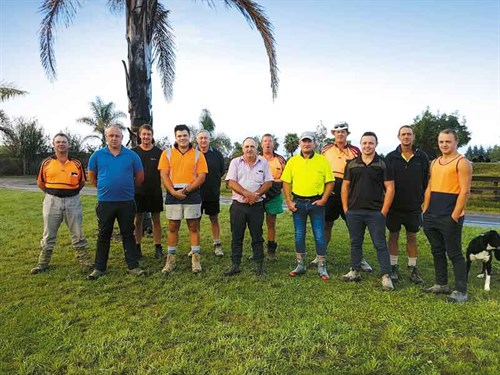 Jarvis' grandfather, Ron Bishop started Awakeri Drainage in 1970. His focus was on delivering the latest drain laying methods for Hawke's Bay farmers. The business was one of the first to adopt plastic pipe instead of clay tiles and also one of the first to introduce lasers into the drainage scene, superseding theodolites.
Jarvis' father Jim and his brother Vern took over from Ron. After running it together for 10 years, Jim and Vern took to separate divisions, with Vern starting Aqualine Contractors and Jim continuing the Awakeri brand. The business has greatly grown since those times. 
Jarvis' brothers Brayden and Marcus are both in the business. The company employs 13 full-time staff, many of them have been in the business for years.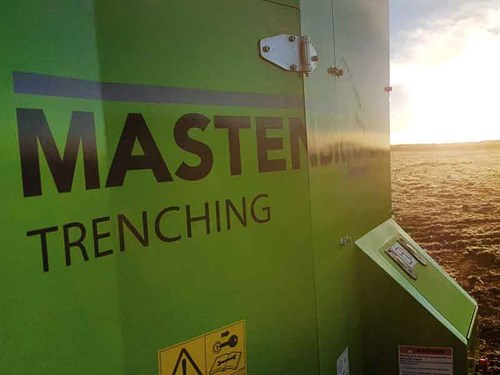 Jarvis' role is in administration and surveying, dad Jim is usually found out and about with clients and is involved in general management, while Brayden and Marcus run the drainage and contracting arm. They run three full-time truck and trailer units, five full-time excavator operators, a full-time aggregate plant, and a drainage team. 
Machinery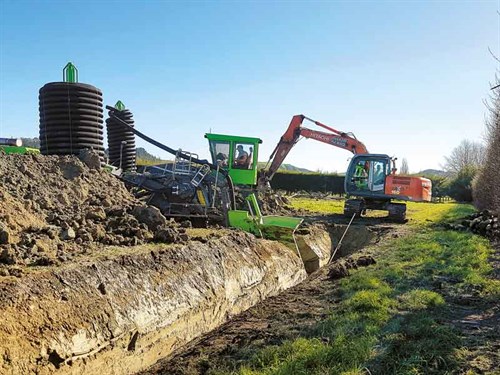 Awakeri's fleet has 10 excavators, ranging from 12 to 20 tonnes. Hitachi is their favoured brand – "it's powerful, reliable, and can handle whatever we throw at it," Jarvis says. They also have two Kobelco excavators, one of which is a specialist bladed machine.
Equipped with high-power track gear and a six-way power angle power tilt blade (PAPT), the Bladerunner ED160 is a half bulldozer half excavator – excellent for trackwork and cutting.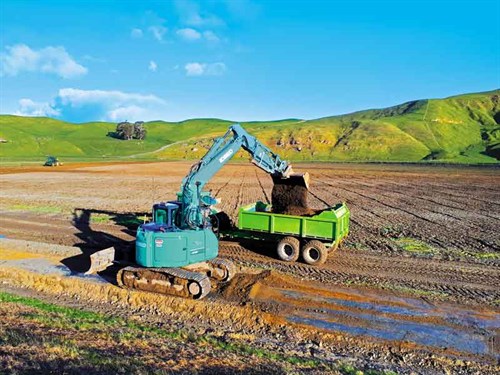 There is an extensive range of late model plant and attachments – rippers, rakes and buckets, breakers, and even a custom-built 130hp stump grinder attachment.
"We make sure we have everything available for our customers to enable us to get their work done quickly and efficiently," Jarvis says. There aren't many jobs they aren't willing to tackle. Whether it requires hire of specialist machinery or doing something in a new way, Awakeri is up for the challenge.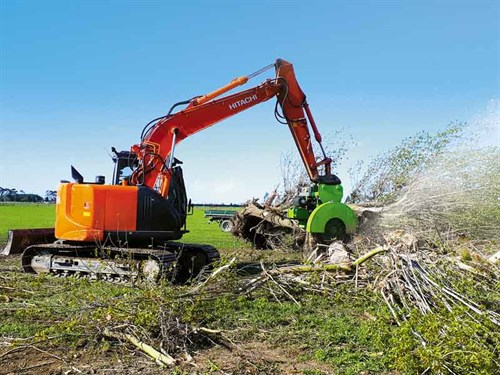 The trucks are Hino, utes are Toyota Hilux, and tractors are John Deere – all chosen for their good engineering and reliability. When asked about future plans for Awakeri Drainage, Jarvis says, "We'll just keep boxing on, keeping our fleet up to date, and we plan to diversify our aggregate products too, and, of course, we want to keep the Mastenbroek doing what it does best – putting pipe in the ground."
Mastenbroek 20/15 Drainage Trencher specifications
| | |
| --- | --- |
| Trench method | Digging chain with stepless adjustable speed |
| Grade control | Trimble precision GPS and Trimble WM Drain Computer Software |
| Trench depth range | 0.4–2m (optional 2.5m) |
| Trench width range | 125–450mm |
| Pivoting trenching unit | 5 degrees from centre to both sides |
| Digging chain drive | Hydrostatic low speed high torque motor |
| Spoil discharge | Auger to both sides |
| Pipe box | Pivoting with hydraulic lift and depth adjust |
| Backfill hopper | Hydraulic height adjustable |
| Pipe handling | Manual or hydraulic pipe reels |
| Power unit | Diesel Cummins 320hp |
| Undercarriage | Heavy-duty oscillating, D4 (optional side tilt) |
| Track pad | 800mm triple grouser |
| Track drive | Independent hydrostatic, high and low speed drive (0–5000m/hour) |
| Operator's position | Elevating cabin with heating. ROPS certified. |
| Transport dimensions | Length 11.8m, width 2.9m, height 3.1m (approx.) |
| Weight | 20tonne (approx.) |
source: mastenbroek.com
Find out more about farm machinery on Farm Trader. 
Keep up to date in the industry by signing up to Farm Trader's free newsletter or liking us on Facebook