Kuhn releases new seed drill and round balers
---
The Kuhn range gets bigger with the release of new seed drill models and new generation of round balers
Kuhn Espro Seed Drill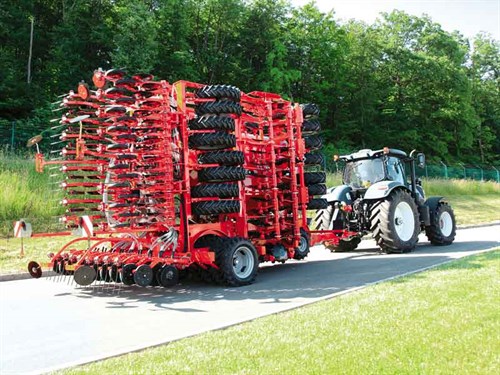 After introducing the six-metre foldable Espro 6000 RC seed drill at SIMA 2017, the Kuhn range gets even bigger with the arrival of new models: the Espro 4000 RC (four metres) foldable, with double seed-fertiliser or two-different-seed distribution and an eight-metre working width, foldable model – the Espro 8000 R, which has a 5500-litre special seed hopper. This seed drill, with two distribution systems and two distributor heads, is designed for large arable farms and contractors.
The other distinctive features specific to Espro seed drills since their launch in 2015 have been retained on this new model include:
Large diameter wheels (900mm) with exclusive profile, offset, and featuring tyres with a specific deep tread pattern for ideal seedbed tilling as well as low power requirement.
Crossflex coulter bar, which ensures even emergence and quality seeding with the hold of the elastomer mounts fitted onto the cross-shaped sectional tube, for improved ground following.
Simple adjustments, automated headland turn management, user-friendly terminals (VT or CCI), and ISOBUS compatibility make it a tool unanimously valued for comfort of use.
Versatility and rapidity make it capable of establishing a large variety of seeds at high speeds. It can be used with any crop establishment method and can be fitted with front press wheels with in-cab pressure adjustment for sowing on ploughed land or in light soils.
Kuhn V8 3100 Series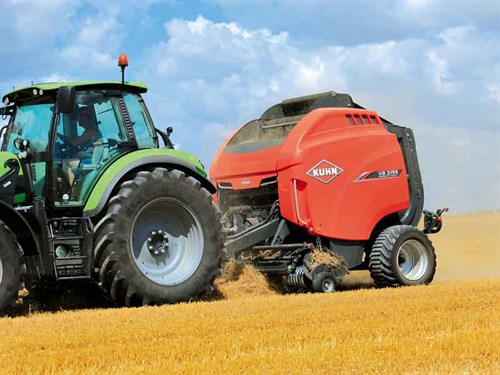 Kuhn's new generation of round balers is designed with baling needs in mind. The VB 3100 series offers a wide range of variable chamber round balers.
The VB 3165 and VB 3195 premium XD balers are designed to work in the heaviest conditions across the world and are also available as baler-wrapper combinations.
With a proven, more refined intake system, the wide cam-track pick-up unit on the VB balers provides maximum ground adaption during baling. The pendulum capabilities of the cam-track unit keep the pick-up wheels in constant contact with the field surface, providing more stability in all swaths. With patented integral rotor technology, an enormous throughput capacity is guaranteed at all times with the OptiCut cutting units, available with both 14 and 23 knives. The premium models also have group selection and dropfloor technology.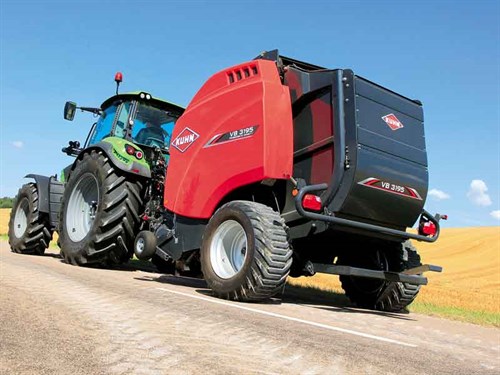 Perfect bale formation, everywhere, any time is ensured by the Kuhn progressive density system and the smart bale chamber design. The proven progressive density bale chamber increases the baling pressure as the bale grows for a secure bale start and perfectly shaped bales. In addition to this, higher bale pressure settings on the VB 3165 and VB 3195 models can provide up to 10% more bale weight in drier crops.
The proven net-binding system with stretch technology also assures a firm bale shape with consistent net tension throughout the entire binding cycle for secure and reliable binding of the bale. All the important baler settings, such as density, bale diameter, and the number of times the bale is net bound can be conveniently set in the control terminal.
The key to achieving the productivity expected from a Kuhn machine is a user-friendly interface. The new user interfaces and terminals provide a clear view of what the machine is doing at any time with important settings at your fingertips. The premium models are fully ISOBUS machines.
Keep up to date in the industry by signing up to Farm Trader's free newsletter or liking us on Facebook