Farm advice: Planning needed to meet NZ's water needs
---
With an expectant population number of six million by 2050, New Zealand needs to continue water planning to ensure it can meet its needs
In our most recent IrrigationNZ magazine, we featured a view from Cape Town covering the situation over there. The city was on the verge of running out of water in March.
Water use is severely rationed, swimming pools are covered, and showers are limited to 45 seconds. The impact on agriculture and tourism saw thousands of job losses and hundreds of millions of dollars in lost income.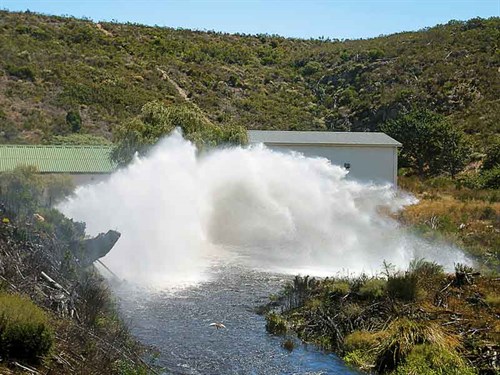 A release of water from apple and pear growers from their water scheme, along with a range of actions to save water, has enabled 'Day Zero' – the day the taps will be turned off – to be pushed back. It is now scheduled for 2019.
The situation affecting the city highlights how critical planning for our future water needs is. We are fortunate to have an ample supply of rainfall.
According to NIWA, New Zealand currently receives an average of 550 billion cubic metres of rain each year, of which 80% flows out to sea, supporting river ecosystems along the way. Around two percent is used for irrigation and urban and industrial use, with the remaining rainfall evaporating.
A recent draft government report – Adapting to Climate Change in New Zealand – highlights that severe droughts are expected to occur more frequently, along with more intense rainfall and flood events.
In 2017, a shortage or surplus of water created major problems with severe flooding occurring in a number of areas over autumn and winter, followed by droughts in spring and summer.
Internationally, there are a number of exciting initiatives underway to improve water security and achieve good environmental outcomes. In Europe, extensive paved surfaces of cities limit natural groundwater recharge when it rains. Thousands of storm water wetlands have been developed using specially chosen vegetation to help filter pollutants and allow groundwater levels to be recharged.
Internationally, water storage solutions such as dams or reservoirs serve multiple purposes: hydroelectricity, irrigation, domestic use, and flood protection.
In New Zealand, a groundwater recharge trial near Ashburton is showing positive results. Water sourced from the Rangitata River is stored in a 'leaky pond' and filters down to replenish groundwater. 
It has helped raised groundwater levels up to seven kilometres away from the site. A number of additional small leaky ponds have recently been constructed to extend the trial further.
If successful, these will be further enlarged. Innovative nature-based solutions such as these are the way forward for water quantity and quality management as highlighted in a recent UNESCO report.
While the government recently announced that some water infrastructure projects would receive funding, others – many of which incorporated innovative ideas such as mentioned above – saw their loan funding stopped. We hope they will have the opportunity to apply to the Provincial Growth Fund and demonstrate they are environmentally sustainable, supported by the community, and financially viable in the long term.
By 2050, our population is expected to reach six million. We'll need to feed more people from the same land area and supply water and power to new homes and businesses. Water is critical to our nation's wellbeing. We need to continue planning today to ensure we can meet New Zealand's needs in the future. 
Keep up to date in the industry by signing up to Farm Trader's free newsletter or liking us on Facebook