Special feature: Bulbs Direct in Northland
---
A family-owned and operated Northland flower bulb nursery that's been going for 30 years is now in the capable hands of a third generation
Kayne Gravatt planned on being a commercial pilot but instead took on the challenge of running the flower bulb nursery begun by his grandparents, Ian and Gay Gravatt.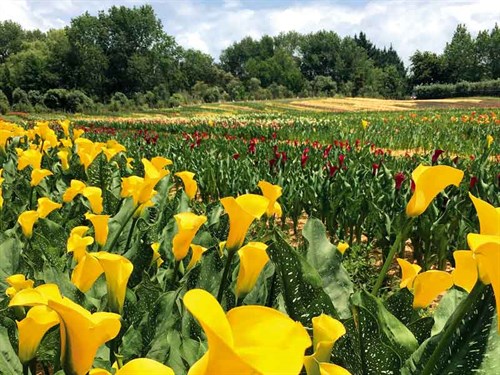 With both sets of grandparents in the same business, it was almost inevitable for Kayne to join the business, but initially, he wasn't so sure it was his calling.
The backstory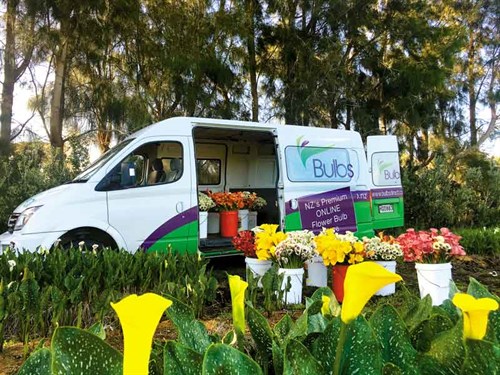 Ian and Gay began growing export calla lilies for Japan, in Waipu, 30 years ago. "At the same time, my mother's parents, Margaret and Bill Massey also grew callas. Margaret started breeding them and bred one of the first white varieties called 'Swan Lake'. It's a beautiful, pure white lily and is still one of the most popular," Kayne says.
In order to pay for his flying lessons, Kayne worked for another calla lily grower in the area.
When that grower wanted to sell up five years ago, he approached Kayne and his parents Jean and Wayne Gravatt.
They decided it made sense to expand their already successful and well-established operation. Kayne took on the role of running the business – and he loves it – and also managed to gain his pilot's licence.
The bulk of the Gravatt's business has always been the export of fresh calla lilies to Japan. Jean and Wayne continued this tradition and three years ago began selling online as Bulbs Direct.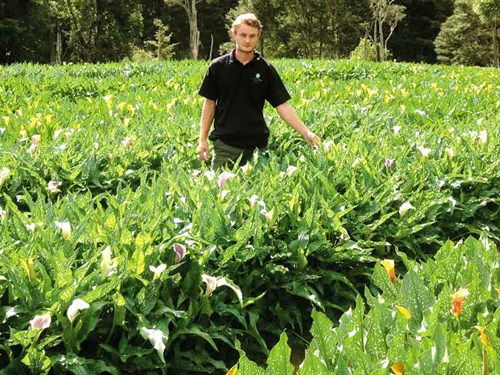 "Previously, we only exported flowers and bulbs and this was a way of tapping into the domestic market and not relying solely on world markets," Kayne says.
"At first, sales were slow but now they are increasing – as much as 50% per year – and what is really cool is that our buyers are sending us photos of what they've grown."
The bulk of the company's bulbs are grown at production sites at Waipu and at Paparoa where they're grown indoors for the cut flower market. They also buy bulbs from local growers.
Expanding business meant more help was required to process orders. As the bulbs need to be handled delicately, there's less involvement of machines, making it a labour-intensive process.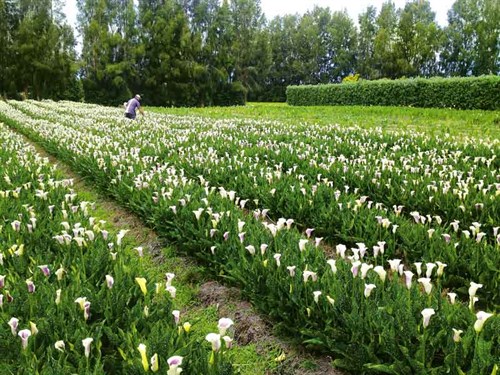 "We use a custom-built potato harvester to harvest bulbs, but apart from that, it's all done by hand. All our planting is done by hand from the back of a trailer pulled by a John Deere 5410 compact tractor," Kayne says.
"Tubers are pushed into pre-made rows and then covered with mulch. We use truckloads of this to keep the moisture in and the weeds out."
Depending on the variety of plant, slow-release fertiliser is used to feeds nutrients continuously over six months. "You need to nourish the plants slowly, rather than give them an immediate boost."
Healthy soils, healthy plants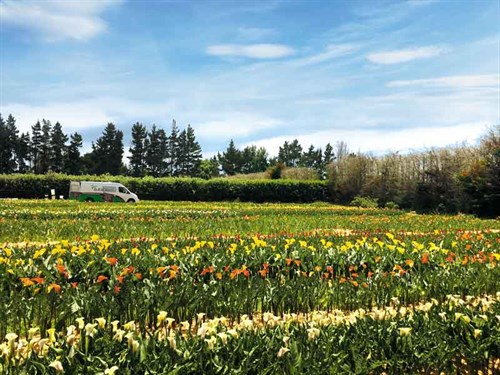 The deep, black, sandy peat soils at Waipu and Paparoa are ideal for producing large, healthy, rounded tubers. Such is the variety of bulbs sold that customers can enjoy
year-round colour.
January to May sees spring bulbs such as tulips, daffodils, crocus, iris, and ranunculus; from May to June, it's peonies; from June to July is lilies (Orientals, Christmas and Asiatic); and from late August to January is summer bulbs, including dahlias, begonia, and callas.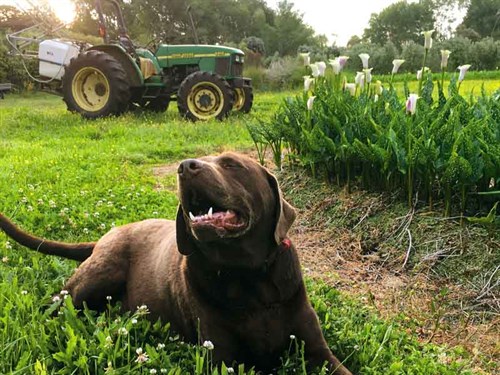 "We are continually breeding to get better quality flowers and better colours. Every year, we have a breeding programme to produce stronger stems, colour tones, and so on. Breeding is incredibly time-consuming; it can take seven years to get to a commercial level, so it's a game of patience."
The packhouse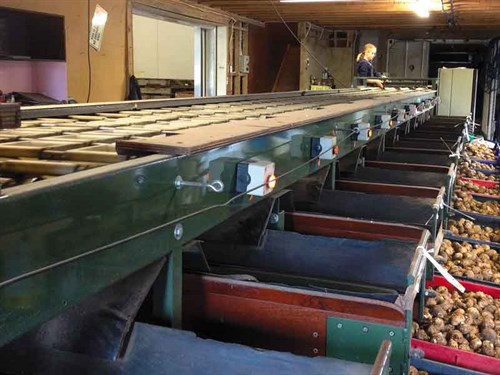 Following spring bulb harvest in January and summer bulb harvest from May to July, Bulbs Direct prepare for the increase in interest of online sales, with customers planning their spring gardens. The busiest time is during February when between 200,000 and 300,000 bulbs are sold.
"Orders are done manually, so a lot of counting goes on," Kayne says. This takes place in the Gravatts' custom-built packhouse and 200 square metre chiller. Following harvesting, the bulbs are tipped gently onto a 10-metre long bulb grader.
The machine takes a photo of each bulb and works out the size and weight and directs it to a specific area. Each bulb has to be the correct shape and quality and anything else is replanted.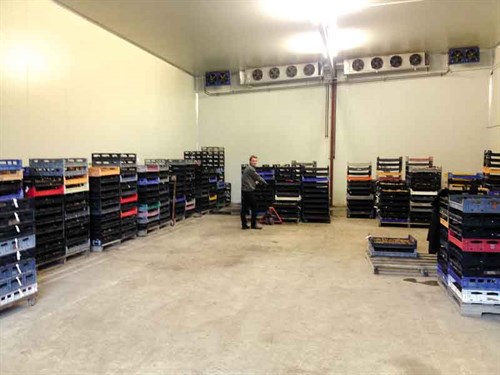 "Quality is paramount. It's one of the biggest factors and one of the reasons we got into the domestic market; we felt top-quality bulbs weren't available. All the good stuff went overseas and that didn't make sense to us. Our aim is to provide export quality bulbs for our New Zealand customers," Kayne says.
In the busy season, Bulbs Direct employs 10 to 15 people to pack orders, and through the year, it's the full-time crew of Kayne, his parents, and packhouse supervisor, Wendy Gardiner.
The Gravatts are always adding more varieties and increasing what they grow. "It's a long process to get more varieties into New Zealand, so we want to keep pushing for that. It's worth remembering, too, that we have some great plant breeders here such as Dr Keith Hammett, world-renowned calla breeders, Trevor Brljevich and Andrew Wearmouth, and expert plant breeder Terry Hatch. Many of the best breeds have originated from them."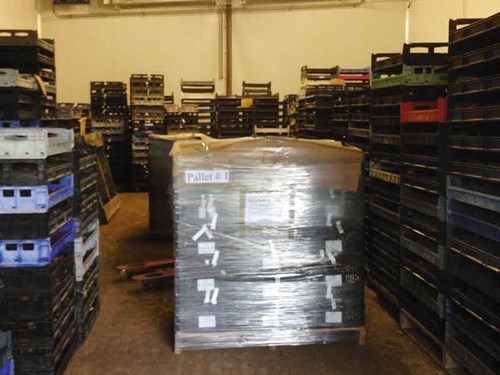 Kayne is a keen gardener but you won't find many daffodils or dahlias in his garden – "I count bulbs in my sleep"– instead, he has mostly native trees and shrubs.
"I enjoy the native re-vegetation aspect but also have a love for all things palm related, Nikaus being one of my favourites."
Planting tips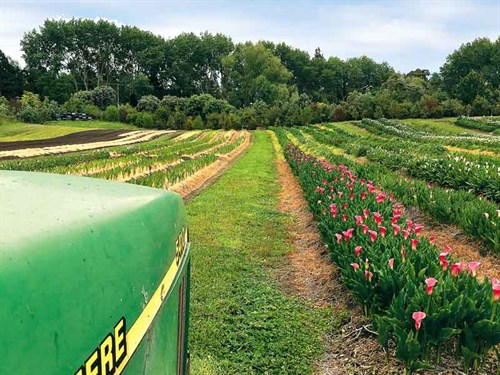 Kayne says spring bulbs are by far the best bang for your buck. "There are hundreds of colour combinations, and they are easy to grow. The mixed packs are the best value.
"I generally advise planting your spring bulbs around Easter, however, later than that is perfectly fine (ideally before the end of April though).
"There seems to be a misconception that all spring bulbs need chilling; this is not the case. You should only be chilling tulips and hyacinths if you're in a warmer district. This will increase the stem length of your tulips and hyacinths dramatically (they can be grown as far North as the North Cape if you're chilling them). All other bulbs don't need the chilling period.
"If you're planting in pots, make sure they get a good watering, as potting mix loses moisture incredibly quickly.
"If they're straight into the ground, they'll need relatively free draining soil, but don't let them get too dry. Give them a good sprinkling of general purpose fertiliser when you plant them.
"After flowering, make sure you let them die down completely. If you cut their leaves off, you're starving the bulb of its vital nutrients."
Keep up to date in the industry by signing up to Farm Trader's free newsletter or liking us on Facebook