Calf rearing specialists in Waikato
---
Eric and Helen Pidduck have 55 years of farming experience and their Waikato-based calf rearing business is one of the largest in New Zealand
When it comes to knowing the ins and outs of farming in New Zealand, there are a few couples as fascinating as Eric and Helen Pidduck.
Aged 76, they have finally handed over the reins of their calf rearing business – one of the largest in New Zealand – deciding it's time to take life a little easier.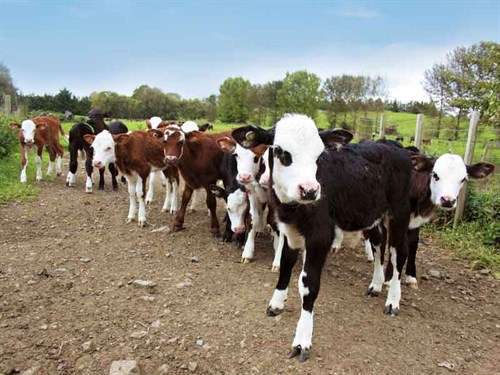 While retirement does involve some traditional tasks such as gardening and travel, this pair are anything but typical retirees.
Their days involve off-road 4WD exploring, fishing, keeping on top of their dozens of fruit trees (the produce of which is bottled and stored in a purpose-built wine cellar), regularly exercising Helen's Jaguar collection, including the enviable E-type Jaguar, and keeping Eric's razor-sharp brain entertained dreaming up new inventions in his man cave.
With 55 years of farming experience under their belts, Eric and Helen have forged a memorable career together, latterly spending 25 years building one of New Zealand's largest calf rearing businesses from a once neglected property, where their sprawling century-old home remains their base.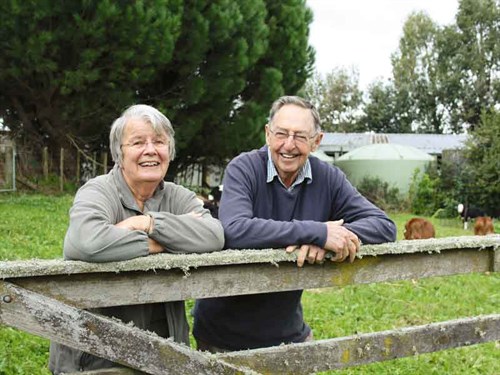 They are quietly humble about their achievements, brushing off any hint of praise, yet their combined depth of knowledge around all facets of New Zealand farming is hugely impressive and they are regarded with immense respect within the industry.
Having both grown up in the Waikato with farming backgrounds, they are a formidable team. Helen's quick mind and knowledgeable eye is renowned for crafting a deal at sales yards around the country, while Eric the quiet but genius inventor, constantly finding intelligent ways to solve problems.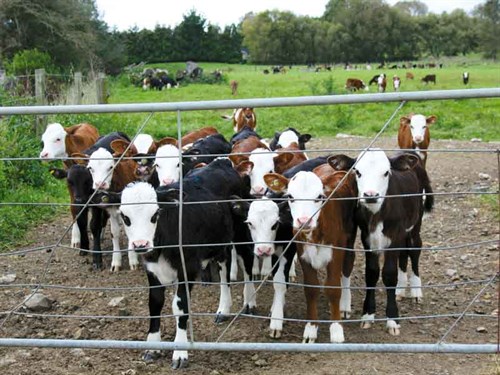 True pioneers, Eric and Helen have never been afraid to think outside the square and take risks, from business models to designing machinery and equipment and trying new concepts. Eric loves the challenge of making his ideas work, often waking in the middle of the night with a 'eureka' moment. With the business raising around 5000 calves each year (7000 in its largest year), looking at ways to streamline processes was a core part of that growth.
Eric developed the first useable system for warming bulk milk in a tank, developed his own calf feeders, and crafted an entirely new way of feeding calves with a hydroponic shed housing a steadily growing source of fresh barley grass. There's barely a single piece of farm kit or machinery he hasn't tinkered with and adapted in some way.
Having grown the business and seen it survive and thrive for 25 years, they are delighted to hand it on to the safe-keeping of another family, who plan to continue their legacy.
Early pioneers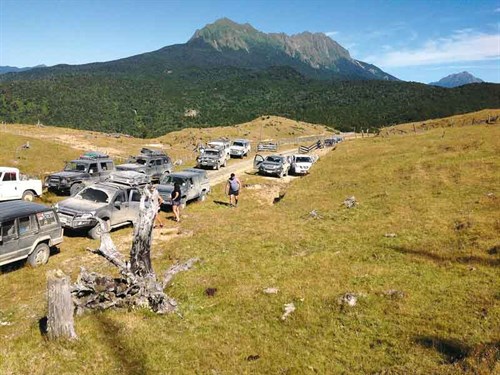 In their late 20s, Eric and Helen spent a decade working for the New Zealand government as part of a government aid programme, setting up dairy farms in Korea, the Philippines, and Tanzania.
"It was quite an adventure," Helen admits. "We spent time in some amazing parts of the world and because of the work we were doing, really got to know the people and the countries."
The journey wasn't without its challenges, however, from the perils of the Muslim-Christian conflict in Southern Philippines to loose cattle on an airport runway and assembling tractors that arrived in pieces in crates, often with parts having gone 'walkabout'.
The reality of working in a country affected by war has Eric recalling a time bullets hit the walls of their home and he spent a "few hours standing in the shower, which was surrounded by concrete blocks".
Among their adventures, they also saw the migration of Serengeti twice, made lifelong friends, and helped educate thousands of people around various aspects of farming, both as part of the Colombo plan and Eric in his role as an educational lecturer.
They returned to New Zealand to raise daughters Suzanne and Christine and settled back in the Waikato, where they both originated. In fact, they originally met at a dance at Cambridge High School. Helen was from Hamilton Girls High School and Eric was a former CBHS pupil who was gate crashing.
"She was the girl in the green dress," he recalls, "and I called her that for a while. I had to track down her name from some friends."
After courting and getting married, the motivated pair set about a career in farming together, originally milking on Eric's parents' farm before travelling overseas.
The business of farming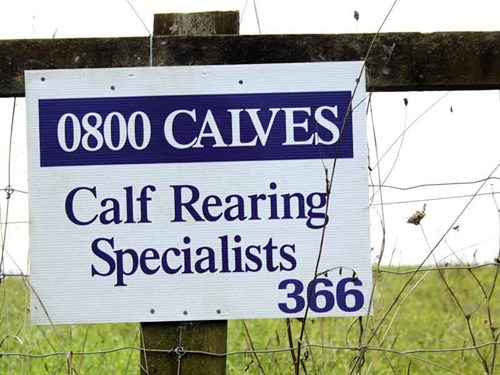 Setting up their calf rearing business from scratch on a neglected estate sale property saw Eric and Helen pour thousands of man-hours into making their land a viable option. "There wasn't a fence standing or a useable race or water trough," Eric recalls.
These days, a central race leads to 38 paddocks, designed for ease of stock flow and management. Seven wire post and batten fencing, with one electric, safely holds young stock, and water is sourced from a 25-metre bore through a submersible pump to a sand filter and two large storage tanks. A multi-stage centrifugal distribution pump feeds out to the property via 32–25mm mainlines and 25–20mm feeders.
A two-pond storage system collects effluent from the main calf shed, weighing yards and milk feeding stations, with consented discharge and diverter.
The purpose-built facility boasts five calf sheds set up for raising dairy and beef calves from four-day- to four-month-old, through a spring/autumn split rearing system.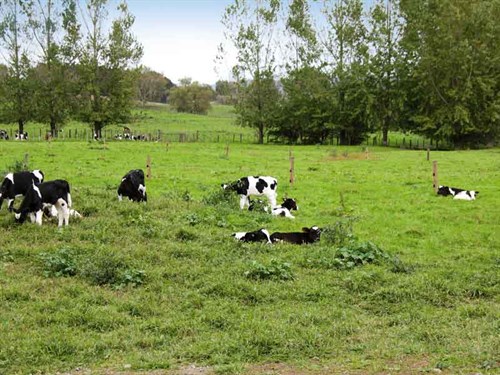 At the heart of the operation is the main calf rearing complex, with 48 pens and an attached lean-to. The concrete floor has a specially designed plastic slat grate to simplify cleaning, with two additional concrete feeding pads nearby.
There is also a four bay implement shed, barn/machinery shed, an old dairy shed converted to further calf pens, with a handling facility and separate stockyard with loading ramps.
A number of milk storage tanks, totalling 140,000 litres, are plumbed through a milk warming system, designed by Eric. The milk pumps distribute to multiple outlets for simplicity of feeding.
Three meal silos and one 16-tonne barley grain silo are set up for supplement feeds. However, the pride of place goes to the 230 square metres hydroponic shed, which houses the barley sprout feed system.
Sprout and go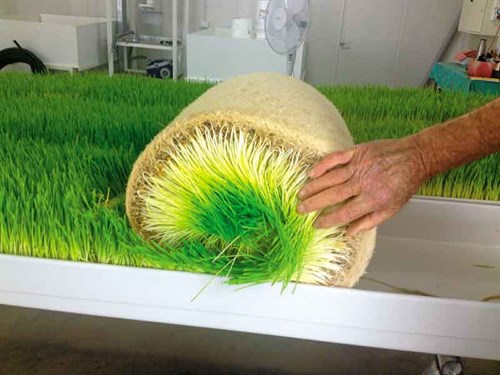 More than 10 years were spent researching and developing the indoor barley sprout system, which had been attempted before but never successfully. Eric was determined to make it work and admits to many sleepless nights trying to juggle the jigsaw of complicated planning.
"It presented a lot of challenges, and luckily, when the time came to pull all the pieces together, we had about eight backpackers staying here, so there were plenty of helpful hands."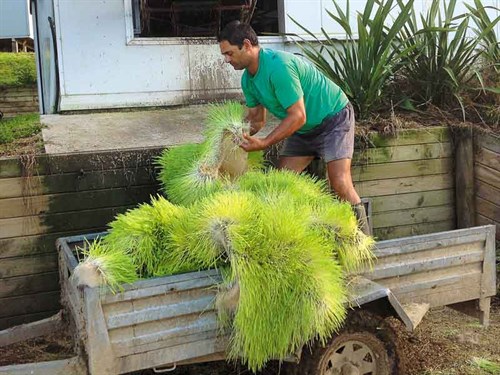 Much of the design, in typical Eric style, featured recycled and repurposed materials, which he tweaked in his workshop and bolted together.
Eric's thoroughness meant that when the shed was finally set up, constructed with insulated panels and an underfloor heating/cooling system, it worked perfectly the first time.
Equipped with 512 three-metre plastic rectangular trays – all of which had to be individually put together – these are then stacked in eight rows and attached to a chain conveyor system, which runs the barley sprout straight out for feeding.
The process from seed to feed takes eight days, producing up to two tonnes of barley sprouts daily, which is fed straight out to the calves.
Surviving and thriving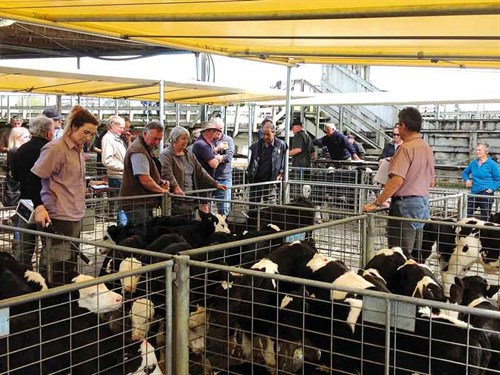 Calf rearing is a notoriously fickle business, but Eric and Helen survived and thrived through 25 years of a volatile market.
There were plenty of rough times, but they stuck it out and used their skillsets to farm smarter when required.
"We were constantly learning and changing how we did things," Helen says. "It was a fascinating business, and there was no precedent to follow so we had to just give things a go."
The decision to try and replace much of their supplementary feed by growing their own barley sprout was perhaps one of the riskiest. In terms of investment and specialist infrastructure, it was certainly an industry first. However, with almost a decade spent grappling with the pros and cons, the shed was up and running before long, producing two tonnes of fodder a day at capacity.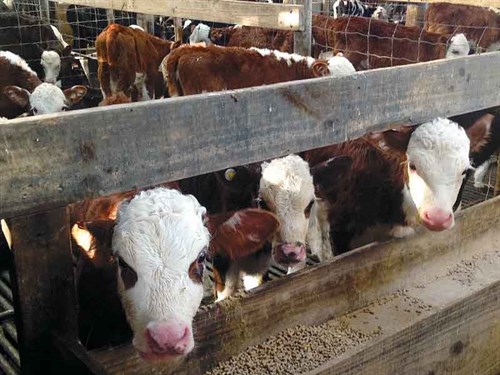 "The calves loved it and thrived on it. The nutritional benefits were easy to see with fatter healthier calves."
The process begins with soaking seven-kilogramme buckets of barley seed for 24 hours. The seed is then spread on trays to grow, and within a week, the barley crop is several centimetres high and ready for feeding to stock.
With each tray weighing 35kg, a mobile scissor lift and conveyor belt are an important part of the process, with more of Eric's design work evident.
The grand finale
At the age of 76, while both the business and Eric and Helen were still going strong, the couple decided to take a step back from the demanding world of farming and focus on their other interests.
However, with calves visible from the kitchen window, it's unlikely they'll be going completely cold turkey. "We can't go too far without bumping into someone we've worked with, bought, or sold calves from or who Eric taught. It's one big farming family out there."
Keep up to date in the industry by signing up to Farm Trader's free newsletter or liking us on Facebook