Profile: Massey Ferguson and Lely
---
Stackhouse Contracting has had a longstanding relationship with Massey Ferguson for 20 years
'Don't fix what ain't broke' sums up Murray Stackhouse's attitude to Massey Ferguson. Stackhouse Contracting is based in Cheviot, North Canterbury. Murray and Darrelle Stackhouse provide cultivation and baling services for local farmers.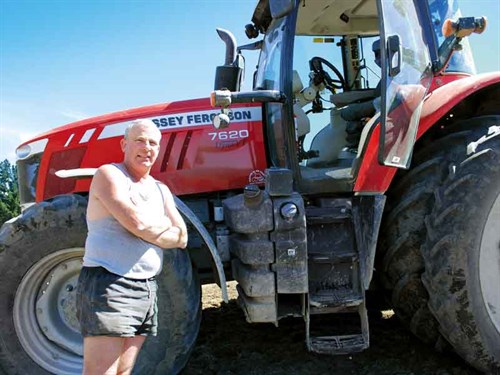 Before getting into contracting, they leased farms, and one of those farms had a Massey Ferguson tractor. The local dealer was and still is JJs in Christchurch, and the dealer and the tractors have always been reliable.
"We have had a longstanding relationship with Massey Ferguson for 20 years. You get a relationship with a firm and stay with them," Murray says.
"We have had no reason to change. We will carry on being loyal and all our Massey Ferguson and Lely gear comes from JJs."
Murray runs three Massey Fergusons: an MF 7726, an MF 7620, and an MF 7475. The MF 7726 is the latest addition and was bought new this year. It has a variable transmission and Murray bought it for ploughing, ripping, and baling. With 260hp, the MF 7726 is the largest of the Stackhouses' tractors. Murray says he got it to add more efficiency to the contracting business, and hence more efficiency for farmers.
It is also efficient by name – it's an Efficient model (the other option is Essential) – and it is efficient in practice.
Massey Ferguson 7726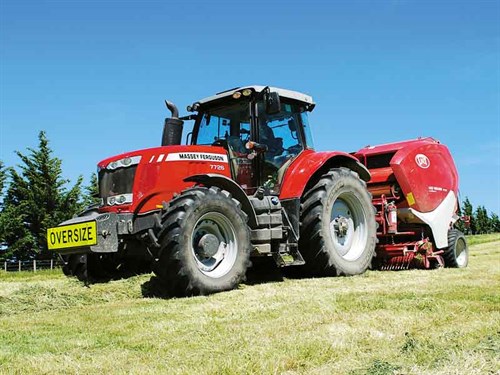 "It is more fuel efficient, the tyre size is bigger, which means less compaction, and the steering lock is better, so it's easier to turn in tight places like deer lanes," Murray says. He adds he is impressed with the steering as well. That manoeuvrability is an important reason why he uses the MF 7726 as his ploughing tractor.
The cab layout is also efficient. "Everything is user-friendly and the controls are right under your hand where you need them. All the remotes for the hydraulics are on the joystick."
It is quiet in there, too, which is important for contractors who answer a lot of phone calls. Murray says people don't realise he is in the tractor when they talk to him.
He and his drivers spend 10 hours a day in the tractors during the season. Comfort is important, both to make work more pleasant but also safer, with less driver fatigue.
Stackhouse Contracting's MF 7726 has front suspension as well as cab suspension. Murray says this gives the superior steering and it allows them to work a little faster in rough paddocks.
But what about the implement when working at faster speeds? Shock absorbers on the three-point linkage help stabilise heavy implements such as the five-furrow plough.
Control through Datatronic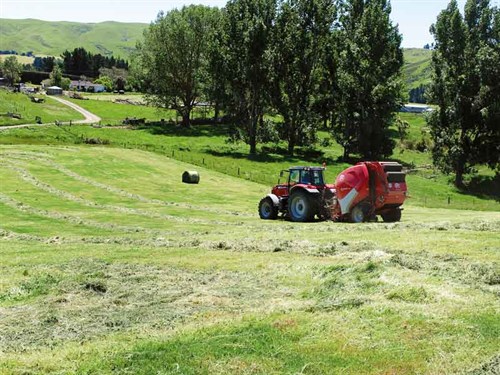 A key feature on the MF 7726 is the Datatronic CCD guidance system. "All functions are displayed on one screen and the screen is larger and more self-explanatory. It is better set out and easier to follow. The menus are more intuitive."
Murray has control over all tractors function through the Datatronic. For example, when using the plough, he uses low hydraulic oil flow to rotate the plough slowly. He sets higher oil flow when using the baler or for the fan on the drill.
He can prioritise any of the remotes or three-point linkage. There is never any lag between moving levers and hydraulics responding. "Like all Massey Ferguson tractors, it maintains a constant oil flow when steering or using the three-point linkage. We are not taking oil from the spinner on the spreader or fan on the seed drill when steering. It gives us a more consistent professional product."
He uses the Datatronic to set the tractor's speed. "It's easy to learn and the variable transmission is simple to work. It goes seamlessly from zero to 50kph. It is brilliant and the 50kph is good to get us to jobs.
"The transmission gets the power on the ground without skidding. It goes 0 to 50 in one stepless gear. There is no jerk or anything." Stackhouse Contracting provides reliable local service, and Murray and Darrelle keep in contact with their clients to ensure they understand what they need. We are always talking with our customers and making plans to move forward."
That is the same service they expect and receive from JJs and Massey Ferguson. "JJs has brilliant people, and they keep me going with servicing. We have never needed to call them out after hours."
JJs also provide Stackhouse Contracting with their Lely gear. That includes a 5.5m-wide, trailing Lely 550P Splendimo mower, an eight-metre Lely Hibiscus 815 CD rake, and six-metre Lely Lotus Stabilo tedder.
The Lely Welger RP545
The baler is a Lely Welger RP545. Murray didn't want a combi baler/wrapper as most of his clients want tube wrap and he didn't want extra weight on the hills. The Welger RP545 makes bales from 900cm up to 1800cm.
"Welger is a well-proven brand with a lot of belt area to make good bales. It's as good as you get to do all scenarios and all crops."
In good conditions, the RP545 gets up to 50 bales per hour. On hills, it is stable and has its own brakes. The density of the core can be set independently of the rest of the bale."They are a good tight bale to feed out, or put in a feeder," Murray says.
Read more farming profiles on Farm Trader. 
Keep up to date in the industry by signing up to Farm Trader's free newsletter or liking us on Facebook