Profile: Valtra tractors
---
Marsh Contracting in Te Puke, Bay of Plenty, have recently added new Valtra models to their machinery line-up
Marsh Contracting is a family business based in Te Puke, Bay of Plenty that provides full ag contracting service and manufactures portable weighbridges and crash bars for rakes, which they have developed themselves.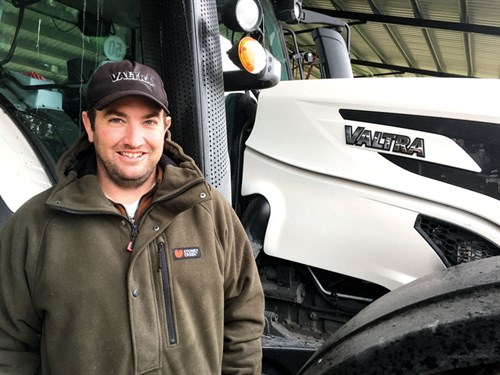 Marsh Contracting also uses Valtra tractors. Daniel Marsh says they have been running Valtras on silage stacks for the last six years. "We have found stacking is one of the hardest jobs for a tractor, and the Valtras have held up to it. They don't mind their noses pointed in the air or going backwards and forwards all day."
Daniel says the initial decision to go with Valtra was purely economic. "When we priced tractors, Valtra was not the cheapest, but we worked out that with the longer service intervals and oil changes at 400 hours, it would be the cheapest."
Valtra T171
The first Valtra they got was a T171, and it is still on the stack. After 8000 hours, it is just as reliable as when it was new. Two years later, Marsh Contracting bought a T172, which is also still working the stacks.
"They are phenomenal. They do amazingly well for a little 170hp tractor," Daniel says. As their other tractors came up for replacement, the Marshes replaced them with Valtras.
They have now added three 155hp T144V models to the fleet. The 'V' stands for Versu, which has an improved powershift transmission. The accelerator pedal doesn't control engine speed; instead, it controls the driving speed. Pressing on the accelerator changes the gear and the speed.
Valtra Versu models
Versu models have a five-step transmission giving 20 speeds in four gear ranges and are powered by 6.6-litre AGCO Power engines. It also comes with a built-in fridge, which, Daniel says, fits two 1.5-litre bottles.
"When you are a contractor and sit in a cab for a zillion hours every week, comfort matters. You want a quiet comfortable cab, and that's what you get with Valtra. I have driven lots of tractors, and Valtras have the best air conditioning I have ever had.
"They also have good suspension and great front visibility and they are very quiet. There is oodles of room behind the seat to put a toolbox and lunchbox and there's the fridge for drinks."
The passenger seat is a good foam seat, which is handy, as Daniel has up to 10 staff who drive the tractors and he has to spend time in the passenger seat to teach them.
Valtras have many handy features, too, such as an auto clutch function. "When I pull up to a traffic light, I put on the brake and the clutch automatically comes on. When I take my foot off, it disengages the clutch and off we go." Daniel says this is also handy if he has to stop in a hurry in a paddock, and he can turn it off if he wants engine braking.
"Hydraulic assistance is also pretty handy with the loader. I turn it on, and it automatically revs it up for you. It means you can pick things up fast."
Valtra S274
New this season in the Marshes' operation is a Valtra S274. It has an AGCO Power 84 AWF engine with 270hp and a boost up to 290hp, plus a continuously variable transmission.
They needed that much oomph to cultivate maize ground with a five-metre-wide cultivator that uses a combination of rippers, discs, and a roller. The S274 uses Ad-Blue to cut down emissions and provide more fuel efficiency.
"The big tractor with the loader wagon uses 18 litres of diesel less per day compared to our other stack tractor. It has great power on the hills. It holds on really well." 
The Valtra S274 also has GPS options for precision farming, and Daniel is going to fiddle with that this winter. "I would like to use it in maize, for doing skip runs, so I don't have to turn as sharply on the headlands," he says.
The tractors are serviced by Marsh Contracting's mechanic. The S274 came from Waikato Tractors and the smaller Valtras came from Piako Tractors in Rotorua.
Read more farming profiles on Farm Trader. 
Keep up to date in the industry by signing up to Farm Trader's free newsletter or liking us on Facebook