Profile: Massey Ferguson
---
Engineer and retired farmer Ross Davies has found the perfect worker for his engineering business: a Massey Ferguson 5709 Global Series tractor
"I use it to lift stuff for my engineering business. It is like having an extra labour unit without a headache. I have no one to argue with other than myself," Ross says.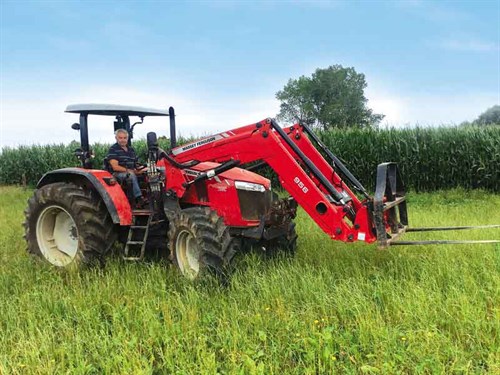 Ross had Massey Fergusons when he was farming, purchased from local dealer Field Torque Taranaki. The performance of the tractor and the customer support from his dealer both led him to turn to Field Torque when he needed a new tractor. 
Ross has been combining farming and engineering for many years. Now, his focus is mostly on the engineering side. He does baler repairs and fixes anything else required on a farm.
"Cockies break anything they can get their hands on," he reckons. Ross and his wife Sue are on a lifestyle block in Urenui, near New Plymouth. They also lease land from a neighbour, which gives them 40 acres to play with.
Putting the MF 5709 to work
Although retired, Ross does some contracting, and, with its 90hp, the MF 5709 does a splendid job towing a conventional or round baler or dragging five-aside discs. "It's a nice tractor to mow or ted with. You can see everything, and it has enough horsepower to drive a 2.8m mower."
The MF 5709's hydraulics operates on two speeds: normal and high flow. "I increase the hydraulic flow for the loader. If I am doing more gentle work, I use it on normal," he says.
The MF 5709 replaced an 80hp tractor, which wasn't big enough, but being a Global Series machine, did the job well.
"It's all I want. It hasn't let me down.  Some big fellows have flash gear, but their tractors can be too big and clumsy.
"I did a job for a mate with a ripper in an area that was too steep for other contractors. We have a lot of hill country and my tractor can get into areas that are steep and narrow.
"Being small, it's very manoeuvrable. It performs very well and I'm pleased with it." Ross operates a 2.4m wide hydraulic blade with his MF 5709.
"I use it to make and grade tracks. You don't always need four metre-wide highways. I can make a track just big enough for a motorbike."
The MF 5709 has 12 speeds forward and 12 in reverse. The gearbox is a shuttle shift with six gears and a high and low range.
There is a push button clutch on the gear stick. "It makes life really easy because I don't have to use a heavy foot clutch. The reverse lever is on the steering column. It is very easy to shuttle when shifting piles of metal."
His MF 5709 arrived with loader, but Ross decided it wasn't big enough for what he needed. So Field Torque replaced it straightaway. "I am more than happy with Field Torque. I have dealt with many companies over the years and they are one of the better ones. There was no argument from them; they just replaced the loader with a bigger one."
Ross says many Global Series tractors of this size have been sold in his neighbourhood. "They are popular as a good farmer's tractor without too many bells and whistles. They are not complicated."
It's been 18 months since Ross purchased his MF 5709 and he says the tractor hasn't required any work except maintenance. Changing filters and oil changes is simple, with everything easily accessible.
The MF 5709 remains Ross' firm favourite. Even his 40-year-old son isn't allowed in it. "My boy complains because I won't let him drive it. He can drive the older tractors but not this one."
Keep up to date in the industry by signing up to Farm Trader's free newsletter or liking us on Facebook