Business feature: Schaffer loaders
---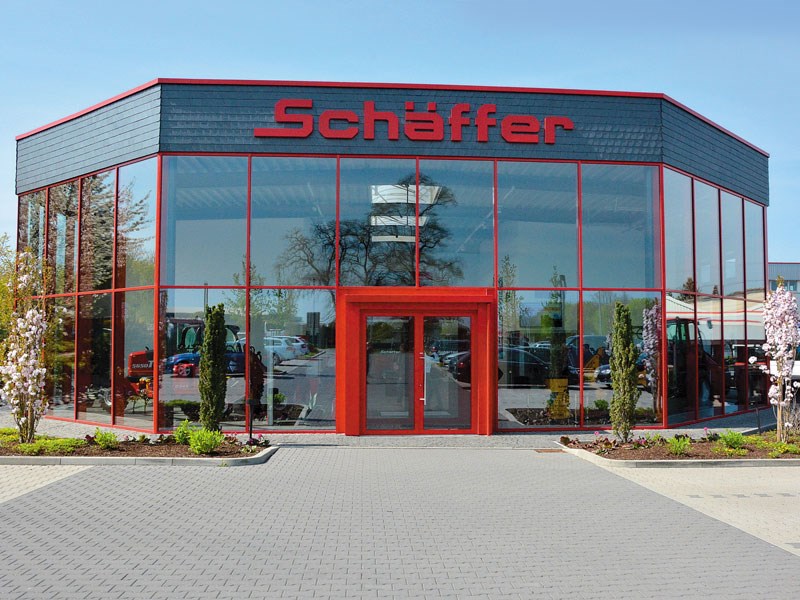 The family-run business evolved from a simple harvesting fork and has gone on to become a global brand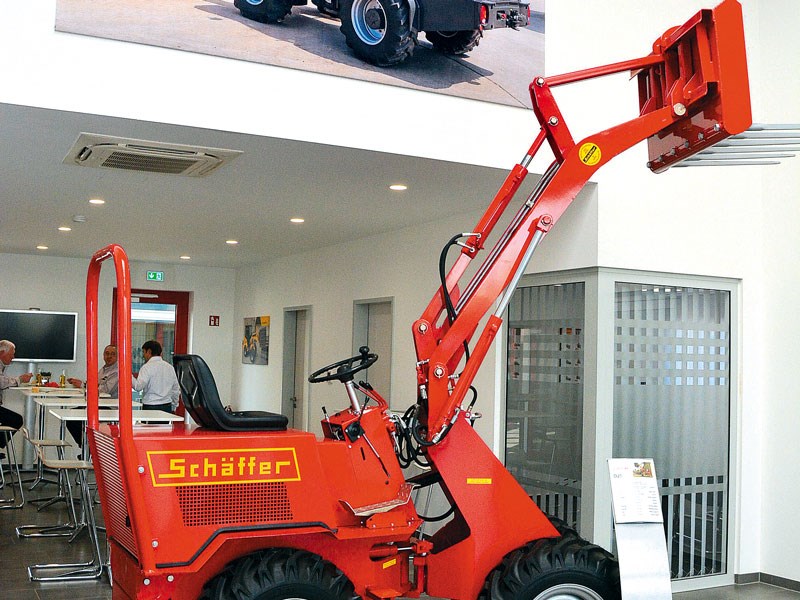 The very first Schaffer loader, the D25, introduced in 1979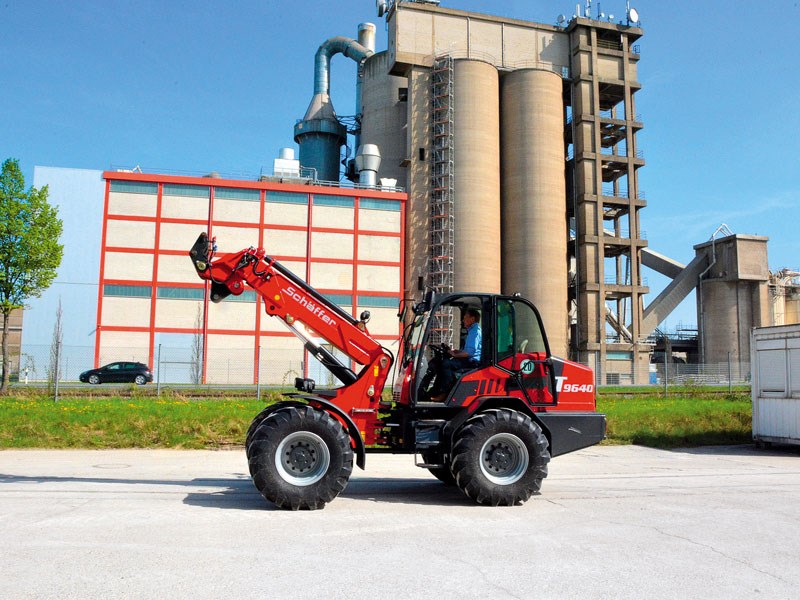 Schaffer relies on foreign markets for 65% of its production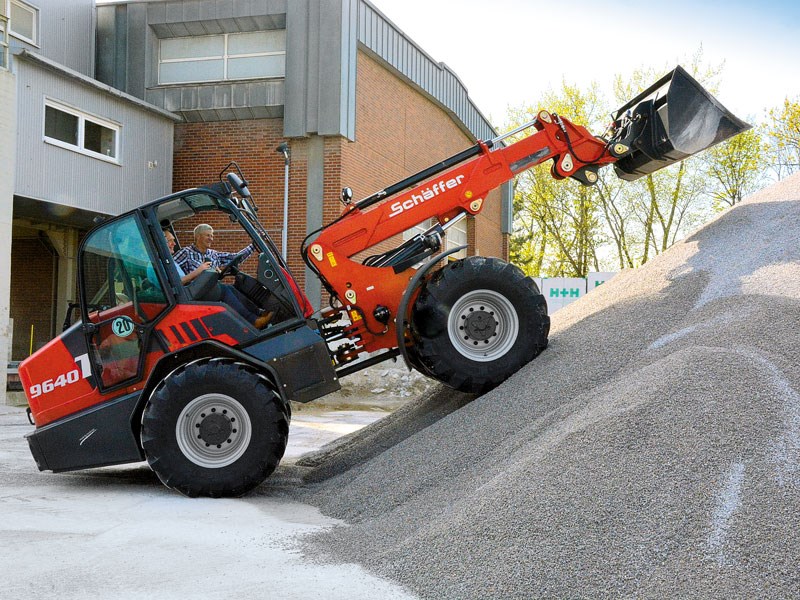 Potential buyers trial Schaffer's 9640T loader in Germany
When it comes to manufacturing loaders, Schaffer is a world-renowned name boasting more than 60 years' experience and success
German wheel loader experts Schaffer are flat out manufacturing its range of agricultural and construction machines for the company's growing customer base.
With new models in both ranges, new modern designs and a dip into the electric loader sector, Schaffer is pulling out the stops to ensure its range exactly meets customer needs.
Schaffer says it is currently producing around 5000 machines each year to order – not for stock – which is helping boost the already 70,000 machines sold worldwide to date.
The Schaffer backstory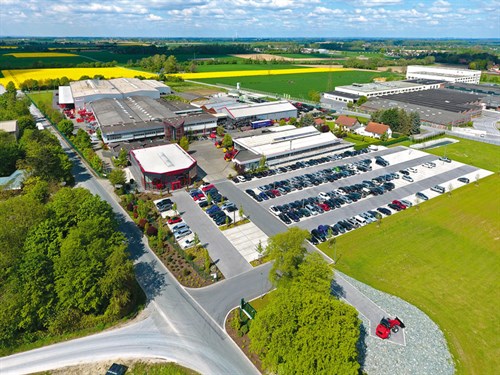 Schaffer is still a family-run business today, having been founded in 1956 by Heinrich Schaffer, who first launched a harvesting fork for front-end loaders in 1960.
He progressed into manufacturing front-end loaders in 1963 before developing Schaffer's first compact wheel loader, the D25, in 1979, which was a crucial moment in the company's history.
Today, the Schaffer factory in Erwitte produces wheel loaders from 20hp right up to 157hp and exports them around the world with New Zealand as its furthest customer.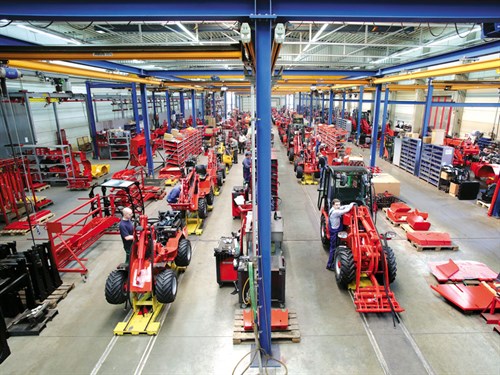 New export markets are currently being established in the US, Turkey, Israel, and South Africa. In fact, although Schaffer enjoys a strong market share in Germany, around 65% of its production is for the export market.
All agricultural machines produced from January this year come with Schaffer's new grey and red colour scheme, which, the company says, modernises their looks.
Tailored solutions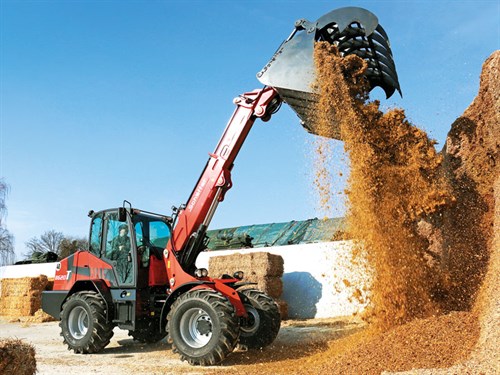 Schaffer's latest model for the agricultural sector is the 8620T loader that was introduced at Agritechnica last year and replaces the popular 8610T model.
Available with a wealth of options, including two different engine options, speeds, and heights, Schaffer is confident this machine provides a tailored solution for larger farms, biogas plants, and agricultural contractors.
The 8620T has two engine options: 75kW/102hp or 90kW/122hp Deutz engine. Both engines meet the Tier 4 final emissions standard without the need for a maintenance-intensive diesel particulate filter.
Although the standard driving speed is 20km/h, the 8620T is also available with a maximum speed of 40km/h. An additional option allows the telescopic wheel loader to
be used as a towing vehicle with a permissible towing capacity of up to 12 tonnes.
Traction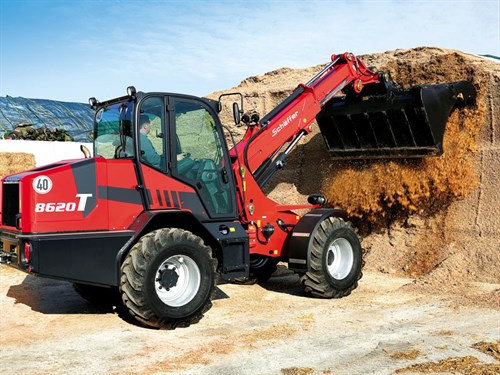 The drive concept of the 8620T is also new and includes HTF (High Traction Force) and SPT (Schaffer Power Transmission) as standard equipment even on machines with the smaller engine.
HTF is an automatic thrust control system that allows the loader to deliver the highest thrust, even in high gear. This means manual downshifting is not necessary when driving uphill or into a pile. SPT is the electronically controlled drive from Schaffer that improves agility and offers the driver a number of new possibilities.
One of these options is cruise control to keep the machine at a constant driving speed regardless of engine speed, which is particularly advantageous when working with feed dosing devices, straw distributors, mulchers, or brushes.
The 8620T is particularly efficient in ECO driving mode, a fixed component of the 40km/h version. When the maximum speed is reached and maintained, the engine speed is automatically reduced, giving lower operating costs, reduced noise levels and more environmentally friendly use.
With an operating weight between seven and eight tonnes, a lifting height at the tool pivot point of 5.2m and a lifting capacity of 4200kg, the new 8620T telescopic wheel loader offers an ideal combination of features for demanding loading work.
SCV-Plus cab
A further highlight of this machine is the new SCV-Plus cab, which is now also used
on the 96 series machines. SCV stands for 'Silence, Comfort, View.'
Generous glazing provides the driver with an optimum all-round visibility and a new airflow concept and adjustable side windows ensure an optimal supply of fresh air. The loader is optionally available with a low cab, with a total height of 2.67m instead of the standard 2.77m.
Although the new 8620T is in production and delivery, there is a waiting time of around one to two months depending on which country the customer is in.
Schaffer's construction range of models has been manufactured since the 1980s but its 'yellow line' range of construction machines was first introduced in 2014 and the latest model in the range is also an 8620T.
Schaffer electric loader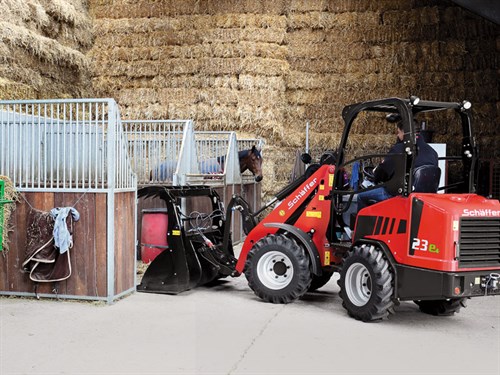 Also introduced at Agritechnica last year was Schaffer's entry into the electric loader market, the Schaffer 23e model, which the company claims to be the world's first yard loader with lithium-ion battery.
Two electric motors with high-voltage technology are responsible for the working and driving hydraulics on this machine. Customers can choose between two charging systems and two battery packs.
As with all these electric-operated machines, they can potentially offer significant savings in maintenance and operating costs compared to diesel models and other battery concepts.
The new electric 23e from Schaffer delivers emission-free operation, eliminating exhaust gases and noise, which is a significant advantage in sectors such as working with cattle or people in close environments.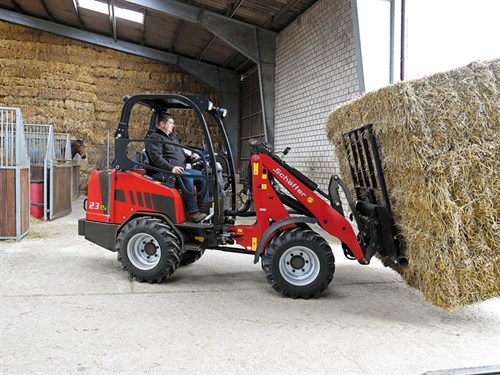 Customers can choose between two lithium-ion battery packs. With the standard battery system, the loader is well equipped for most farm work. With the help of the power battery system, the operating time of the charger doubles to several hours.
Faster charging
Schaffer offers an on-board charger as standard, which is operated with a standard 230-volt power supply, or customers can add an optional 400-volt external charger for faster charging, as the power battery system is charged in just 30 minutes.
This means the machine has enough energy for the entire working day with a quick charge, for example, during a lunch break. The battery can be charged at any time without affecting its lifetime, which is another advantage of lithium-ion technology. Schaffer guarantees a running time of 5000 charging processes or five years of operation, whichever comes first. 
Friedhelm Brede, head of development at Schaffer, says, "Thanks to the pioneering technology, we can guarantee this extraordinarily long battery life.
"In addition, lithium-ion batteries are absolutely maintenance-free, there is no danger of lead or sulphuric acid, and the 23e works reliably even at low temperatures.
"The 23e's maintenance requirements are significantly lower than those of the diesel model. Much higher efficiency and significantly lower energy costs per hour of operation result in additional savings potential. The 23e is likely to be of particular interest and benefit to those generating electrical energy in the form of a biogas or photovoltaic system."
Schaffer says the 23e is the only battery charged loader available on the market that reaches a speed of 20km/h. Production of the Schaffer e23 electric model is due to commence later this year according to the company.
Keep up to date in the industry by signing up to Farm Trader's free newsletter or liking us on Facebook