Fieldays Preview Special Feature: NZ Fencing competition
---
This year's NZ Fencing Competition at Fieldays in Hamilton will see Shane Bouskill battle it out with his son Tony
There will be a few up-and-coming fencers keen to take on Shane Bouskill – the current World Fencing Champion, NZ Singles Champion, and 2017 WIREMARK® Golden Pliers® title-holder – at the New Zealand Fencing Competition at Fieldays®, but he's ready.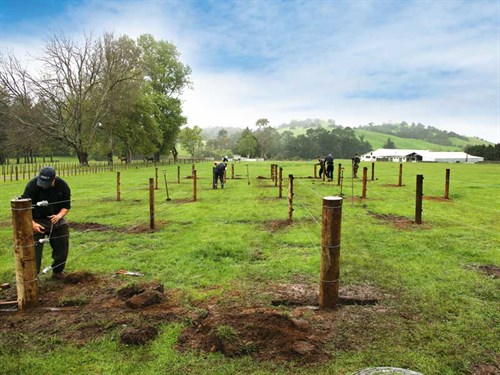 Shane is a humble champion: no-fuss, no-frills. He just gets on with it – traits that can be seen in his fencing style, too. He prefers to keep things simple and focusses on the details.
Battle of the Bouskills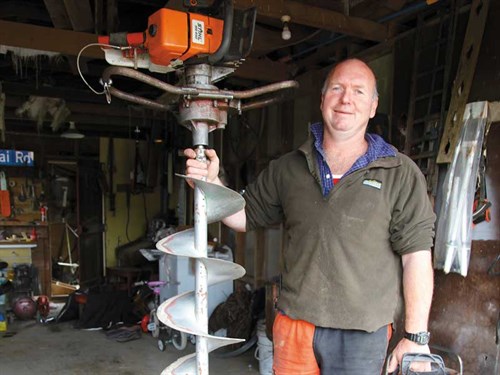 Shane's competitive pedigree is impressive. He was the WIREMARK Golden Pliers champion in 2013, 2014, 2016, and 2017. He won the World Championship in 2015, came second in 2017, and won the Silver Spade doubles event in 2012, 2013, and in 2017 with his son Tony Bouskill.
By then, he said he was due to retire, but Tony threw down a challenge. "He said I wasn't allowed to give up until he beats me. We'll give it another crack and see how we go," Shane says, ahead of Fieldays at Mystery Creek from 13 to 16 June.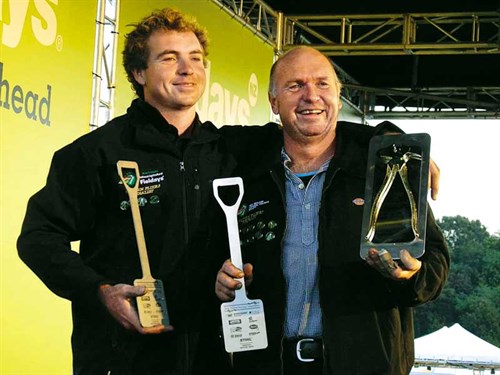 "Tony was placed third in the Golden Pliers in 2017 and came second in 2016, so he's right at my heels. It's good and I'll welcome the day he beats me. At 27, he's in his prime."
All things fencing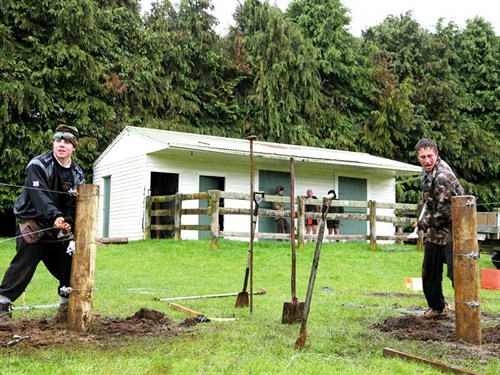 Shane, 47, works as a fencing instructor at Smedley Station and Cadet Training Farm in Central Hawke's Bay where he and his wife Jolene have lived for nine years.
As well as teaching cadets the fundamentals of fencing, he also oversees all the forestry work – pruning, thinning, and chainsawing – teaching them how to shear sheep as well as a range of basic engineering tasks.
Being a fencing tutor is a position he's highly qualified for. Besides regular competition work, Shane has chalked up more than 20 years as a fencing contractor, from building security fences for maximum-security prisons to industrial buildings as well as running his own fencing business for 15 years.
When growing up, Tony preferred to be out working alongside Dad instead of doing his lessons. "When we lived in Ruapehu, I had to pry him out of the house to go to school," Shane says. Now, Tony runs his own fencing contract business. He's based in Tutira in northern Hawke's Bay and is currently working on contracts at Tutira and Raetihi.
"It's hard digging up there. He has a couple of gangs going on the job and with 60km of fences to do, that'll keep them busy for a bit," Shane says.
Shane takes special pride in the cadets and his teaching method is to get stuck in alongside them. Taking part in fencing competitions helps show the way, too. "They take their lead from you, so leading by example is best," he says.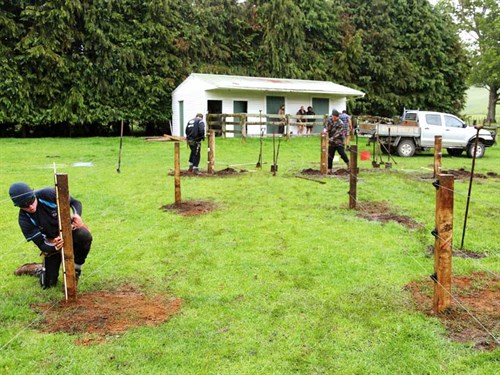 "We've had some talented young fencers come through Smedley; they've won the Elite Challenge at Fieldays about six times and at our Central Hawkes' Bay A&P Show a few times.
A former cadet, Jack Richardson, who I taught in 2010, got into the Golden Pliers final last year. It's always good to see their successes."
When it comes to fencing equipment, Shane has always kept it simple. His kit includes a range of different-sized augers, metal marker frames for posts and batons, templates for the placement of insulators, and a wire roller spinning Jenny.
"There's nothing extravagant in my shed. In the last few years, the only thing new is a couple of chainsaws."
The competitions are all about timing and accuracy and points can be easily lost on small details, he says. At last year's world championship, he came second by one point; that's how close it gets at that end of the competition.
Since he is not fencing full time, Shane keeps up a disciplined training regime: "a bit of running around the hills after work, some pig hunting, and climbing hills on the weekend".
He says, "If we're working out the back of the farm, I'll get the guys to take out the wagon and I'll run back. I also get on my pushbike and ride around the hills, too."
The contenders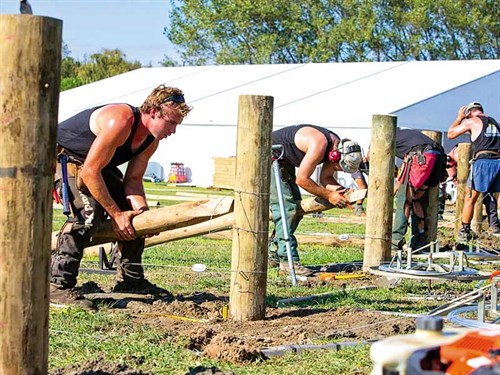 So who in Shane's sights are most likely to topple him from his prime position? "There's a few guys who do a good job, Tim Stafford from Marton, for example. He goes well and won it in 2015 and also a couple of others, but my son Tony and Tim are the main ones. 
"I started winning in 2013. I had to beat Paul van Beers (another Hawke's Bay fencer and 14 times Gold Pliers winner between 1990 and 2012). After that, I was away. So I've won it four times in last five years. I just missed 2015 – that was my fault and I knew what I did wrong: I mucked up my strainer. I also had my mind on the World Championships. It's those small details. So yeah, that all plays a part."
Shane takes pride in representing New Zealand on the world stage. "Kiwis are up there when it comes to showing the rest of the world how to build a decent fence.
"We are world leaders, and it's the same for agriculture: you name it, whether it's beef or sheep production, we are world class." 
Fieldays fencing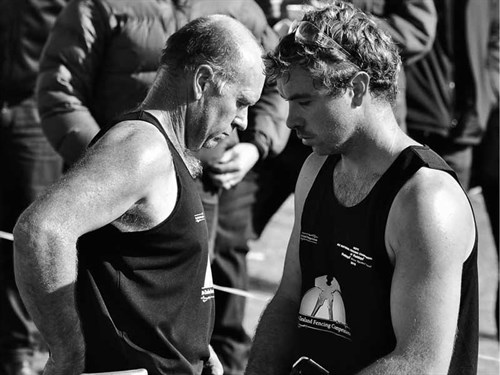 There is a definite art to fencing that many rarely get to see. New Zealand Agricultural Fieldays is the ideal venue to see some of the country's best in action, with the prestigious New Zealand Fencing Competitions, organised and run by New Zealand Fencing Competitions (NZFC).
Each year, the row of neatly manicured fencelines proves a crowd pleaser and 2018 promises some intense competition.
Sponsors include WIREMARK NZ-made wire, which is sold under the brands of fellow wire sponsors Cyclone and Hurricane, Goldpine Industries, Strainrite, Stihl, Stockade, and Norsewear clothing.
DATE 
TIME
EVENT
Wednesday, 13 June
8.30am to 11am
Bill Schuler final Fieldays Silver Staples
Thursday, 14 June
8am

Golden Pliers Singles Championship
by WIREMARK

Friday, 15 June
4pm
Prize-giving
The Golden Pliers competition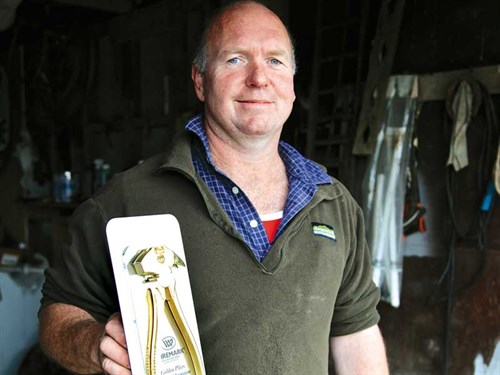 The WIREMARK Golden Pliers is the Singles Championship and represents the mana of the fencing industry, with New Zealand's top competitors vying for the title and the unique mounted Golden Pliers trophy.
There are qualifying heats held in the morning three days before the finals championship competition with the eight top qualifiers making the final.
The WIREMARK Golden Pliers fence construction is a 50-metre-long, nine-wire post, wire and batten fence, including diagonal end assemblies, foots, and hanging a pipe gate. The maximum allowed time is six-and-a-half hours, with the fastest time traditionally around the four-and-a-half-hour mark.
Sounds easy? It's not. This is a non-stop endurance competition: a hand-built fence, with hand battening, and the only mechanical tools are posthole borers and chainsaws. Judges look at knocking points off and a competitor's eye for detail can be the final deciding factor.
Keep up to date in the industry by signing up to Farm Trader's free newsletter or liking us on Facebook