Product feature: Schaffer 8610T telescopic loaders
---
Transforming poultry manure into energy is the focus of a biogas plant in Northern Ireland and helping manage the loads are Schaffer telescopic loaders
The new biogas plant on the edge of Ballymena in County Antrim, Northern Ireland, opted to purchase two new Schaffer telescopic loaders to handle the intake of poultry manure and outgoing digestate.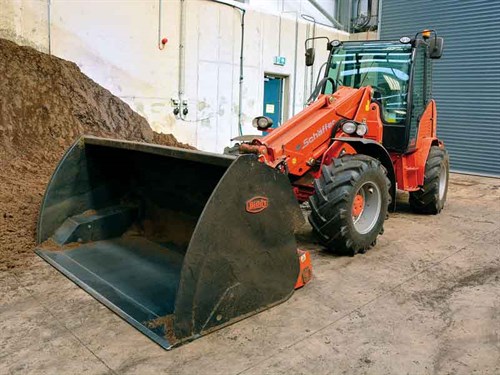 Dublin-based Stream BioEnergy decided to buy two new Schaffer 8610T telescopic wheel loaders last year from H Fulton Tractors Ltd in Dungiven to help keep the new energy plant operating.
The company had set some specifications to help with the buying decision and Schaffer came out on top almost ticking every box. Stream BioEnergy developed a new biogas plant that runs solely on poultry manure in Tully Quarry outside Ballymena built by Xergi Ltd in Denmark and local company BSG Ltd.
The new energy plant is now running at full capacity and took 18 months to construct at a cost of £23 million (approx. NZ$50 million). This plant is the first Anaerobic Digester plant to run solely on poultry manure in the UK, Ireland, and Europe.
It takes in up to 40,000 tonnes per year of poultry manure from more than 100 farmers in Northern Ireland and produces 3mW of electrical energy running 24 hours a day, every day. This is enough energy to supply 4000 homes.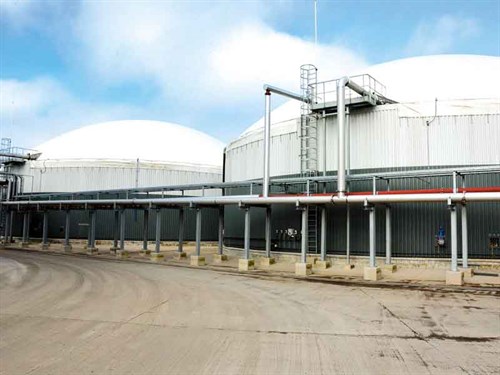 The biogas plant is leasing land from Tully Quarry on a long-term basis and enjoys a good road network to its site through the quarry. 
Xergi, which is a Danish specialist supplier of large-scale biogas plants, was responsible for the design and construction as well as operation and maintenance of the finished plant and is also an investor and shareholder in the project.
Schaffer 8610T loaders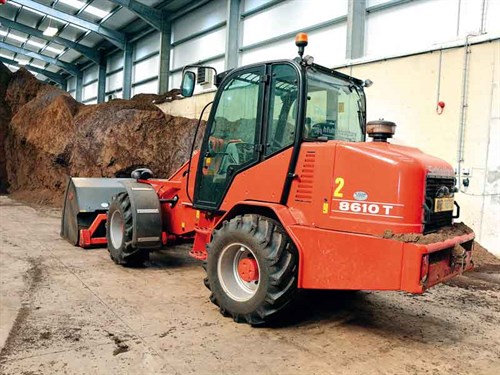 Xergi Ltd plant manager Simon Edgar had been working with Stream BioEnergy to find a telescopic wheel loader that was best suited to the rigorous use required on the plant.
He had researched various other brands, but none compared to the Schaffer 8610T.
"A key factor when researching these machines was reliability, and when you get the heavy build quality you expect from German engineering coupled with a three-year warranty, it gives us confidence that expensive downtime can be kept to a minimum," he says.
"The 8610T has a lift capacity of 3800kg, and a compact design allows us to operate in confined spaces making it the ideal choice for us," he says.
Schaffer GmbH has supplied the same model of machines to many biogas plants in Germany, and it has been proven to be the best machine suited for this high demanding industry.
Schaffer 8610T speciifcations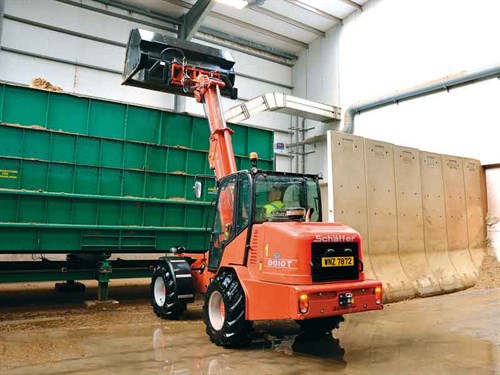 The Schaffer 8610T model is powered by a 102hp Deutz Tier 4 common rail turbo engine, which is water-cooled. This machine is agile and can operate in constricted areas with its pivot steer and low height. 
The Schaffer 8610T has an operating weight of 6500kg, and this model is just more than six metres long with a bucket and has a maximum working height of 2.55m.
SCV Cab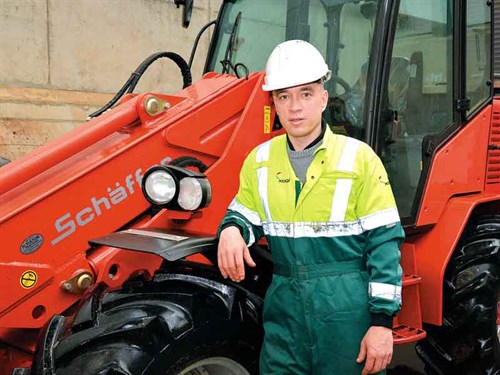 Schaffer also added its SCV cab (Silence, Comfort, View) to the 8610T model, which offers more operator comfort for long working days.
Access to the cab is very easy, thanks to the safely positioned steps and the large dimensions of the doors. Due to the nature of the business at the biogas plant, they use one loader solely for handling the poultry manure when it arrives at the site. To avoid contaminations, the second Schaffer loader only loads the digestate by-product, which is used as a fertiliser.
One of the Schaffer loader operators at the Ballymena plant is Andrew Tuff, who was previously only used to driving forklifts before driving this pivot steer unit.
Andrew says the Schaffer presents excellent visibility from the cab, which is essential at the plant considering the loaders have to use high tip buckets to reach into the hoppers.
"I was only really used to driving forklifts before getting on-board the Schaffer pivot steers," Andrew says. "I have to say the Schaffer 8610T is easy to operate.
"I work in a relatively small area when the collecting area is full of poultry manure, but the Schaffer can operate well in tight areas.
"The visibility is excellent directly in front of me, around the cab, and to the bucket when tipping. The hoppers we use are very high, so the Schaffer is fitted with a high tip bucket, and I can see it clearly from the operator seat when at full lift.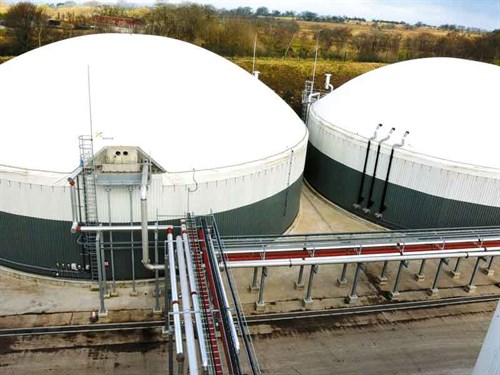 "The machine is also relatively quiet when working, which was another consideration when buying these machines. Engine access is straightforward, too, should we need it," he says.
One more factor that influenced the buying decision for the owners was the assurance from the dealership that should any of the Schaffer loaders break down, there would be a replacement sent to the energy plant as soon as possible to ensure it remained operational 24 hours a day.
Keep up to date in the industry by signing up to Farm Trader's free newsletter or liking us on Facebook