Profile: Duncan Eco Seeder
---
The Duncan Renovator Eco Seeder has improved operations considerably for a Wairarapa farm manager by providing superior pasture
Liam McMenamin manages a 250-cow dairy operation near Carterton for brothers Gordon and Selwyn Taylor. The farm consists of 100 hectares on Taumata Island as well as a couple of large run-offs.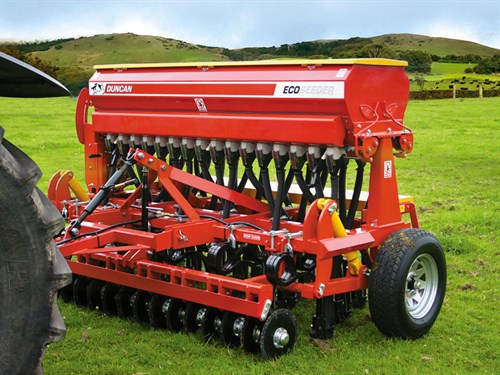 The Taylors bought the Duncan Eco Seeder about 18 months ago, and Liam is the machine's main operator. The family previously owned an old Duncan 750 till seeder but decided to upgrade to carry out an intensive regrassing programme on one of their run-off properties.
"The boys bought another property that has a short growing window, so it made sense to put a pretty vigorous grass in and make the most of it when we could," Liam says. He uses the Eco Seeder exclusively for regrassing in a grass-to-grass programme.
"Our previous Duncan was an old drill and it was pretty worn out and a little small. It had no opening discs on the front, so it was just scratching the seed in. Even though it did a pretty good job in grass paddocks that we were just stitching up, we looked at some options that were better with trash and were quicker.
"The Eco Seeder is quicker and tidier than our old drill, and we are able to drill in more diverse soil conditions as far as dry soil goes. With the old drill, you had to go out slowly or it would bounce around too much and the seed wouldn't end up in the furrow.
"Now we can get through the work quicker, as it's a bit wider, too. With the coulters in front, it's not picking up the muck like the other drill was."
The new Duncan Renovator Eco Seeder offers Liam and his team greater flexibility for when they do their work. Up until four or five years ago, they were reliant on contractors to do their regrassing programme.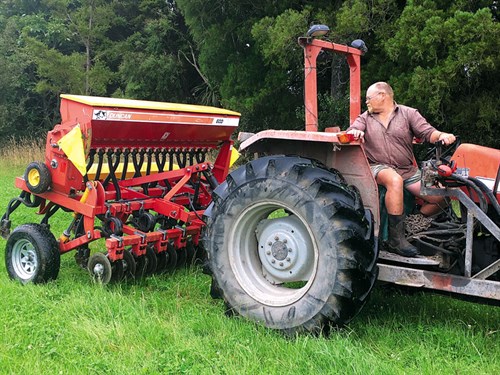 "We don't like mucking contractors around, so we tried to get as much done as we could in one hit," Liam says. "One of the big benefits of this new drill for us is that I can go into a paddock as soon as we have some surplus grass, even after a particularly wet spring.
"If we have surplus grass, we can take a paddock out to regrass it. We can go straight in, do some subsoiling, drill it with new grass in a short amount time, and get the paddock back in the round.
"It is a huge benefit to be able to manage those little surpluses. It just takes the edge off and is ideal for our stock management."
Liam drills in a diamond shape, doing two passes over each paddock. "When it is your own drill, you don't mind spending that extra hour or so to do that second pass, but if you are paying a contractor that second pass can make a big cost difference," he says.
"It lets us be a little bit fussier with things and has allowed us to improve our grass yield. I drill paddocks on half rates and do two passes, so we get a better coverage and a more even paddock. It gives us peace of mind to be able to get out and do a bit here and there as it presents itself."
Liam says the flexibility of owning a drill is fantastic, and the Duncan Eco Seeder adds even more flexibility because it can work in long, dried-off grass and not clog up.
Keep up to date in the industry by signing up to Farm Trader's free newsletter or liking us on Facebook