Profile: Valtra T174
---
The Valtra T174 is proving to be a versatile tractor of all traders for a forestry contractor
The newest addition to Graeme Savill's fleet is used for everything, from hauling logs and running a mulcher to silage contracting and general farm work. The Valtra T174 is proving to be a versatile tractor of all trades.
The forestry contractor says his 190hp Valtra T174 has plenty of power to run the MeriCrusher mulcher he uses to clear skid sites and has already made a big difference to his Bay of Plenty forestry contracting business since it arrived earlier this year, with the added benefit of being handy on his dairy farm.
"While most forestry work in New Zealand is done with diggers and bulldozers, in Europe, tractors are more common because they are more versatile," Graeme says. "Valtras are well-suited for the work because they are manufactured in Finland where forestry is a major industry."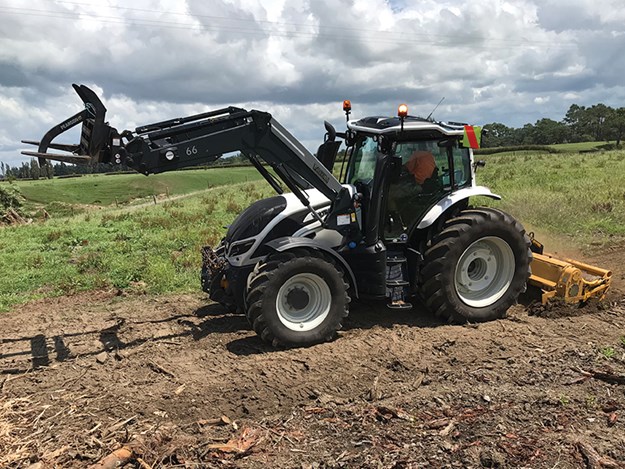 The 190hp Valtra T174 has proven to be perfect for his business because its strong back axles are ideal for towing a trailer loaded with up to 15 tonnes of logs.
"You can forward it out of most places and climb a 30-degree hill easily with a fully loaded trailer. We can do 50kph down the road with the trailer loaded with logs."
Power
Graeme says the Valtra also has more than enough power to run a MeriCrusher mulcher, which he uses to mulch branches and clear away skid sites after a logging job is finished. 
"With the mulcher, we can leave a site as nice and tidy as your front lawn," he says.
He has also attached two winches to the Valtra in order to haul logs. The 180-metre front winch is the main hauling winch while the back winch is 500-metre-long and is used to drag the maid winch out to hook onto logs.
"The winch works off the PTO and can pull logs weighing up to 30 tonnes," Graeme says.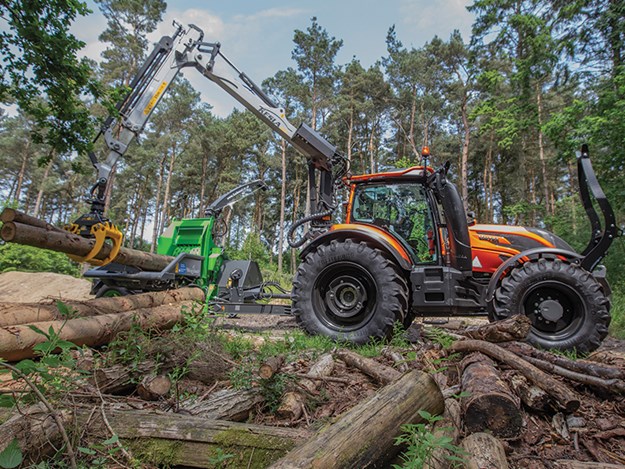 Graeme plans to attach a crane to the back of the Valtra T174 to lift logs onto trailers. The crane he intends to use will be able to lift up to six tonnes.
As well as his forestry contracting business, Graeme had the Valtra out doing silage contracting over the Easter holiday period before returning to the logging work later
in the week.
He also uses the Valtra to cut silage on his 260-hectare, 250-cow dairy farm at Katikati, which his daughter and son-in-law run.
Cab
The Valtra T174's cab has a number of features customers can choose from, including a 180-degree swivel seat, an armrest, air conditioning with automatic climate control, mechanical cab suspension, and two safety cameras for ease of mind.
The cab controls are located to minimise body movement, transmission operation is easy with a new drive lever, and the bright work lights let you keep working when
night falls.
"It is very comfortable. It is the nicest tractor I have ever driven," Graeme says. "You can do a day's work and come out fresh."
Built to last
Valtra tractors have been manufactured in Finland for more than 60 years. T Series tractors have fewer parts than other tractors and were put through 40,000 hours of
test-driving in extreme conditions during development. The chassis, transmission, and cab are made to Valtra's unique design and engineering.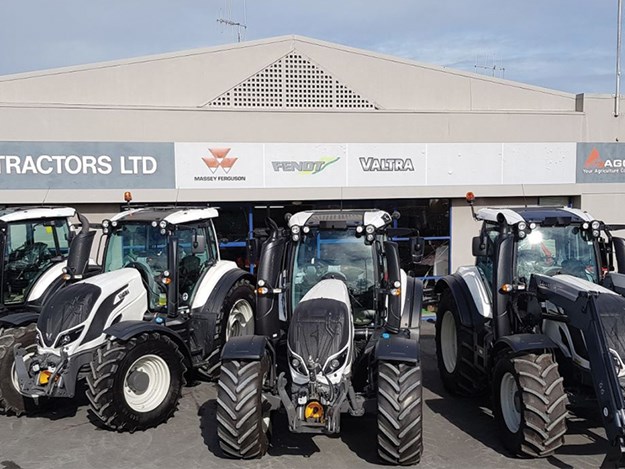 The Valtra T Series' AGCO Power engine is renowned for its reliability. It delivers excellent overall fluid economy, and when used in the optional EcoPower mode, it can deliver fuel savings of 10%.
Like other Valtra tractors, T Series machines are built for the people who drive them. Buyers can choose the features they need, which are factory installed and covered by the factory warranty.
Keep up to date in the industry by signing up to Farm Trader's free newsletter or liking us on Facebook