Comprima X-treme helps Wairarapa contractor
---
A South Wairarapa agriculture contracting company has been able to take on new work after purchasing a Krone Comprima X-treme Baler last year
Robert Gawith of Colton Bros, which employs up to 14 people in peak season, said the company bought the Comprima round baler nine months ago and has since picked up more work because of the different sizes the baler can make. Its variable chamber can make bales up to 150cm in diameter.
Colton Bros has taken over an entirely new contract and has been able to increase the baleage side of the business. Previously, the company was restricted to making particular sized bales at each site due to using fixed chamber balers.
"The Comprima has given us a lot more flexibility and business," Robert says. "It can bale hay and straw equally as well as it makes baleage, due to a variable size chamber and hard centre. 
"Our old fixed chamber baler struggled to make a good hay bale and was limited to 1.25cm diameter, which is uneconomical. The Krone Comprima is one of two variable size chamber balers in our fleet. This type of baler gives us plenty of capacity and back-up for taking on a big amount of work in a short space of time, whether it is baleage hay or straw."
Currently, Colton Bros is only using net for the first wrap but might consider adding a film wrap unit if local demand increases.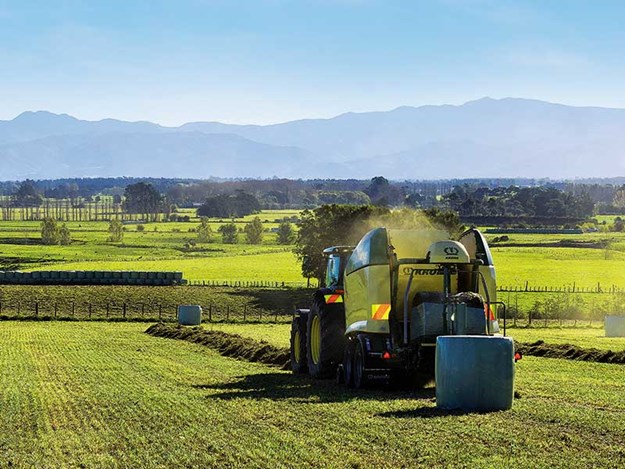 Robert says most of the customers ask for net and are not very familiar with the film-on-film concept. However, it is good to know a film-wrapping unit could be added later if required. He says the machine has been reliable and was relatively easy to learn and operate. The belt and slat system worked well and suited various working conditions.
An operational benefit was the ability for most tasks, such as changing net wrap, plastic, inoculant, oil lube, and grease, to be undertaken safely with feet planted on the ground. In addition, reloading the wrapper with plastic can be done from both sides of the baler, reducing the amount of handling between the storage compartment and the wrapping spools. The main reason why Colton Bros chose the Krone, however, was the close vicinity of dealer Tulloch Farm Machines.
"As Tulloch is local, only 30 minutes down the road, the access to back-up parts and servicing is brilliant," Robert says. "As you expect, we've had to tweak the baler through its first season of work, but it's been so easy. The servicing is just as important as the machine itself."
Tulloch Farm Machines have been distributing Krone machinery for 49 years and have a nationwide dealer network.
Keep up to date in the industry by signing up to Farm Trader's free newsletter or liking us on Facebook