Farm Advice: Leading the way in animal care
---
NZ dairy sector's commitment to animal care is set out in the Dairy Tomorrow strategy, with the goal to be world leading in animal care.
I've seen first-hand on farm how many farmers pride themselves on taking good care of their animals. 
That is reinforced by the dairy sector's commitment to animal care set out in the Dairy Tomorrow strategy. The goal? To be world leading in animal care.
It's a commitment I believe many farmers are working hard towards and something that attracted me to move from the US to be a part of the New Zealand dairy sector.
I've been impressed by the number of farmers who have made changes to improve animal welfare on-farm, even before regulations came into place.
Take tail shortening, for example. From this October, removing the last two to three vertebrae of a cow's tail will be prohibited. A vet will still be allowed to shorten or dock a tail under local anaesthetic if it is damaged or diseased.
We know from our interactions with farmers that most of you have already stopped shortening tails a long time ago, which is great, as it is painful for the cow, and extensive research shows it does not improve udder hygiene, or reduce mastitis and somatic cell count.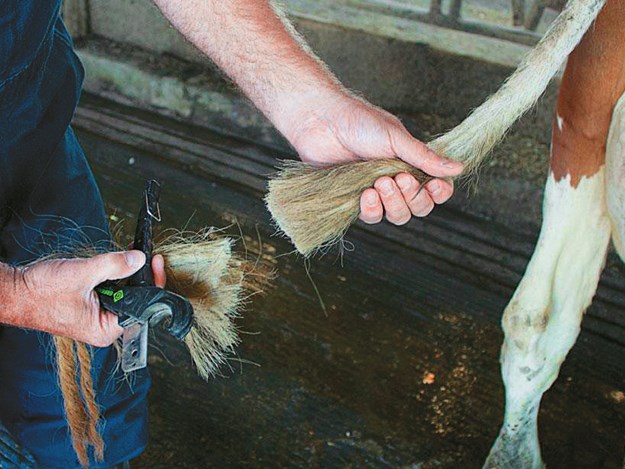 Better options for tail management
Some options for better tail management are:
Good hygiene, stockmanship, and vaccination programmes have been found to be a much more effective option. 
A cow's tail actually provides a range of benefits, including allowing her to swat away flies and communicate intentions and moods to herd mates and handlers. 
Trimming a cow's tail hair, or switch, is allowed under the new regulations. This is a good option to help maintain udder health and keep cows' udders and milkers' faces clean while still allowing cows to deter flies. 
Tails can be trimmed using hand shears, scissors, or electric trimmers. It's up to you and what works best for your farm system and team. 
For more information on tail trimming, visit dairynz.co.nz/ tail-management or to find out more about the new tail shortening regulations, visit mpi.govt.nz.
The Dairy Tomorrow vision
One of the six commitments and goals in the sector strategy is: we will be world leading in on-farm animal care.
This means the sector will:
Develop and implement a framework that ensures every animal is valued and treated with care and respect.
By 2023, achieve all farmers implementing and reporting under the Framework.
To find out more, visit dairytomorrow.co.nz.
Keep up to date in the industry by signing up to Farm Trader's free newsletter or liking us on Facebook