Managing machinery in Croatia
---
Farm Trader takes a look at a large vegetable farm in Croatia and how it manages its machinery fleet.
Keeping his fleet up to date and reliable is a key focus for the owner of a large vegetable farm in Croatia. His programme aims to replace machinery every three years to minimise lost time through broken or inefficient machinery, as well as the expense of constantly repairing old gear.
The Agro Puskaric agricultural company runs a fleet of John Deere and Fendt tractors as well as self-propelled harvesters and sprayers on the farm, which grows potatoes, garlic, and onions.
Marijo Puskaric, 38, the owner of the farm, started the business back in 1996. Today, he runs 400 hectares of vegetables in Zagreb County comprising 150 hectares potatoes,
50 hectares autumn garlic, 30 hectares onions, 25 hectares chicory, and the remainder in wheat and soy.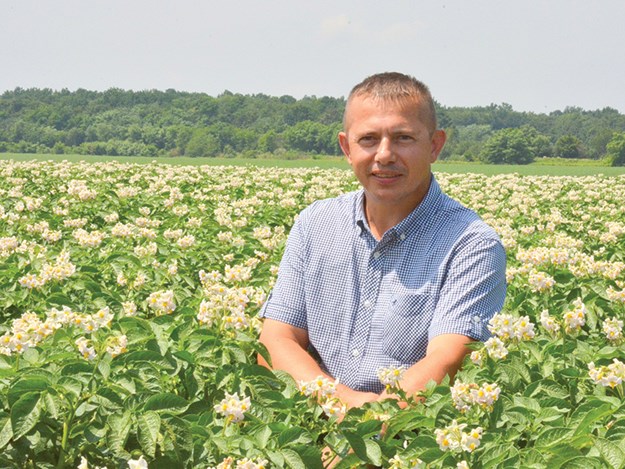 Marijo owns 80 hectares but leases the rest of the land in the surrounding area from the government at a rate of €50 (NZ$83.61) per hectare and runs a crop rotation programme with his closest neighbour who also grows vegetables and crops.
With such a demanding routine for tractors and machinery, Marijo likes to keep them modern to ensure they are reliable and to prevent any downtime, especially in the busy harvest seasons.
"With normal use, we can put anything up to 1200 hours on a tractor per year," Marijo says. "Therefore, I replace them every three years, as I need to have machinery that runs well with no downtime."
What's in the shed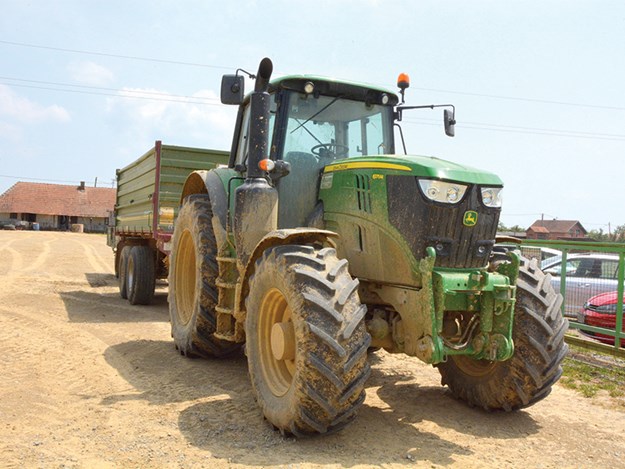 There are seven tractors ranging from 115 to 300hp that work on the farm, of mostly the Fendt and John Deere brands. All the tractors and harvesters are stored in a closed shed, which includes a repair shop.
With plans to expand, Marijo has ordered some new machinery to make planting and harvesting more efficient. This includes a new Grimme self-propelled potato harvester and a new self-propelled sprayer.
"As well as the new potato harvester and garlic machinery arriving, I have also invested in a new self-propelled sprayer to hopefully reduce overall growing costs," Marijo says.
While he focuses on constantly updating machinery, he also values the reliable
hard-working gear.
"We do still have the first tractor I purchased new in 1998, which is a Valmet
with around 70,000 hours on the clock. It is still going very well."
The land is irrigated by a network of underground pipes, which distribute the water from a farm reservoir that collects rainwater. This part of Croatia receives around 800mm
of rainfall per year, most of which is collected between May and July when heavy rainstorms are quite common.
This irrigation system, which is automated and can be controlled by a mobile phone, was completely installed by Marijo and ensures he can achieve good yields even in the driest of weather. However, he is concerned about future water collections, as rainfall has reduced by 50% in the past 10 years.
Harvesting spuds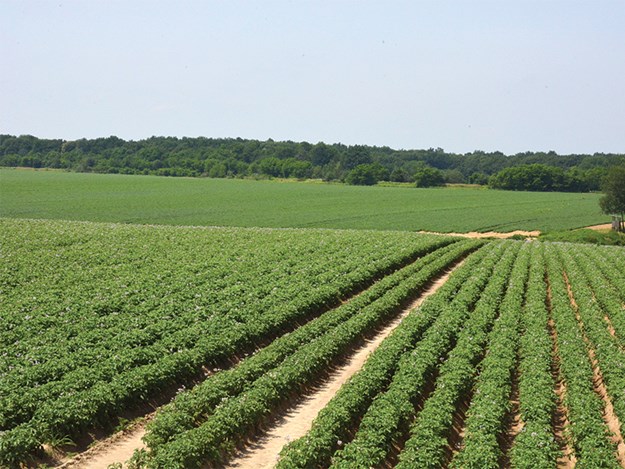 The overall potato crop is made up of 70% Lady Claire and the remaining varieties used are Opal and Hermes.
Potatoes yield an overall average of 50 tonnes per hectare generating an income of 17 euro cents (NZ$0.28) per kilogramme. All of the potatoes are contract grown for a local crisp-making factory with the brand Cipi Cips.
There are 24 other farmers in the region who are contracted to this factory but Marijo supplies the factory with around 40% of its total demand for potatoes.
He plans to expand his business to produce french fries but that requires a major investment to build a factory to produce them.
"This year, the potatoes are performing very well, as the weather has been so warm, but we have had to irrigate more. Growing under contract for the crisp factory is a
huge benefit for us but as the weather can be very unpredictable, this, too, has
a huge effect on our yields and our crop protection programme."
Potatoes are seeded by a four-row Damon machine, which allows between eight and 10 hectares a day to be planted in the season. Marijo is awaiting the arrival of a new Grimme self-propelled harvester, which will speed up the harvesting process.
"We harvest fresh and send to the factory most of the time, but storage is available
to ensure a constant supply even in winter.
I would like to enter the market for french fries as well, but this would involve building our own factory to process the potatoes.
"Although that would require significant investment, it is a plan that I want to explore.
I am 38 years old and I would like to hand the business over to my son Filip at some point. He is currently studying on the Faculty of Agronomy in Zagreb and is interested
in agriculture.
"A new factory and subsequent new outlet for our potatoes would make an ideal addition to the business improving it and giving longevity into the future," he says.
Farmer centric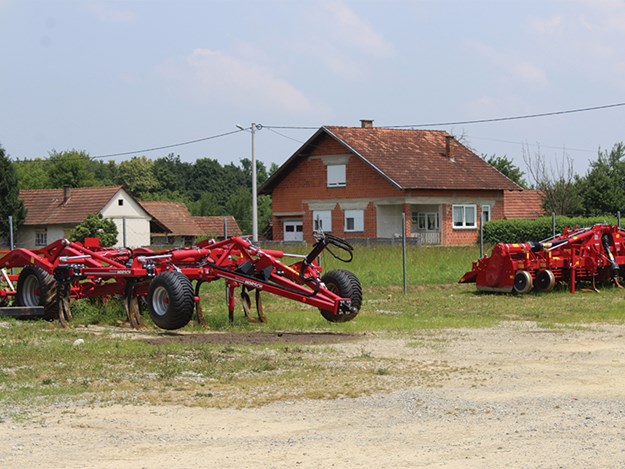 Agriculture in the Bjelovar-Bilogora County, where Marijo is based, is the main foundation and the cornerstone of economic and social life there. Farming provides the highest number of jobs in this county compared to neighbouring counties.
With its rainfall and number of days of sunshine in the year, Bjelovar-Bilogora County provides favourable conditions for the development of a wide range of agricultural crops.
According to the 2011 census results, the Bjelovar-Bilogora County area covered 2638 square kilometres and included five towns and 18 municipalities with 323 settlements. The population in the county totalled 119,743 inhabitants, of which 21% were farmers.
Growing garlic
Although a relatively new venture, Marijo is already hoping to increase his garlic production to target more of the Croatian home market. Around 80% of the garlic used in Croatia is imported from places such as China so Marijo sees a huge opportunity to supply homegrown garlic.
"Our garlic is yielding five to six tonnes per hectare and our onions 50 to 60 tonnes per hectare. We import huge quantities of garlic into Croatia, around 80% from places like China, so why can't we grow it in Croatia ourselves and supply the demand here?" 
he says.
The land rented from the government is taken on 10-year leases but new laws are coming into effect that this could be increased to 20- or 25-year leases. Gaining extra land to farm is difficult according to Marijo, as there are many small farm structures in
the neighbourhood.
"We need larger areas of land in one unit to farm if we want to expand," he says.
Marijo employs 13 full-time employees from Croatia but enlists additional seasonal local staff in the main harvest seasons.
"The garlic has to be picked by hand," he says, "which is a very labour-intensive job but must be done. We do have some new machinery on order to help us in the future with garlic production."
Financial aid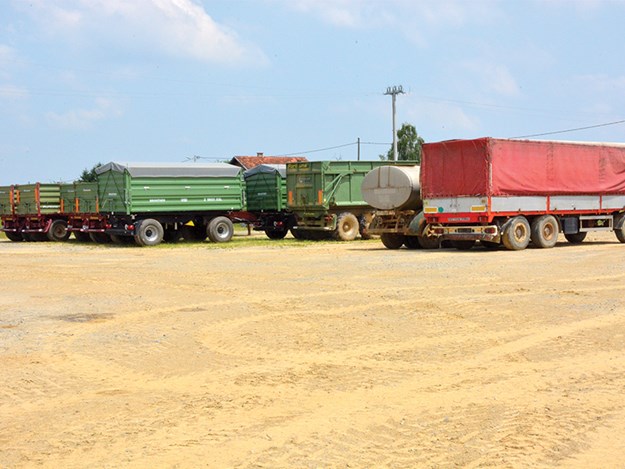 Marijo has invested a significant amount of around €4 million (NZ$6.69m) into his business and receives financial help from the European Commission for a number of projects and for his direct payments.
"Croatia has been a member of the European Union since 2013 and I am just about to receive my first payment of one million euros for projects I have invested in, including new storage facilities for the onions and garlic," Marijo says.
"The newly constructed onion and garlic warehouse is expandable and allows for increased capacities when yields increase. It can currently store 1400 tonnes of onions and 350 tonnes of garlic and includes a packaging line which enables packaging of items from 200 grams to 20kg, as well as one 12-channel and one 14-channel scale," he says.
Marijo also receives direct payments of on average €300 (NZ$501.65) per hectare from Brussels, which helps him retain employees and invest more in the business.
Keep up to date in the industry by signing up to Farm Trader's free newsletter or liking us on Facebook