RCNZ: In support of change
---
Farm Trader's special Rural Contractors NZ feature is back. Find out what outgoing president Steve Levet has to say about the organisation.
After five years as president, I stepped down at our June conference with one message to our industry: get on-board with RCNZ as a support agency for change.
We've had an extraordinary year: drought, rain, heat, a change of Government, and M. bovis and its far-reaching impacts in our rural communities.
Like farmers, rural contractors work with nature, which gives us all a bounty of opportunity and a bundle of responsibilities.
As New Zealanders, we have a great balance between economic progress and living with our natural environment that the world envies – mostly due to farmers' affinity with their land.
But we can't deny that change is happening around us, including to our climate. My rain gauge showed we'd had 500m of rain in the first five months of this year, and I live in Northland, not Fiordland.
These changes make life extremely challenging for a rural contractor. We are trying to meet the requirements of a farmer to get baleage completed, spray weeds or crops, and a hundred other tasks. Meanwhile, our window of opportunity is eroded by rain, storms, drought, and other weather events.
RCNZ has looked to increase contractor staff resources, and it is only natural to start with our young people. My generation was encouraged at school to go into a trade where you could develop skills. These days, the focus seems to be on further studies in a university.
That fails to appreciate the benefits of practical skills such as operating large, expensive pieces of machinery. When you can do that well, a whole world of opportunity opens up.
This now also applies to operating rural contracting machinery. I want farmers and others in the industry to spread the word to their sons (and daughters) that rural contracting is a career opportunity for young people.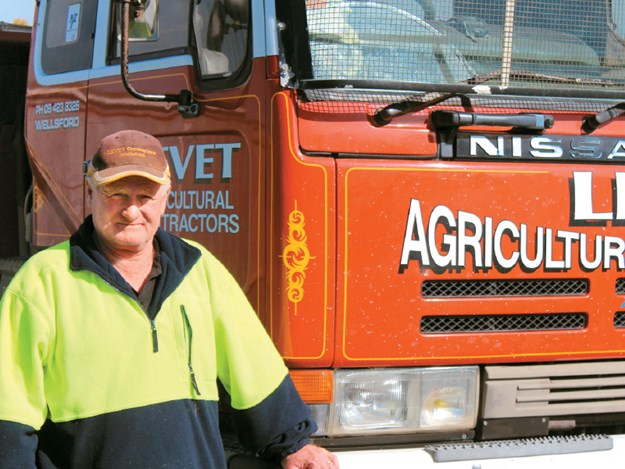 Five years ago at our conference in Cromwell, outgoing president John Hughes spoke about schools not encouraging agriculture as a career; five years later, we don't appear any further ahead. We need to get more buy-in from secondary schools to encourage young people into agriculture.
RCNZ always looks to employ New Zealanders first and we train the best, but you know how difficult it is to find people with the skills and commitment needed to operate our equipment, especially in remote areas. So we look overseas. RCNZ submits an Approval in Principle (AIP) to Immigration NZ, which then consults with the Ministry for Social Development. We are grateful for getting AIPs approved for the coming season.
There is a consequence of the shortage of skilled operators, which we need to be thoroughly aware of. It ties in with my theme of working with nature. When I was younger, the common rule of thumb was working from dawn to dusk. We are no longer sitting in a Fordson Major or David Brown 1200 with an open cab and an oilskin for protection. Most of the contractors today sit in air-conditioned comfort, insulated from nature's realities, with radios, cell phones, RTs, and GPS. This technology has allowed us to push the boundaries, the only limitation being how much a human can endure before they become fatigued and sometimes make fatal mistakes.
One of our other challenges as contractors is to avoid spreading diseases or noxious weeds.
The M. bovis cull is almost our worst rural nightmare. All our members will continue to work with farmers and MPI to ensure that the regime is continued as the efforts to eradicate this disease take their toll on cowherds.
Similarly, RCNZ Board member Helen Slattery has done a sterling work on MPI's steering group, seeking to manage Velvetleaf, which with Noogoora bur, has been encouraged by the warm summer and high rainfall. As agricultural contractors, we have to take such discoveries seriously. Noxious weeds present real risks to New Zealand farmers and obliges us, as contractors, to follow the clean machines protocol.
Again, we need to respect nature and take care of our environment. As an RCNZ member, you will be supported to do that and much more. May we all continue to prosper. Keep safe and keep contracting.
Keep up to date in the industry by signing up to Farm Trader's free newsletter or liking us on Facebook