Using plantain to reduce nitrate leaching farm advice
---
It is well established that in intensively grazed pastures, urine patches can contribute to levels of nitrogen, which are in excess of the pasture's ability to utilise.
Nitrogen is a key element of plant growth and is essential for animal productivity and overall farm profitability. However, in areas where cows are grazed, nitrogen is lost from farm systems and can contaminate streams and other water bodies.
Excluding natural plant fixation of atmospheric nitrogen, the two main sources of nitrogen originate from the application of fertiliser and urine deposits from farm animals.
Nitrogen enrichment in our waterways often manifests itself in the form of algal blooms and prolific plant growth that is able to cause a high oxygen demand and dramatically reduce the life-supporting capacity of aquatic environments. Micro and macro algae, such as blue-green algae, also have the capacity to produce toxins that pose a significant health risk to humans and livestock.
Nitrate, a common inorganic form of nitrogen, can also be toxic to humans and grazing animals. Nitrate that is ingested can rapidly transform to nitrite within the stomach and is then absorbed into the blood system. Within the blood, haemoglobin oxygen is reduced by nitrite and may cause staggering, rapid respiration and prostration.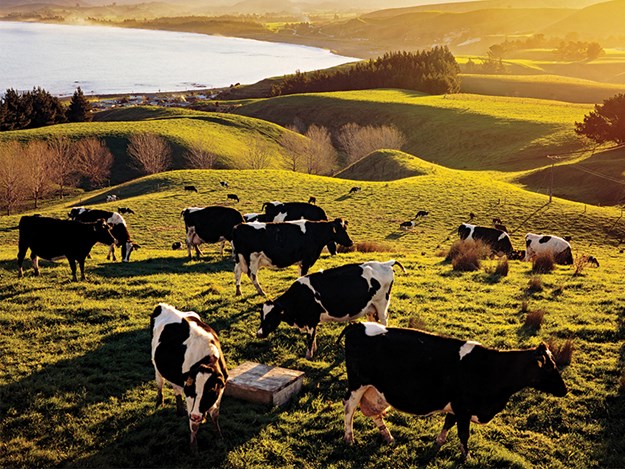 Nitrogen added to the soil is removed by plants during growth, retained in the soil by microbial immobilisation or lost as leachate or gas emissions. The leachate losses account for the greatest proportion of lost nitrogen, and factors determining this are thought to be dependent on the soil type and drainage, rainfall, land cover, animal type, feed-N intake by animals, and cultivation practices.
Of course, soil type and rainfall can't be directly managed, so it's necessary to focus on those things that are within your control.
Plants are able to utilise nitrate more easily. However, when nitrate concentration exceeds plant assimilation requirements, a build-up of nitrate in soil solution is likely and this nitrogen is highly susceptible to leaching. The extent of nitrate build-up and loss varies dramatically with land use and management practices.
Some of the research to mitigate the nitrogen losses has focused on growing pasture with more rooting depth for interception of nitrate, duration controlled grazing for reducing the amount of time animals spend on pasture, and feeding various types of pasture species for reducing the dietary protein.
Plantain appears to be a key species for increasing dry matter production and reducing urine nitrogen concentration.
A Lincoln grazing study showed a one percent greater milk solids (MS) production per day in late lactation combined with a 56% reduction in urinary nitrogen (UN) concentration from cows grazing pure plantain in comparison with irrigated perennial ryegrass and white clover pastures.
In a recent grazing trial in the Waikato, the milk production and urinary nitrogen output were measured for cows grazing four pasture mixtures. These mixtures were chosen to provide greater milk solids production and to reduce UN excretion relative to a conventional ryegrass/white clover pasture.
The UN concentration from cows grazing plantain pastures was significantly less than from those grazing non-plantain pastures in both summer (38% lower) and spring (21% lower).
So if you are looking for ways to reduce nitrogen leaching from your farm while maintaining production levels, including plantain in your pastures is well worth considering.
Keep up to date in the industry by signing up to Farm Trader's free newsletter or liking us on Facebook