Protech EVO1S a success with Kiwis
---
The Protech Evo 1S tracked post driver, imported to NZ by Agrilife in Hamilton, is one of the most advanced post drivers on the market
With increasing pressure on farmers to fence off waterways and wetland areas, it doesn't look like the demand for efficient fencers will be easing anytime soon.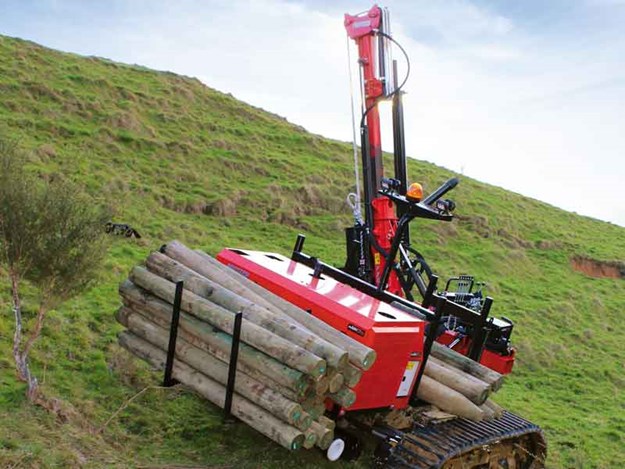 The Protech Evo 1S tracked post driver is one of the most advanced post drivers on the market and is imported to New Zealand by Agrilife in Hamilton.
The Protech Evo1 tracked chassis platform has a 48hp Yanmar engine sitting up front to counterbalance the weight of the post driver on the back. The compact engine drives a large hydraulic pump, which powers all the machines impressive functions.
The engine control box features a key start, hours clock, warning lights, and push button electronic engine rpm switch to set speed.
On either side of the engine are cradles, which can carry a good number of posts and strainers. The mount for a spinning jenny makes it an impressively self-contained unit.
The small blade on the front uses double acting rams, with the downforce stabilising the machine when parked working. The Evo runs on 400mm rubber tracks, which cause little scuffing or damage to the ground, and in soft conditions, leave a lot less footprint than a heavy tractor.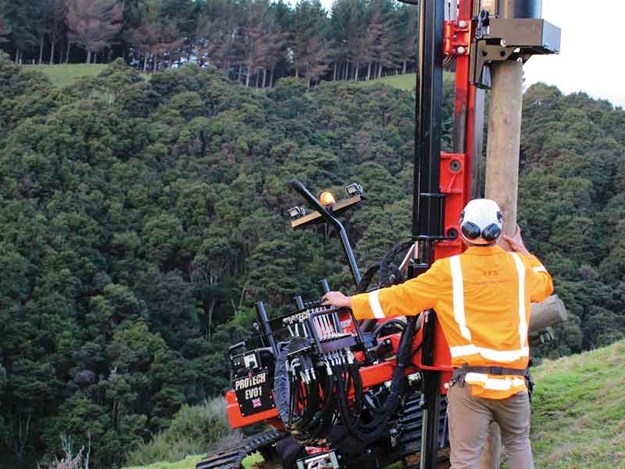 These tracks are all the machine needs to travel up, down, and around the sides of hills, into tight spots where you would never go on a tractor, especially in wet ground. Oscillating idlers inside the Protech-developed track gear allow a degree of flex to smoothen out the ride over rough ground. Two travel speeds are available on the Poclain hydrostatic transmission for working and transport, with clearly labelled levers to operate the direction of travel of each track.
The track frame under the machine is hydraulically adjustable, spreading the tracks out and taking the width of the machine from 1600mm to 2100mm – ideal for hill stability. The Evo's narrow 1600mm width helps with manoeuvrability in tight spaces and when transporting.
Weighing a little more than three tonnes, it comes with its own 3.5-tonne braked Bateson plant trailer, so can easily be transported between jobs behind a ute.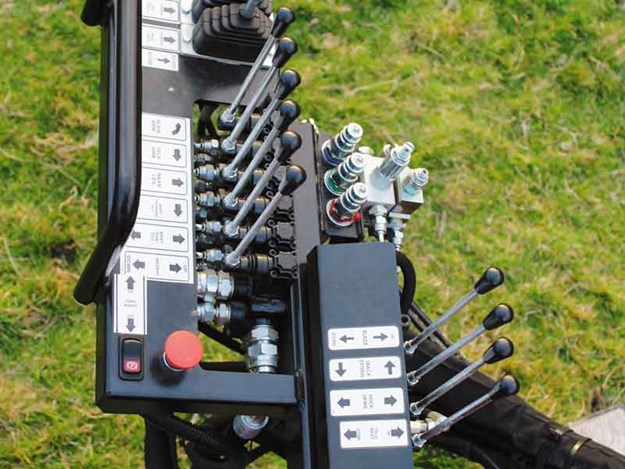 Where the post driver is mounted, is a hydraulic slew. This allows it to be operated anywhere in a 120-degree arc around the rear of the machine and when combined with 500mm of telescopic boom side shift, makes it easy to line up posts exactly where they need to be placed.
The telescopic mast keeps the machine compact for transport. It can be hydraulically extended an additional metre, high enough to handle a four-metre post, and a 300kg monkey-weight makes light work of driving posts even in the toughest conditions.
The two hydraulic mast tilt rams give four-way vertical tilt. A rock spike and auger are included with the Protech Evo 1S, making it incredibly well set-up and versatile.
The Evo 1S has been hugely popular with contractors around New Zealand, appealing for its versatility and efficiency.
Protech Evo 1S tracked post driver features
1m telescopic mast extension to handle posts up to four metres
Four-way hydraulic mast tilt
500mm telescopic boom side shift
120 degrees of slew
300kg monkey-weight
Hydraulic mast stabilising leg
Synthetic rope
Removable swinging rock spike with hydraulic extractor
Removable swinging hydraulic auger
Double acting blade
Hydraulically adjustable track width
48hp Yanmar engine
Poclain two-speed hydrostatic transmission
Post carrying frames
Side mounted spinning jenny
Six-tonne winch on the back
Keep up to date in the industry by signing up to Farm Trader's free newsletter or liking us on Facebook