New Holland RB125 Combi helps boost productivity
---
Increasing bale throughput was a high priority for Davidson Contracting and a key reason for upgrading to a New Holland RB125 Combi
Father-and-son team Colin and Michael Davidson run Davidson Contracting. They do hay, balage, straw, groundwork, and general cartage around the Wanganui District.
Michael says while their BR6090 was a good baler, he found it was not really a contractor's machine because of its throughput levels.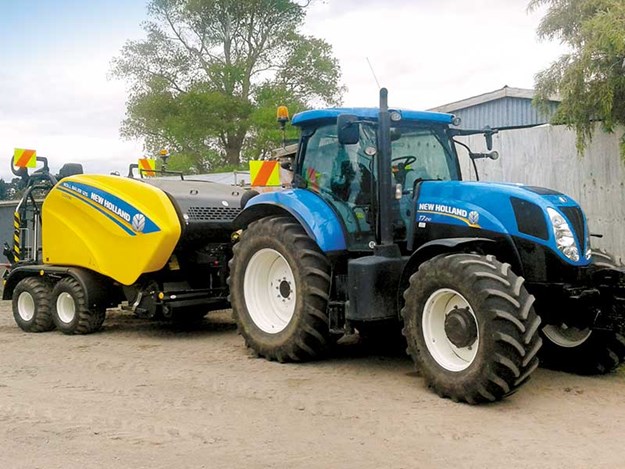 "We jumped over to a combi baler-wrapper machine about three or four years prior because it meant we had one less tractor and one less man running around in the paddock," he says.
"The BR6090 served us well, but these new ones were coming out and it was time for an upgrade."
Michael and Colin run a large fleet of gear from Norwood, including New Holland tractors and balers, and were keen to stick with the brand.
They chose the New Holland Roll Baler 125 Combi for its consistently high bale quality and increased productivity.
"The throughput with the new baler is very good and is a massive improvement on our last machine," Michael says.
"We have gone from doing 35 bales an hour with the old machine up to 45–50 an hour with this one. It's a big increase. It comes down to crop with volume going through.
"This machine can eat everything. We probably could be putting more through if we wanted to, but we bale at a steady pace."
Davidson Contracting made about 2600 grass bales with its new RB125C last season.
"It has the ability to go really fine chop and the speed of the transfer from the baler to the wrapper is good. So is the speed of the wrapper. It makes a nice, tight, solid bale."
Michael also likes the large-screen monitor and says the baler is self-explanatory and easy to use once you have gone through it.
This year, Davidson Contracting plans to make some changes to its baling and wrapping operation with the new RB125C.
"We are looking at going to film replacement instead of net. With this baler you can use net or film. We only used net last year but we are going to trial film," Michael says.
"Film is a good oxygen barrier. Once that film is on in the chamber, hardly any oxygen can get into it. It makes better balage, as well as tighter, more uniform bales."
Michael and Colin are also finding the RB125C easy to maintain and service.
"I like the location of the opening panels on both sides. You can open them up and everything is accessible. You don't have to clamour in behind a panel to get to anything. They are also running brass bushes, instead of bearings, which means longer life with
the rollers."
Michael says he cannot fault the baler and is exceptionally happy with it to date.
"Going from the BR6090 to this new machine is a massive technology increase, which happens with every new line of machine that comes out."
Keep up to date in the industry by signing up to Farm Trader's free newsletter or liking us on Facebook