Recipes for the weekend
---
Try these tasty recipes from Jo Seagar's new recipe book, Better than a Bought One; ideal to make over the weekend to stock up for a busy week on the farm
Spinach & Feta Pastry Pinwheels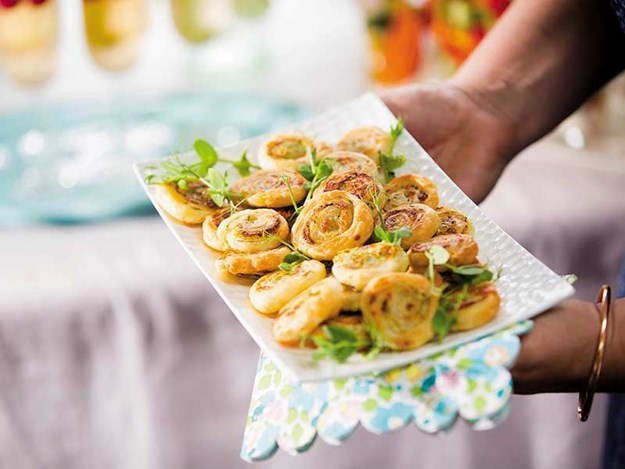 Such a popular savoury and easy and quick to prepare. A good way to get children to eat their greens.
Makes 36
Prep Time 15 minutes
Chilling Time 1 hour
Cooking Time 15–20 minutes
Ingredients
1 bag (about 180g) baby spinach leaves, or 250g packet frozen spinach, thawed
180g feta, chopped or crumbled
1 cup grated Parmesan or tasty cheese
Salt and freshly ground black pepper to taste
3 sheets frozen flaky pastry, thawed
Method
Microwave the fresh spinach in a bowl for 1 minute. Cool then squeeze out as much liquid as possible, which you can discard. If using thawed frozen spinach, squeeze it out the same way.
Place the squeezed-out spinach, feta and Parmesan or tasty cheese in a food processor and combine well. The mixture will be still quite chunky. Try a little of the mixture and add salt, if needed, and freshly ground black pepper to taste (some varieties of feta are quite salty).
Divide the mixture into three and spread, like buttering toast, on one side of each sheet of pastry. Roll tightly to enclose the filling. Moisten the edge with water, then, using a fork, press and seal the edge securely. Wrap the rolls in plastic wrap or baking paper and chill for at least an hour. This makes them easier to slice neatly into rounds.
Preheat oven to 200°C. Line two oven trays with non-stick baking paper.
Slice each chilled roll into 12 slices. Place flat on the prepared trays. Bake for 15–20 minutes until golden brown and puffed up.
Cool for 5 minutes before serving warm. Fresh pea shoots or little sprigs of herbs are a lovely garnish on the serving platter.
Cook's Tip
Can be prepared earlier, kept refrigerated and reheated in a 150°C oven for 10–12 minutes.
Cheesy Bacon & Egg Pie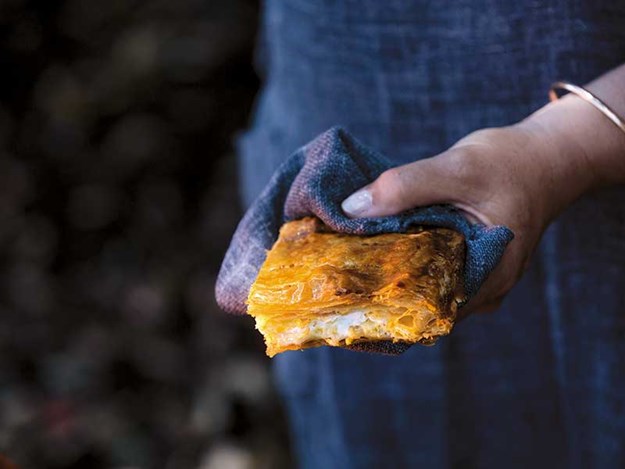 This is my quick and simple version that doesn't take very long to cook as it is quite shallow. It is very easy to hold and eat.
Serves 12
Prep Time 5 minutes
Cooking Time 35–40 minutes
Ingredients
350g roll frozen flaky puff pastry, thawed
2 cups grated tasty cheese
6–8 rashers rindless streaky bacon, cut into 2cm pieces
Salt and freshly ground black pepper
8 eggs
Method
Preheat oven to 200°C. Spray a 20 x 30cm slice tin with non-stick baking spray.
Roll the thawed pastry out into two long and thin sheets: one to fit the top, and the other the bottom and sides of the slice tin. Lay the bottom sheet into the prepared tin and press in, lining the sides and pushing to fit into the corners. Trim off the excess pastry.
Sprinkle half the cheese over the base then arrange the bacon pieces over the cheese and generously season with salt and freshly ground black pepper.
Break the eggs over the bacon, reserving about a teaspoon of yolk – I just keep this in an egg shell to the side. I prick the egg yolks, but do not mix the eggs in at all, I just let them settle over the filling.
Sprinkle over the remaining cheese and place on the top layer of pastry crimping the edges together. Using a fork, poke holes in the top to allow steam to escape when cooking.
Add a few drops of water to the reserved egg yolk and, with a pastry brush, spread all over the top surface of the pie.
Bake for 35–40 minutes until puffed and golden brown. The pie tends to shrink in from the sides of the tin allowing you to peek underneath to check the bottom is nicely cooked.
Cool in the tin for 5–10 minutes then remove to a wire rack – or serve straight away. The pie is equally nice served at room temperature or cold.
Leftovers are great for lunch boxes.
Extracted from Better than a Bought One by Jo Seagar. Published by Random House. RRP$50. Photography by Jae Frew.
Keep up to date in the industry by signing up to Farm Trader's free newsletter or liking us on Facebook