Dairy farmers' big win in Heartland Championship
---
A couple of dairy farmers played a vital role in making recent rugby history, creating one of the greatest upsets in the history of the Heartland Championship
When perennial minnows Thames Valley beat red-hot favourites South Canterbury to win the highly vaunted Meads Cup, it was a truly historic moment.
The Swamp Foxes' inspirational performance produced without a doubt the biggest upset since the inception of the Heartland Championship. Until this season, Thames Valley had never even featured in a Meads Cup playoff match.
It has been a long, hard road for the rural upper North Island province, whose only previous successes were winning the now-defunct NPC 3rd Division titles way back in 1988, 1990, and 1995 respectively.        
Since the union's inception in 1922, dairy farmers have provided a sturdy backbone for rugby in the Thames Valley, standing firm during both hard times and the good. Twenty years after their first national title, the Swamp Foxes miraculously regained their bite to claim another highly vaunted scalp.    
The 1988 Thames Valley representative team met in Te Aroha last month to celebrate their NPC 3rd Division success. Traditionally regarded as a plucky opponent, albeit lacking skill and finesse, the 'Class of 1988' shattered those perceptions.
Under the guidance of Waikino teacher Ross Cooper and former Valley centurion Brian Duggan, the Paeroa-based union grabbed the 3rd Division by the scruff of the neck, undefeated in all seven matches, scoring 242 points to just a paltry 42 against.   
Cooper and Duggan, the architects of Thames Valley's success created a winning culture. The pair understood what made their players tick. Rural blokes with busy lives needed clarity, standards, and fun to enjoy their footy. 
The coaching duo sought input from All Black coach John Hart and trainer Jim Blair, introducing the latest training drills and grids of the time. Training sessions were punctual, competitive and enjoyable; principles that resonated with many of their players who toiled long, hard hours on the swampy Hauraki Plains.    
The Thames Valley forward pack that season were a weapon; the guts of the pack worked in the rural sector: farmers, slaughtermen, yardmen, electricians, and welders.
The front row was spearheaded by the indomitable Silvester twins Raymond and Desmond. Ray Silvester – these days a rural postie after decades spent farming and in the freezing works – looks back on those days with pride and great affection. A strong club competition produced hardened forwards.
"At Paeroa West, we would train for two hours all run and carry. No water," he recalls fondly. "Work always came first."
"The union would book a small plane for us to fly out after we had finished the morning milking. That was the only way we could play.
I remember landing on a grass runway at Hicks Bay, getting changed into our rugby gear on the side of the field, and then running straight on to play East Coast."
"I've always maintained that if you don't work hard off the field, you will never work hard on it," states Desmond impassively. Packing down between twin Ray and younger brother Paul was an obvious career highlight.
The brothers received various offers and opportunities to play for bigger provinces during their careers but never accepted them.
 "Someone had to keep milking the cows," Ray smiles "and unlike some other guys, we weren't in a position to leave the farm then and go. We were always proud to represent our province, our club, and our district."
The locking combination of 6'6 19 stone Waihi dairy farmer Ron Van Marrewijk and 6'5 Periodic Detention supervisor Pene Reuben were physically imposing, while the loose forward trio included Junior All Black Mark Darrah, John Van Hout, Ian "Bruiser" Handcock and Irvine "Butch" Campbell were large, skilful, fast, and physical.
These days, Van Hout farms in Southland while Handcock has eked an impressive career as an independent farming consultant.           
Campbell, the team's captain, scored 14 tries that season and 12 in the National Championship, more than any other forward in New Zealand provincial rugby in 1988. The articulate and popular former skipper farms near Kerepehi on the Hauraki Plains.   
A highly skilful and mobile number eight in his playing days, his rugby involvement now involves watching son Brooke turn out for the Hauraki North senior side. The Campbell athletic genetics were clearly evident when Brooke coolly slotted an 80th-minute touchline penalty to win the Thames Valley club championship in 2017.
With a few hours to chew the fat before their afternoon milking, I sat with Butch while wife Maree treated us to freshly made muffins and coffee, allowing the Valley centurion time to reflect on that incredible championship-winning season.   
"The team were actually a piece of piss to captain; other guys in the team had also captained their clubs. Great guys, high standards off and on the field," he recalls.
"I believe the 10-day South Island tour, which happened early on, really set up our 1988 success. We stayed in motels and hotels for the first time as a team. Previously, we were billeted. We were living together and just things started to click. Away from our families, we all became very good friends. We just wanted to play for each other," the Valley centurion reveals.  
"We stayed on Marae, sleeping on mattresses on the floor on the East Coast. Pene Reuben would be strumming a guitar; we would be eating home cooked feeds. It was marvellous."      
"Training was fantastic. There was no more running up Primrose Hill in our boots," he grins. "The grids were full-on. Nobody wanted to drop the ball. Training ran like clockwork. It started and finished exactly when coaches said it would. 
"Nobody wanted to be late to training or they got shit. Especially from the farmers. They were busy, wanted to start training on time, do the work and then they were gone. Ian Baillee, the two Silvesters, and a few other guys would stay home to milk, then fly in on the day of the game, play, and then fly out again. They quite often didn't stay the night.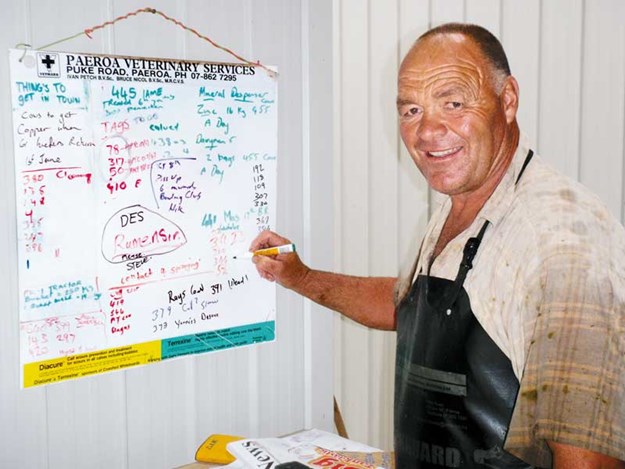 Their plane didn't show up on time before the Taranaki game. We were scrambling for reserves and had to delay kick-off time. We didn't have a front row. A few of the management team were even handed jerseys until the plane arrived.
"We had a feeling we were going to be reasonable. But that wasn't good enough. We wanted to be a really good team. You pushed yourself harder if one of your teammates was on the ball; you just got that. We got to the stage where just didn't want to lose. A little bit of mongrel in a good way, we were really determined.
"As good as the backs were, the forward pack was outstanding. Reporters said we were bigger than the All Blacks that season. I think I scored 10 pushover tries that year. We just tore through the Wanganui pack that season. I scored three pushovers off the back of our scrum in that game."      
Rugby reunion
The reunion for the 1998 side, which was organised by the Thames Valley Rugby Union, was a resounding success and greatly appreciated by the core group of players who attended. After assembling for a midday luncheon, the team took their seats in the Boyd Park grandstand while their proteges, the current Thame Valley side, beat Horowhuena-Kapiti.
Back in the Te Aroha COBRAS clubrooms, the 'third half' was enjoyed long into the night as players reminisced and exaggerated stories over a few pints of cold, brown fizzy.
The stature of those 1988 forwards stood out – big men, while greyer around the temples and thinner on the pate, this group were clearly still in excellent physical condition. The benefits of a lifelong hard toil clearly showing. A couple of the current Valley pack looked physical inferior by comparison.         
The 2018 Thames Valley side were to follow in the footsteps of their illustrious predecessors.  With two dairy farmers at the helm: head coach and former Swamp Fox representative prop Matt Bartleet and captain Shaun Hill of Hauraki North, the side recovered from narrowly losing two of its home games to finish in the Meads Cup top four.
With Thames Valley scheduled to place an away semi-final against top-placed qualifier Wanganui, the writing was clearly on the wall. With Wanganui having won the Meads Cup six times since 2008, nobody expected the plucky Swamp Foxes to progress any further.
Except that is for the Swamp Foxes themselves, who dispatched the three-time defending champions in a workmanlike display.
Finding themselves down 12/3 at halftime at Timaru seven days later didn't visibly deter the visitors either. With incredible self-belief evident, the Valley clawed their way back into the game through guts, ticker, and inexhaustible energy. They tackled South Canterbury out of the game. After defending for the majority of the second half, the Valley coolly scored two converted tries to take the lead.
The final minutes, which well may one day become a Hollywood script, saw Tairua fullback Lance Easton (who Bartleet controbersially converted into a loosehead prop during the season), take the field.
The Valley scrum manhandled their heavier opponents with ease, winning two successive scrum penalties before first five Reece Broughton booted the ball over the touchline while referee Jamie Nutbrown blew for fulltime. Scenes of absolute pandemonium ensued.
You would have to think the late Colin Meads, himself an indomitable rural figure, would have been immensely proud to see Thames Valley win his cup. Pinetree would really have enjoyed that.
Heartland Championship
The aptly named Heartland Championship commenced in 2006 and is keenly contested between the 12 rural New Zealand provinces: Thames Valley, Poverty Bay, East Coast, King Country, Wanganui, Horowheunua-Kapiti, Wairarapa Bush, Buller, West Coast, Mid Canterbury, South Canterbury, and North Otago.  
The competition begins in late August and after eight rounds, the first- to fourth-ranked sides play for the Meads Cup while the fifth- to eighth-placed sides compete in the Lochore Cup.  
The cups are fittingly named after two farmers and icons of All Black rugby. Sir Brian Lochore played his provincial rugby for Wairarapa Bush while great friend and former teammate Sir Colin Meads was a staunch product of the King Country.    
Keep up to date in the industry by signing up to Farm Trader's free newsletter or liking us on Facebook