Farmer profile: Thomas and Jennifer Read
---
Award-winning share-milkers, Thomas and Jennifer Read have a clear vision of what they want to achieve and they're busy doing it
The year 2018 will go down as a successful year for the Dannevirke share-milkers. In March, they won the Hawke's Bay-Wairarapa Dairy Industry Awards Share Farmers of the Year, the Westpac Business award, the Ravensdown Pasture Performance award, and the Meridan Energy Farm Environment award. Then to cap it off, they won the national Meridian Energy Farm Environment award.
Focused farming
The couple, both 28, have two young children. They say, at this stage of their lives, they are hungry for success and have the energy to match.
"Thomas is competitive and loves entering these competitions and so do I," laughs Jennifer, as we chat over coffee and freshly baked chocolate muffins in their sunny lounge.
Their 91.5-hectare property is a 10-minute drive out of Dannevirke and is owned by Thomas' parents, Shane and Lydia Read, who they are in a 50:50 share-milking partnership with. Shane and Lydia also own a 125-hectare farm in Feilding, near Halcombe, which is run as a separate entity and serves as a run-off block for the Dannevirke farm.
Thomas explains how it works: the Feilding property provides a closed system of calf-rearing, heifer grazing, winter grazing, and produces some hay supplement.
"We use Hereford and Angus bulls to produce dairy beef cattle, which are then sent to the Feilding farm for rearing to finishing."
This season, Thomas and Jennifer have taken on another 50:50 share-milking partnership with a farm just two kilometres up the road, owned by Mike and Sherryn Harold and Stuart and Sandra Cordell.
They are excited about the challenge this brings and Thomas is enjoying working with a team (they employ three full-time staff: two managers and one farm assistant) after mostly working on his own.
A family business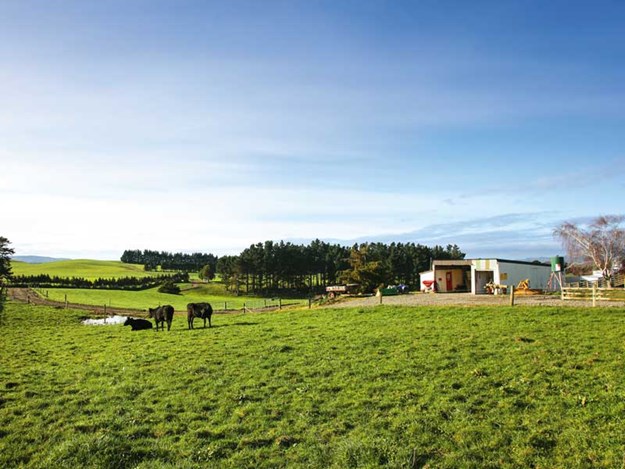 Thomas' parents originally farmed in Waikato but bought their Dannevirke property 25 years ago. Thomas was always keen on pursuing a farming career "even though it would have been easier for mum and dad to sell up and retire".
Gaining experience overseas and on bigger dairy farms in Fielding gave him much-needed experience before returning to work on Shane and Lydia's Dannevirke farm. When they needed a manager on the farm, he had to line up with everyone else to do an interview. He proved himself to be the best (and keenest) man for the job.
Thomas admits it was a learning curve. "I think I had the vet out every second day and there were a few calls to Dad at 4am – he was dairying long distance for the first year – but it all came together after that."
Winning the Meridian Energy Farm Environment Award was particularly special because Thomas' grandfather, Paul Tucker, is a keen conservationist and raises seedlings for the younger Reads to plant on their farm.
Caring for the farm environment
"We've worked hard to plant our streams and are using a 20-year riparian planner to carry that out," Jennifer says. "All our streams have been fenced, and this year, we're fencing and planting out our wetlands.
"Besides this, we're following research about how plants reduce nitrogen leaching. We've planted plantain in our pastures for the last five years; there's currently lots of research about its benefits with regards to reduced nitrogen leaching. As well, we've attended all the climate change workshops that we can."
Thomas adds, "We're asking things such as how we can future-proof our farm going forward? This has a run-on effect to reducing business risk, too. Fortunately, thanks to my parents, we have great records from the past 20 years. Right now, we are focusing on how the next 20 years will look and how can we change the face of what we are doing."
So far, the Reads have planted native trees along the riparian edge of the stream such as cabbage trees, toetoe, harakeke, black matipo, and carex secta grasses.
They've done the bulk of planting themselves with the help of university students during summer. "Last year, we planted 300 trees and shrubs. We have also gained funding from Horizons Regional Council who are supplying us with about 2000 plants this season. It's a long-term process but we look forward to seeing native birds and wildlife come back and improved water quality. 
"One day we'd like to have a walkway beside the stream and be able to admire the results of our hard work," Jennifer says.
Additionally, the Reads are planning to plant pine trees on four hectares of steep land at the back of the farm to offset some of their carbon emissions.
Machinery
When it comes to machinery, Thomas likes to keep things simple. His tractor is a John Deere 6420 110hp, used mostly for bale feeding and topping. The new share-milking operation requires more input, so he's just bought a John Deere 6630 135hp with several attachments, including a McIntosh feedout wagon.
"If we utilise the pasture correctly and feed our cows right without putting a piece of machinery in between the two, we are winning straightaway.
"We have a silo for in-shed feeding and feed-out pelletised feed throughout the season. With a two-second pull, we've fed 24 cows, so the cost of not having a feed-out wagon or bunker is a big saving. We try hard to keep machinery parked up as much as possible. Over summer, I actually lease my tractor out to a local contractor," he says.
Future plans
With his confident, outgoing personality, Thomas is keen to get into a few governance roles in organisations such as Federated Farmers and the Fonterra Shareholders' Council. The couple are also community minded; Thomas runs a church youth group in Dannevirke while Jennifer runs a mainly music toddler's group. They see themselves as part of a broader vision, both within their family and the dairy industry.
"In terms of succession, we are trying to do it in a way that's not going to wreck any relationships on the way; that's key. It has to be fair for my parents and also for my brother and sister," Thomas says.
"We love the co-operative spirit of dairy farming in New Zealand, both with Fonterra and the various discussion groups where we get to share our ideas. It feels as if we are not competing but working together to build the industry," Jennifer says. 
Farm 1
50:50 share-milking 260 cows on 91.5 hectares at Readlands, Dannevirke
1000MS/ha average annually
Herringbone 24 aside shed with automatic cup removers and automatic teat sprayer
Grain silo in-shed feed system
Breed: 12 parts Friesian
Farm 2
50:50 share milking 530 cows on 164 hectares with property owners, Stuart and Sandra Cordell and Mike and Sherynn Harold
1100MS/ha average annually
Herringbone 36 aside shed 
Breed: KiwiCross
Keep up to date in the industry by signing up to Farm Trader's free newsletter or liking us on Facebook