Farming the Swiss way
---
Each country has its own distinct preferences when it comes to farming techniques and machinery. Farm Trader takes a look at farming in the Swiss Alps.
Cutting hay for winter fodder on the Swiss Alps slopes is a farming tradition that dates back centuries, and for years, it was back-breaking work.
In the past, farmers worked the land with nothing more than a scythe and a rake and a strong determination to get the hay indoors to use as feed for the cattle during winter.
Mechanisation
Roll on a few hundred years and although the slopes remain the same, the methods of cutting the grass have changed dramatically, thanks to modern technology and equipment.
Around 29% of Swiss farms are based in the mountains where a significant percentage of dairying in the country is based but this type of farming brings its own set of unique challenges.
Machinery manufacturers such as Aebi and Lindner have introduced several machines over the years that can tackle the slopes with ease, including self-propelled pedestrian mowers with steel wheels, low centre of gravity tractors, silage wagons, and many more.
Livestock farmer Stefan Emmenegger is a typical livestock farmer in Switzerland with 17 hectares of land and a further eight hectares of forest. As well as working his own farmland near Entlebuch, Stefan is hired by other farmers in the local area to cut their grass and mix compost to mention a few jobs.
"We have 19 suckler cows in our herd," Stefan says. "It's a relatively small herd for some people but typical of our region up in the Alps.
"There's also another project on our farm with 39 fattening pigs, which we sell for their meat. The pigs just love running around outdoors."
His farm also consists of marshland, which accounts for a good ecological area and an orchard growing apples.
"It's not really a perfect farm for growing crops but we try to grow brewing barley and spelt, a species of wheat, for sale and our own use.
"As well as farming and working for other farmers, I'm also a teacher at the local university. It's not so easy for some people to get the hay in but with the modern machinery and a fearless attitude, it can be done.
"It's important to use smaller machinery with low centres of gravity and, of course, for operators to be extremely careful.
"Pedestrian mowers are very common in these Alpine areas to get the grass cut, so for now, the scythe is somewhat redundant," he says.
Dairy farming
Farming in the Alps not only presents the challenges of cutting hay on the slopes but also presents major obstacles for dairy farmers getting the milk to the lowland.
Making cheese is one way of consuming all the daily milk produced on an Alpine farm and that's exactly what Reto Theiler does. Swiss people consume a whopping 20 to 25kg of cheese per year, which is good news for the country's dairy farmers who are fighting a daily battle to survive.
At the last count, there were 51,600 farms in Switzerland, 22,000 of which are dairy farms, with an average size of 18.6 hectares and home to 587,000 dairy cows producing 3.5 billion kilogrammes of milk per year.
Switzerland produces around 185,000 tonnes of cheese per year into over 450 varieties, including the popular Emmentaler, Le Gruyere, and Sbrinz brands, and imports another 58,000 tonnes to satisfy the population of 8.5 million people's hunger for cheese.
Relying on the strong desire for cheese in Switzerland, dairy farmers like Reto Theiler, his wife Silvia, and five children, spend the summer months milking their herd of 50 Brown Swiss cows at 1250 metres above sea level on the Abnistetten Alp near the village of Entlebuch.
There had been no cheese produced at this farm since 1948, so back in 2011, Reto decided to replace a 260-year old barn with a new structure integrating cow housing, a cheese production facility, milking parlour, and a living apartment for the family.
Cows are milked twice per day in the four-point abreast parlour and yield around 25 to 30kg of milk per day with 3.4% protein and 4.3% butterfat.
"All of the milk we produce goes into making cheese, butter, and cream. It takes around 70 litres of milk to produce six kilogrammes of cheese," Reto says. "We employ Thomas Hofstetter to look after all the milk and cheese production and my wife and I look after the marketing aspect.
"Our cows produce top-quality milk grazed from the alpine meadows in the summer months but if it gets too hot, we bring them indoors and feed them hay."
When produced, all the cheese is turned five to six times per day to give it shape, substance, and flavour. Reto's farm produces four varieties of hard and soft cheeses, which they sell to private customers and retailers.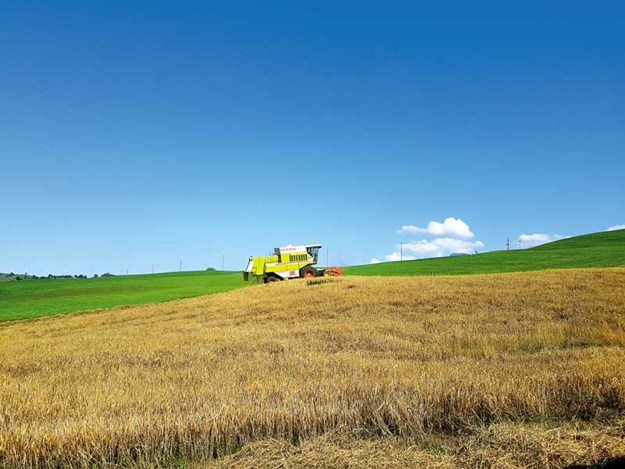 "A lot of people buy the cheese from our farm shop when they are hiking in the mountains," Reto says. "Up to 80% of our cheese is sold through two retail chains, which pay us 12 Swiss per kilogramme and sell it in their stores for 22 francs per kilogramme.
"If customers buy it from our farm shop, they pay 18 francs per kilogramme for the cheese."
In comparison to fresh milk sales in Switzerland, a farmer receives around 60 franc cents per litre for ordinary commercial milk but those milking cows in the Alps receive an extra 18 cents per litre from the government.
Incidentally, selling cheese for 12 francs per kilogramme is the equivalent of receiving 90 franc cents for one litre of milk. Delving deeper into subsidies, a dairy farmer receives 330 francs per cow if they are grazed for more than 100 days in the summertime. A farmer in the Alps receives an additional 400 francs per cow for farming in a difficult terrain.
When the summer grazing period in the Alps is over, Reto takes his cows to his lowland farm for the winter where they are kept in a tie-stall barn.
"We have 40 hectares in the Alps and rent a further 20 hectares for the young stock," Reto adds. "There are another 30 hectares owned in the lowland farm, which is normally used for hay and silage production to feed the cattle during the cold winter.
"Cutting the grass up here is a tough ask, and we need the appropriate machinery to carry that out. We only can use the smaller four-wheel drive tractors or the pedestrian mowers to cut the grass.
"Some farmers can use the four-wheel drive self-propelled silage wagons to pick up the grass but there are no big loads up here in the mountains," he says.
Keep up to date in the industry by signing up to Farm Trader's free newsletter or liking us on Facebook