Profile: Max Tweedie
---
Meet Max Tweedie, a former TeenAg member who is driving a major progeny testing programme at Beef + Lamb New Zealand Genetics
Dust rises into the spring breeze as a mob of Angus cows and calves file into the yards at the historic Tautane Station. It's a familiar sight for Max Tweedie, who works for Beef + Lamb New Zealand Genetics (B+LNZ Genetics).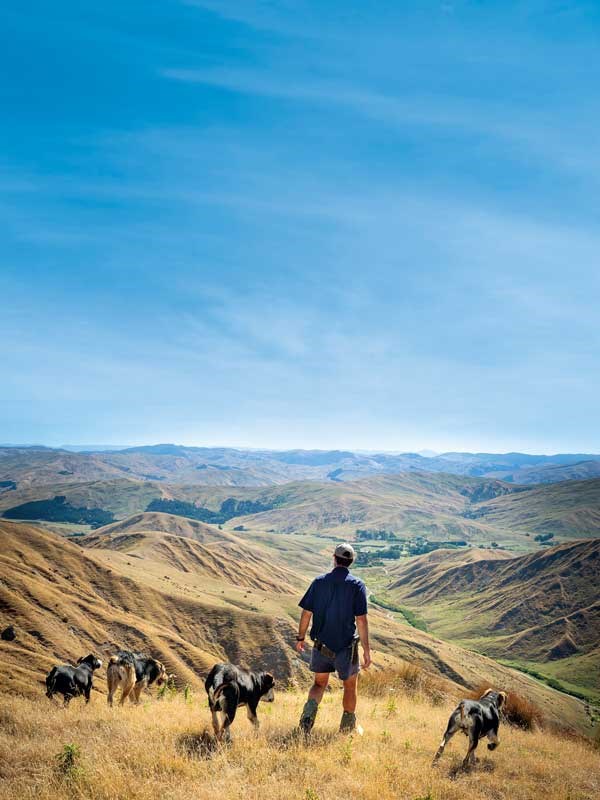 He's busy unloading the latest Tru-Test weighing technology and a hand-held electronic ear tag reader from his vehicle. The 24-year-old is a regular visitor and knows the windy metal road to the 3375-hectare rugged coastal hill country property well.
Max runs a major programme at B+LNZ Genetics, annually testing the progeny of 50 commercial beef bulls. Tautane Station, an hour east of Dannevirke, is leased by Taratahi and is one of the seven properties involved. There's a similar project for sheep.
"It's a major undertaking. Each year we artificially inseminate 3500 breeding cows," he says.
The cows are typically mated to bulls from five beef breeds – Angus, Hereford, Simmental, Charolais, and Stabiliser. This year, there are 11 breeds. Their progeny is monitored for key performance traits from conception until slaughter. Steers are assessed on their finishing and carcass traits.
"We record gestation length, calving ease, weight gain, the amount of fat and muscle on the animal, and marbling in the meat," he says. "We also record a further 11 measurements once the carcass is hanging in the chiller."
"That's quite unique because we haven't collected measurements on the quality of the carcass for genetic use in New Zealand before," he says. Replacement heifers are tracked for their maternal characteristics. Max and his team look at how quickly they conceive, how much extra weight they carry, their longevity, feet and legs, and the size of their calf at weaning.
The data is used to produce estimated breeding values (EBVs) for each bull. "Put simply, that means using bulls with better EBVs gives you reliably better calves. The consequence of that is better financial returns," he says. Take the growth EBVs for example.
"When you analyse the 600-day weight performance, calves by the heaviest EBV sires weighed 66kg more than the lightest sire's calves," Max says. "At $3/kg, that's worth an extra $198 per calf."
The farms used for both the beef and sheep progeny testing programmes are vastly different. Some are sprawling stations, others are intensive flatland farms. It gives research teams the opportunity to see how different genetics perform in a range of environments.
For Max, the job combines his two passions: genetics and cattle. "Organisations are screaming out for practical people who can understand farm systems and apply the use of genetics in them. The job opportunities are massive."
Max grew up on a sheep and beef farm in the Hawke's Bay and is breeding cattle on his own account. He helped start a TeenAg club at Lindisfarne College and went on to study a Bachelor of Agricultural Science at Lincoln University. Max has run genetics modules at East Coast qualifying events for the FMG Young Farmer of the Year.
"People often get the wrong idea about genetics. They think you have to be a scientist to carry out the work. You don't," Max says.
"There are excellent opportunities for practical people who enjoy the technical aspects of science, such as implementing coordinated artificial insemination and slaughter programmes. We produce usable, meaningful data helping farmers to advance the genetic worth of their animals."
Max's work takes him to a number of properties, which run sought-after cadet schemes, such as Tautane Station and Smedley Station. Maternal hill country sheep at Smedley Station are part of the 10,000 ewes in B+LNZ Genetics' sheep progeny testing programme.
Max enjoys working with the cadets and passing on his knowledge. "It's rewarding working with them because they'll be the ones making important breeding decisions in the future," he says. The progeny testing programme also gives cadets exposure to different experiences.
"Artificial insemination (AI) isn't something a lot of stations would normally do," he says. "When we undertake an AI programme, the cows receive reproductive drugs to synchronise their ovulation so we can mate them all on the same day. That often requires the cow to be brought into the yards several times."
Other monitoring can be just as demanding. "One of the biggest days at each of the farms is when the structural characteristics of each animal is assessed and we use ultrasound scanning technology to examine carcass quality," he says.
"At Whangara Farms, we inseminate 500 cows at one time, so it's a big job individually monitoring each of those calves."
Max admits he's "pretty lucky". He's thriving in his dream job and has an outdoor office many would be envious of. 
Keep up to date in the industry by signing up to Farm Trader's free newsletter or liking us on Facebook