Cover story: S.W. Broom Contracting
---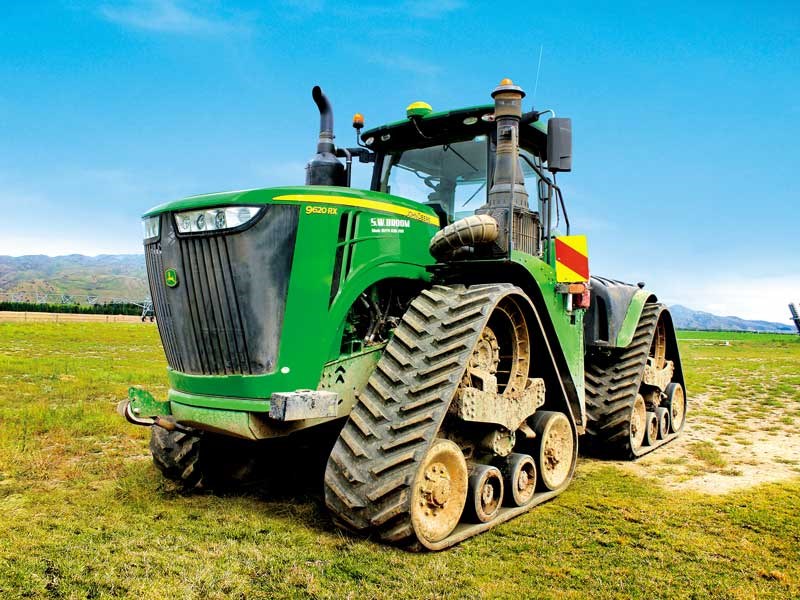 Impressive power and performance from the John Deere 9620RX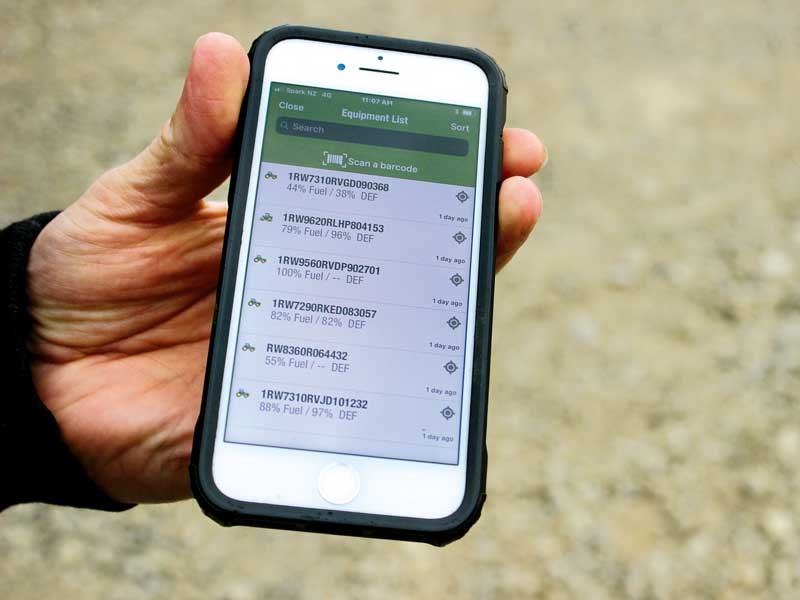 Powerful info just a finger tap away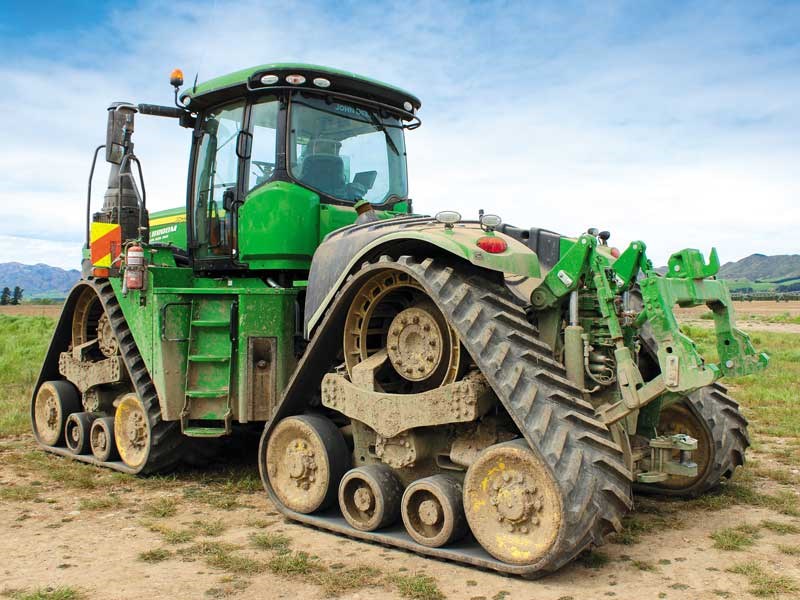 5.6m2 of track footprint ensures compaction is minimised while traction is maximised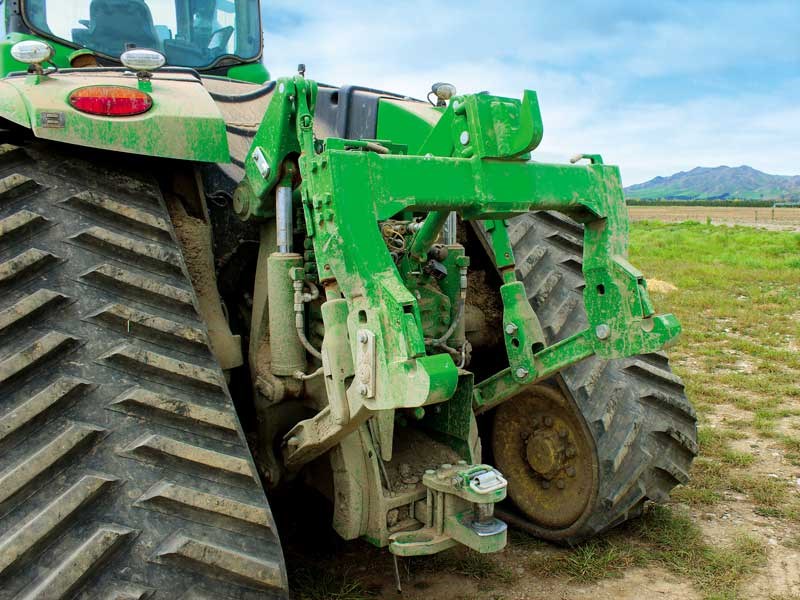 With a nine-tonne hitch lift capacity and 435L/min hydraulic flow, the 9620RX can do it all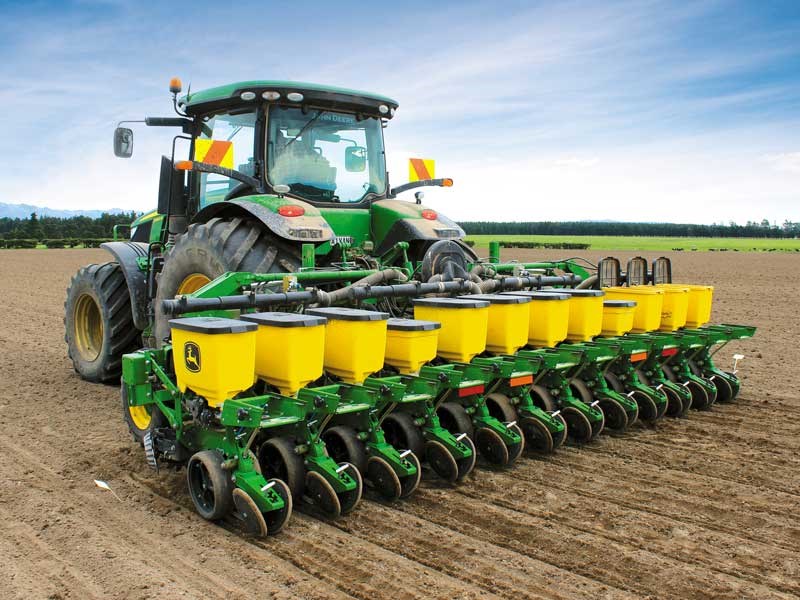 John Deere 1725 Precision Planter at 50cm (20in) spacing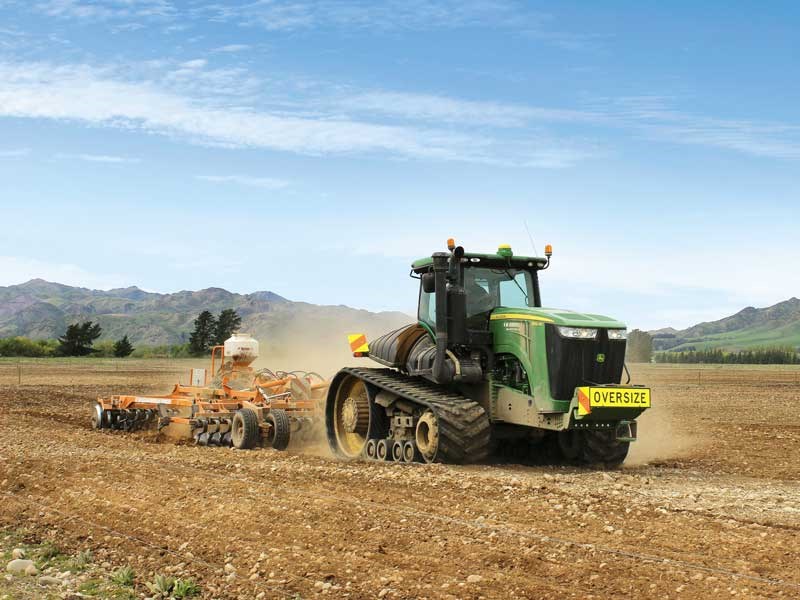 John Deere 9560hp with a seven-metre Simba SL 700 Express

Two John Deere Four-Tracked machines are a key part of a North Canterbury rural contractor's fleet
Big machines offer big returns. It's a simple equation for North Canterbury rural contractor Simon Broom. But when you have highly capable 4WD ability on tap in the form of John Deere's 9560RT and 9620RX Four-Track tracked machines, the whole equals more than the sum of its parts. 
State Highway 7 certainly saw its fair share of traffic during the 18 months between the Kaikoura earthquake and the reopening of the main route north from Christchurch, tracing a now-much different path up the East Coast.
The casual driver passing through the region inland might never meander north from Culverden up the Waiau Valley – not with a coffee stop in Hanmer Springs on the cards further up the main drag. But for any visitor who would describe the surrounding North Canterbury hills as 'gentle', local operator Simon Broom, who has been contracting in this area for 18 years, has a somewhat contrary opinion.
"It can be challenging country up here, and wet too," he says. "One of my machines is an older 220hp John Deere 7930, which might seem like overkill with a four rotor rake on the back, but we can get a few interesting situations in the foothills, so you need the horsepower to pull the nose around and stop the machine from slewing on a slope.
"Traction can be a big issue in the hill country, but if you've got the right amount of horsepower you can work faster, and the ground conditions don't stop you in your tracks."
John Deere fleet
Arduous conditions and getting more usable power to the ground has led Simon to invest in some remarkable machines from John Deere's top-flight 9-Series 4WD tracked tractor range. On the fleet for five years now, Simon's 9560RT has proven a vital bit of kit, offering huge amounts of grip, super-smooth ride quality, and plenty of horsepower.
When Simon bought the 9560RT, it was the only machine of its kind in the country. Now there's a new machine on the S.W. Broom Contracting fleet, and once again, it's the only one of its type on Kiwi soil. Simon would probably disagree, but he clearly likes investing in gear that pushes the capability of the humble tractor in new directions.
"It ain't pretty to look at, but it's a bloody impressive thing," grins Simon, describing rather succinctly his brand-new John Deere 9620RX Four-Track.
In addition to this new tracked hardware from John Deere, Simon counts various examples of more conventional green machines in his implement shed, including two 310hp John Deere 7310Rs, a four-year-old 7290R, and an 8360R featuring John Deere's new PowerTech PSS engine. There's a unifying through-line to all these machines though; they give Simon the highest available horsepower within each frame size.
Despite coming from a combination of three John Deere family model lines, Simon says the machines all feel interchangeable to use from a practical point-of-view.
"They represent pretty high-tech machinery but they're all very simple to operate. Not all of us have been brought up on PlayStations; there is lots of capability and back-end features that help us do the job regardless of the sorts of tractors the boys have used over the years. They're intuitive to use."
Linked in
Back-end features? John Deere has plenty, not least JDLink, the trusted American manufacturer's impressive telematics and connected machinery suite.
As Murray Chesterman from Christchurch John Deere ag equipment provider Drummond & Etheridge explains, the system allows contractors like Simon to run their business from their pocket as well as keep on top of equipment logistics and servicing.
"There is so much information available through the JDLink system, which can run from a desktop via the JDLink web portal or a smartphone through the app," says Murray. "The system works really well for contractors, as it allows them to have information on all their John Deere machines in one screen.
"Simon can check in on his fleet and see fuel tank percentages, hours worked, and GPS locations of every tractor. He can see when each machine is working or idle, work plan overlays showing where the machine has worked within a specific zone, and even when individual machines are due for their next service."
Then, when it comes time to bill the client, Murray says the John Deere Operations Centre accurately records hectares worked, meaning that billing can be generated straight from the info in the system.
Tasks for all
In order to remain as flexible as possible, Simon essentially runs his operation akin to
a tractor per implement. Mowing, drilling, baling, Simon's team can get to where they're needed as quickly as possible and not tie up other implements while waiting for the right machine to become available.
"That's another reason why we like to have machines that are all pretty equally powered; it's all about throughput and we do a lot of varied work, so if our machines all have the same capabilities, we should – theoretically – work at the same speed and get the same results in the same sort of time, regardless of what we're doing. It helps with machine logistics to be able to estimate how long a job might tie us up for," says Simon.
"If you want to work in this sort of terrain, you've got to be able to do everything. We've got a small but loyal customer base. Operating as a one-stop-shop the local guys can trust is key to maintaining that."
Heading further up the Amuri Basin, we check out Simon's John Deere 7290R, which is involved in some fodder beet seed trial work on a local farm. The planter that operator Dave Drake is towing is a John Deere model, too – a 1725, with 50cm spacing between seed rows and a section control unit running off GPS in the tractor's cab.
Rather than conventional units that blow the seed onto the disc, this new unit vacuums the seed to the disc instead.
The unit also features row cleaners to help with furrow build-up and Dave says he's really noticed the robustness of the implement. "When you're planting fodder beet, you have to be precise about placement, but out here we're often planting in rocky ground, so the components need to be very durable," he says.
Fourth dimension
It's time for some track action, so we head down the road a few kilometres to an ex-forestry block where S.W. Broom Contracting operator Scott Bunt is running the 9560RT.
Scott says the terrain is tough but the tracked nature of the John Deere makes for a smooth ride. John Deere 9RT series tractors feature added flotation, thanks to their AirCushion Suspension System, which isolates track-frame components from the body frame.
"It means I can move pretty quickly across this sort of ground without being shaken up too badly. It's actually pretty light on its toes, too, so I'm not compacting the ground I'm working unnecessarily," says Scott.
While he's usually in the big 9620RX Four-Track at the moment, the 9560RT happened to be his workhorse on the day of our visit. But speaking of moving machinery quickly, Scott points out that despite its size, a narrower track than conventional wheeled tractors means the 9RX is straightforward to transport between jobs.
On the jobs themselves, the four-track machine brings plenty of surefootedness to all manner of terrain. The 9RX's positive drive undercarriage system helps transfer engine power, allowing Scott to maintain traction in a turn and under load.
Murray explains that the machine's larger articulated footprint allows for additional traction, meaning less berming in the headland and reducing soil turbulence during seeding applications.
"It's awesome seeing this sort of high-tech, high-output machine at work in North Canterbury. The John Deere tracked tractors are impressive machines and I think the local terrain represents a good test bed for them. Having customers like Simon and his team, who can see the benefits of the technology onboard is really important to us."
"Basically, at the end of the day, we just want to get the job done," concludes Simon. "If you can enjoy your job using the best machines available, then that makes for a pretty good day out in the field."
And if every single one of them on the fleet boasts more than enough grunt, even better.
Watch the John Deere tracked tractors in action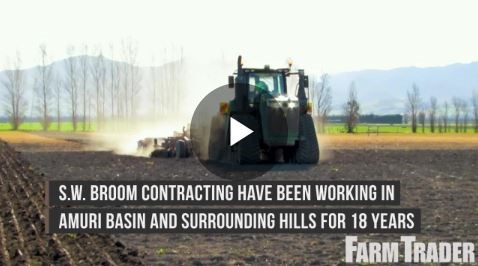 Keep up to date in the industry by signing up to Farm Trader's free newsletter or liking us on Facebook